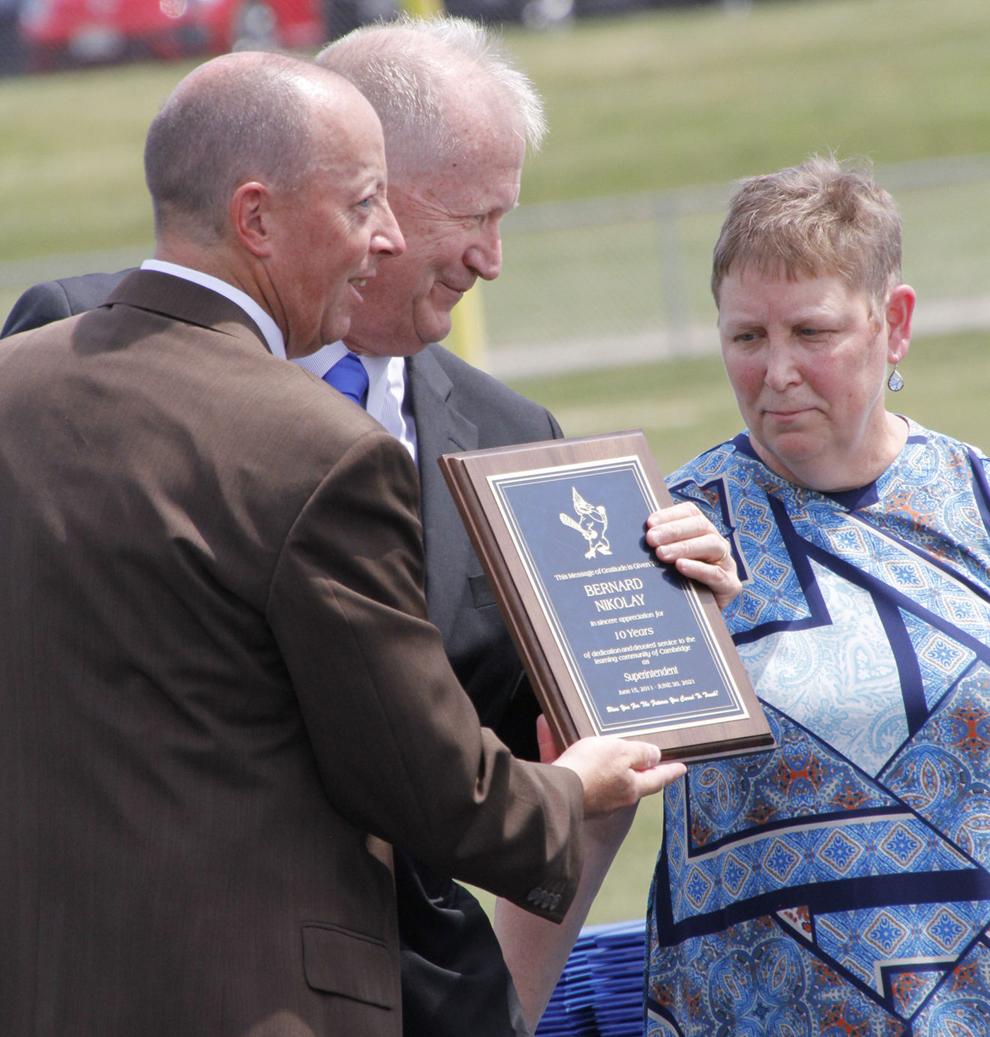 Cambridge Elementary School principal Chris Holt says in his very first interaction with Bernie Nikolay, he knew the Cambridge superintendent to be modest and compassionate. He'd rather lift others up than be in the spotlight, Holt said.
"I understood that Bernie is a very humble person," Holt said. "That has been true and consistent all the way through. I do make efforts to try to be like that, because of him."
Nikolay will retire as superintendent at the end of June. As that date approaches, Nikolay and his colleagues are reflecting on what he brought to the role.
Nikolay was hired as Cambridge's superintendent in 2011. He served three years as superintendent of the Milton School District from 2008 to 2011. Throughout his 30-year career, he's also served as an elementary school teacher, elementary principal and a policeman.
Cambridge Superintendent Bernie Nikolay, who retires at the end of June, is honored at CHS commencement on June 6.
Impressions
Compassionate, dedicated, resilient, humble, and a visionary are all words Nikolay's colleagues use to describe him.
"Every time he came into the building, he talked with kids," Nikolay Middle School Principal Krista Jones said. "He took this position as service and out of passion for education and this community. There's no doubt about that."
Jones and Holt say they each remember their first tour of the Cambridge School District, and Nikolay lighting up when showing them projects like the Severson Learning Center and the Cambridge Historic School museum. They said he could see the future potential in projects like the school farm or the museum, and get the right people on them to develop them
"He never needs to be the person out in front," Jones said. "He plants that seed, hiring the right people and trusting them to do what they do. I've grown in my leadership because of it."
Holt, Jones and CHS principal Keith Schneider say they've fed off Nikolay's energy, leadership style and vision.
"He has my complete trust and admiration for the leadership that he's served," Holt said.
Jones and Schneider both worked with Nikolay for three years before arriving in Cambridge.
"Over the past few years (especially during COVID-19), we spent as much time with each other...As a tight-knit group, we worked together, divided the work and supported each other during trying times," added CHS principal Keith Schneider.
"For the last ten years, and some might say for his lifetime, Bernie has served this community with a Blue Jay pride second to none," said Cambridge School Board president Tracy Smithback-Travis. "I sincerely thank Bernie and his family for all the dedication and resilience over the past ten years, and especially this past year."
Cambridge Elementary School said good-bye to retiring Superintendent Bernie Nikolay on June 3. Above: Nikolay is greeted with banners. 
"I am so grateful for Bernie's leadership. In particular, I appreciate his connections to the community," said school board member Courtney Reed Jenkins. "He has always modeled that what is good for Cambridge, is good for kids...and what is good for kids, is good for Cambridge. He's worked hard to build coalitions and a common approach."
"He has had a profound impact on the lives of students, staff and the community," agreed board member Julie West.
"Student, students, students — Mr. Nikolay has been about Cambridge School District students from the beginning. It has been evident in decisions he's made along the way," said Mary Kay Raether, the district's administrative assistant. "His leadership has clearly been about the best interest of our students."
Cambridge Elementary School said good-bye to retiring Superintendent Bernie Nikolay on June 3. Above: Nikolay gets a high-five from fifth-grad…
Former school board member Margaret "Peg" Sullivan added she admired his enthusiasm and commitment to get big projects, (projects that are) changing culture within the community" off the ground. "He was willing to jump right in," she said.
Impact
During his tenure as superintendent, Nikolay said he's watched the Cambridge School District flourish in more ways than one.
Nikolay credits the growth of the district to strong school boards, administrators and teachers.
One of the district's achievements that Nikolay says he is most proud of Cambridge for creating is Koshkonong Trails, a project-based charter school housed at the district's school farm. He said the district was able to create a school that gave students another way to learn, and create a vibrant learning environment on the school farm.
He's also seen test scores, state report card grades, community partnerships and open enrollment counts into the district all rise over the last ten years, Nikolay said.
The district garnered community support for two referendums in 2012 and 2016, which allowed the district to improve its facilities. And it has created a capital projects fund, and increased its financial stability during the last ten years, Nikolay added.
Nikolay called the failed performing arts center referendum in spring 2020, when voters voted against adding a $9.9 million auditorium to Cambridge High School, his greatest disappointment as superintendent. He hopes that will be revisited in the future.
"Our athletic facilities are awesome, but our facility for our artistic students...is not up to par," Nikolay said. "I had really hoped I could convince the community that space needed to be significantly upgraded."
Nikolay also calls navigating the COVID-19 pandemic as a milestone in his career.
"The pandemic has been unbelievably challenging, the biggest challenge of my career for sure," Nikolay said.
Nikolay said he believes Cambridge "came through it as well as any district could have, (but) not without pain and suffering and challenges." And he sees Cambridge facing the impacts of the pandemic, specifically the social emotional needs of children, continuing into the future.
"Even in the best of times, being superintendent isn't for the faint of heart, and what a ride these past months have been," West said. "Bernie responded with the best interest of students in mind. I appreciate and respect his ability to rise to the challenge, to collaboratively solve problems and to build the capacity of others while doing so."
Family legacy
The Nikolay legacy in the Cambridge School District is a long one.
Nikolay is the first Cambridge High School graduate to return to the district and become superintendent. And he follows in the footsteps of his father, George, who served as Cambridge's superintendent for 19 years.
Nikolay said that because his mom and step-mom also taught in the district, his connection to the community grew even deeper.
Nikolay also credits his success to the support of his family, his wife Karen and their three children.
"As a family of educators, Bernie, and the Nikolay name, will be missed in Cambridge. The Nikolay family has put in some 75 years of service to our community. That's commitment. I've been so grateful to be a part of those 75 years," Schneider said.
"We have such a history here, I was excited to come back," Nikolay said. "I wanted to make my way outside of Cambridge, but always in the back of my mind, I thought maybe I could end my career here."
"With my dad being in that same position for so long, I think he would be proud."