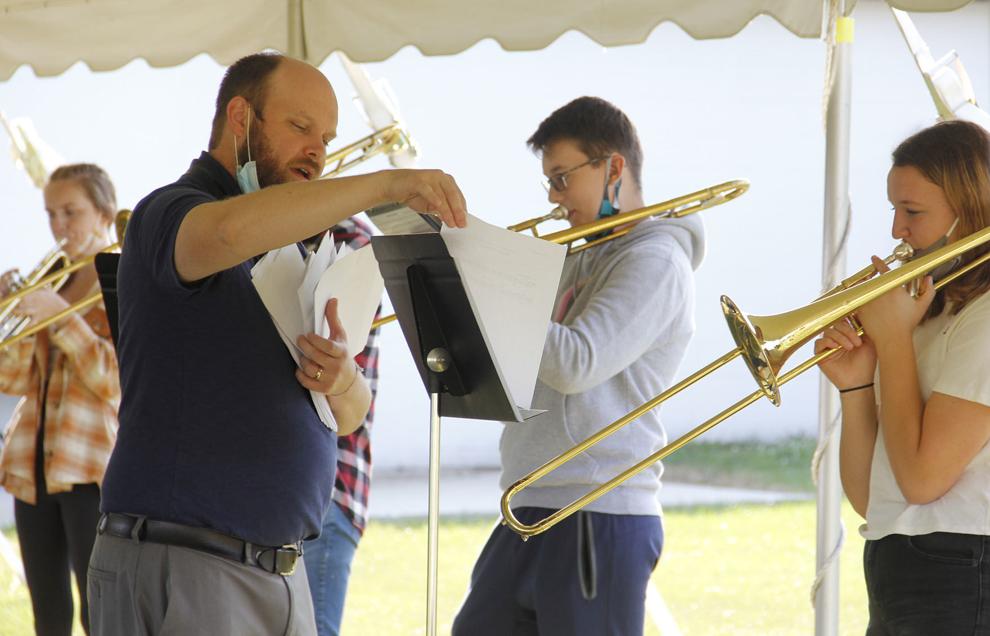 The band room has never seemed so inviting to Cambridge and Deerfield students as it does now.
In early September, it wasn't clear when local band students might be able to perform, or even practice, together again indoors.
Dane County reinstated its mask order on Aug. 19, as COVID-19 cases rose locally amid the spread of the delta variant. Musical groups across the county, including school band and choir programs, expressed dismay that it didn't include an exemption that allowed them to perform with split masks. Such an exemption was in a previous mask order issued earlier in the year.
Then, a new order went into effect on Sept. 10 with limited exceptions for performing artists, including allowing vaccinated musicians to perform indoors in concert if using a bell cover and if socially distanced.
Under the new order, bands can now practice inside with just a bell cover. Band directors in Cambridge and Deerfield said they're working through questions about whether the vaccine policy will preclude indoor concerts and pep band for upcoming events like basketball games.
Indoor rehearsal
The Deerfield middle and high school bands had their first rehearsal indoors on Monday, Sept. 13.
Band Director Ryan Petersen said it "feels good" to be back inside. "It sounds like home when we played in our room."
During class, students sit three feet apart in the band room and use cloth bell covers to help contain any potential virus spread.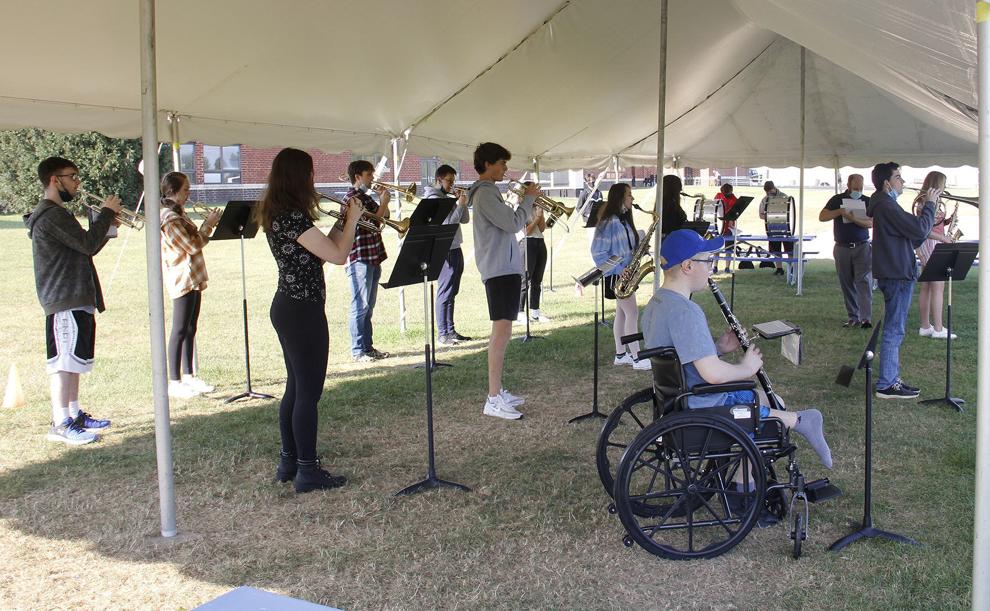 For school band members in early fall, it wasn't necessarily a problem to be limited to performing outside. The first couple months of school, they're playing at outdoor football games and parades and practicing outside for those.
But Wisconsin weather isn't as forgiving as the season progresses. Band directors and students were eagerly waiting for an update to the order.
Optimistic start
Petersen said he felt optimistic at the start of the year despite having to begin outside. Band was "operating as usual," with practices outside to prepare for marching band shows and parades, he said.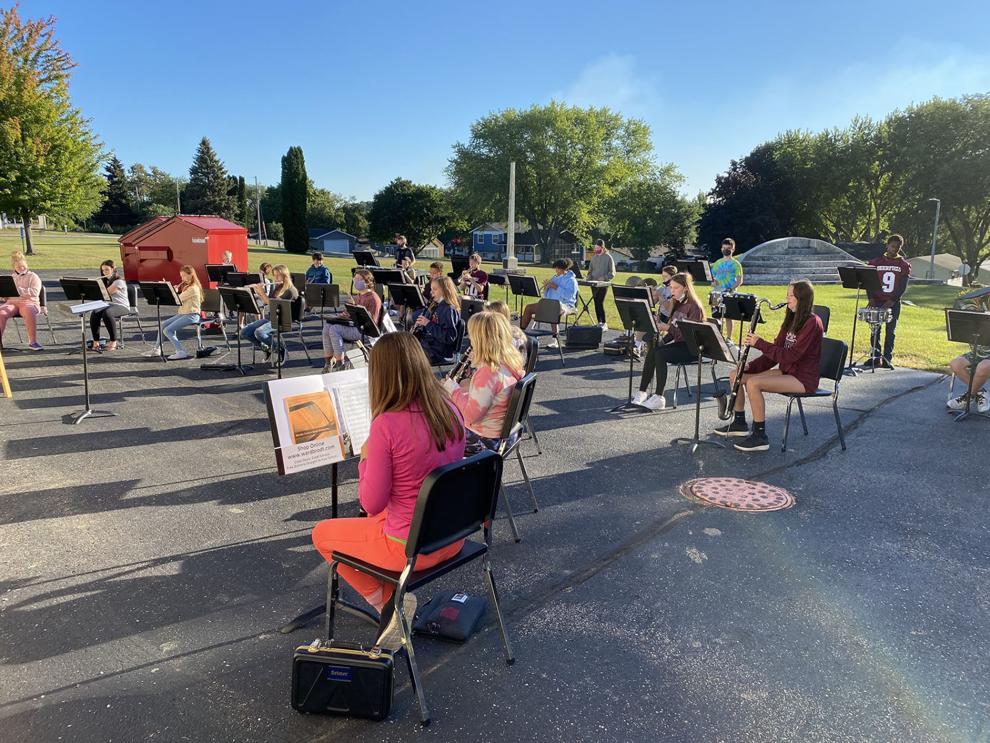 "Thankfully, compared to the spring, the weather is a lot nicer," Petersen said.
"I tried to make it as much fun playing as we can outside as we would if we would be playing inside," Petersen continued last week, days before the new order went into effect on Sept 10. "We're going to make the best of it."
Both bands had their sections set up either just outside of the band room doors or in the parking lot close to the school building. If it was raining, Petersen said they would "work on things like rhythm, drumming and clapping."
Now, band inside is doable, including pep band and concerts, with the right precautions. And Petersen said indoor performances can now be at least penciled in.
Petersen praised his students for working hard to be patient and safe as possible. The students were "so flexible and willing to try new things," he added.
Cambridge High School
Cambridge High School's band director Nathan Gerlach says, meanwhile, that his plan is to continue practicing outside underneath a party tent as long as the weather holds.
Gerlach said the tent has been "kind of our home base, but I told the kids we could be anywhere outside, really."
The weather has been good the past few weeks, allowing the band the opportunity to play outside, Gerlach said.
"In the short term, since all of our performances were outdoors, we were just kind of placing our focus on that and just saying, 'okay, we're going to be rehearsing outdoors,'" Gerlach said. "There was an element of telling students, you're going to have to be flexible. And I think after the year we've all been through, we've learned that word very well."
Just like in Deerfield, Cambridge High School band members practice spaced out three feet apart and have been issued bell covers.
"It'll be no different than they get material, like say a textbook for another class," said Gerlach.
It's all part of the plan to keep bands playing throughout this school year. Band teachers across the state have been eager to collectively advocate for healthy practices and performances. Gerlach said there's a triad of ideas they're holding onto.
"The masks, the distancing and the bell covers are our tickets to playing," he said.
The CHS band has its first pep band performance this Friday, Sept. 17 at a home football game. While they won't be marching, they will be in the stands to play and cheer on the Blue Jays.