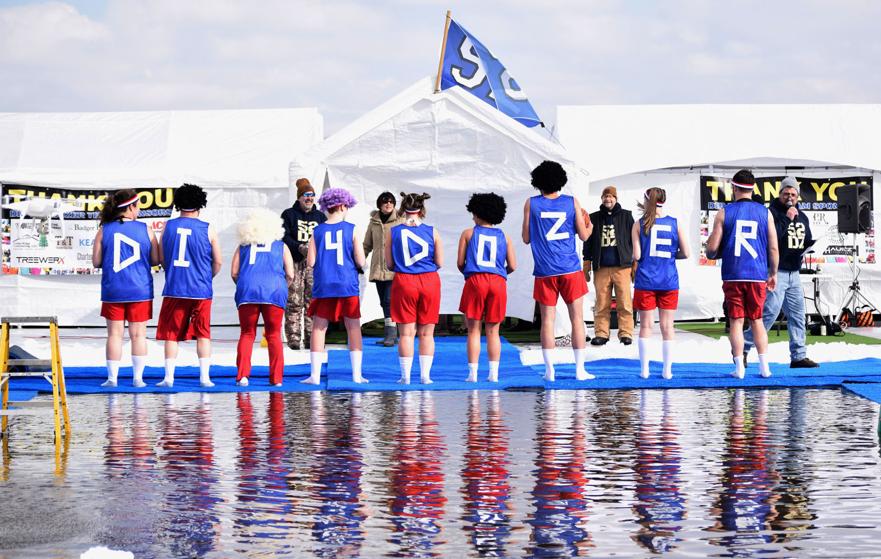 The annual Dip for Dozer, and other area Polar Plunges, are going virtual this year, due to Covid-19.
This year marks the 16th anniversary of the Dip for Dozer, a fundraising event where crowds don costumes and jump into a frozen Lake Ripley on the second Saturday of February.
This year, event organizers are asking participants to send in a video of themselves doing something cold, like sledding down a hill or making snow angels in their swimsuits. Those videos will be edited together and aired on a virtual event on Saturday, Feb. 13.
The deadline to submit a video is Sunday, Feb. 7. Videos can be posted on the Dip for Dozer Facebook page, or emailed to DipForDozer@gmail.com.
Bryce Chinault, one of the event's organizers, said they didn't want to "let Covid-19 win."
"Doing it as normal, getting a lot of people together, there would be potential health risk," Chinault said.
"We also don't want to let Covid win in the opposite direction, cancel the event and lose momentum and all the goodwill that we've built up in the last decade and a half," he continued.
Going virtual was a way to "embrace the moment and keep the dream alive," Chinault said.
The Dip for Dozer event began in 2006 to raise money for the Dozer 52 Scholarship Foundation, which awards scholarships to Cambridge High School seniors. The fund was created in memory of CHS student athlete Dustin "Dozer" Zuelsdorf.
"The dip exists...because we lost someone," Chinault said, who was a classmate of Zuelsdorf's. "But the only reason it can happen annually is because we loved someone."
The scholarship fund has awarded over 70 scholarships to local students for over $160,000. And last year's dip, Chinault said, raised over $25,000.
People can dip any way they want, Chinault said, and he hopes people will be creative with their approach. Chinault said, if any previous Dip for Dozer costumes and antics were a guide, he expects some wacky videos this year.
Some ideas for potential videos, the Dip for Dozer website said, are jumping into a kiddie pool or bathtub of ice water, sledding down a hill, sporting a swimsuit outside or making a snow angel.
The virtual event, Chinault said, may include prizes or awards like previous years. There are also t-shirts and sweatshirts for sale which will benefit the scholarship fund. And organizers are still collecting donations.
"People are looking for something positive," Chinault said, and the dip is a "good wholesome community thing. We're really proud of it."
Polar PlungeThis year's Polar Plunge is also going virtual this year, asking plungers do outdoor activities from home to participate. The Polar Plunge is a fundraiser for Special Olympics Wisconsin.
Deerfield High School's Club Unify is not taking part in the virtual Whitewater Polar Plunge this year, like it has in previous years. Club Unify is not currently active at DHS, club advisors said.
Anyone can participate from home, however, the Polar Plunge's website said.
Plungers are being asked to do a cold activity at home, like dumping ice water on themselves, jumping into an ice-filled bathtub or kiddie pool or having a winter water balloon fight. They can document their plunge with a selfie or video.Plungers receive prizes after raising $75 toward Special Olympics Wisconsin.
Or, plungers can participate in an outdoor activity like sledding, snowshoeing or cardboard box racing, at locations across the state.
There will be sledding at Tyrol Basin in Mount Horeb on Feb. 13, that people can participate in if they register and raise $75 toward Special Olympics Wisconsin.
Visit polarplungewi.org for a full list of activities, dates and locations related to this year's Polar Plunge.