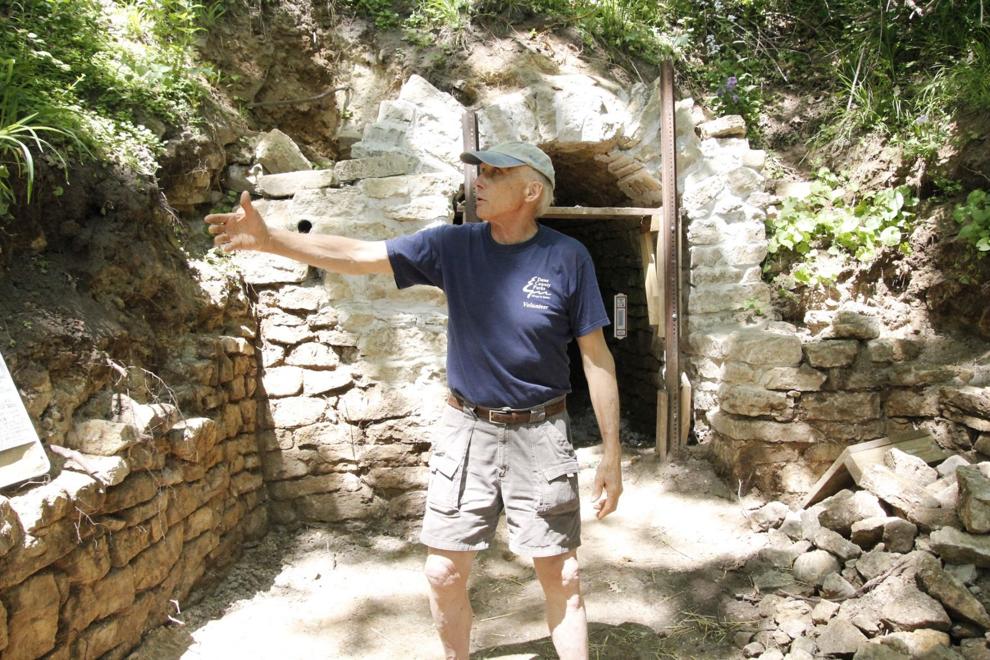 When he was a kid skating on Rockdale's former mill pond and playing in the surrounding woods and pastures, Richard Moen remembers the cavernous, partially collapsed limestone beer cellar as just part of the landscape.
"It was our backyard," Moen said. "We grew up in Rockdale. 'Yeah, beer cave.' Big shrug. 'Whatever.'"
Now, retired from a career in science communication, Moen has shouldered the site's restoration.
On a walk by it last year, Moen said it was evident that nearly a century-and-a-half of neglect might doom the Beer Cave, as it's locally known. The entryway stones looked ready to cave in.
"I thought, oh my gosh, these are going to come down. We've got to fix this," he recalls. "It was just a gut level 'this needs to get done."
Built of limestone rock by the owner of a Rockdale brewery in 1865 and believed only used through the 1870s for its original purpose of storing barrels in the summer, the Beer Cave became for later generations a place to hang out. Into the 20th Century, it was where you built a fire to warm up after skating or playing ice hockey on the mill pond.
The brewery building on the west edge of the village, about a quarter-mile from the Beer Cave, was later converted into a creamery, then a restaurant. Today it is a private home.
In 1994, a local family donated the site and three acres of land to Dane County as part of CamRock County Park.
Today, the Beer Cave is a short walk from the park's Rockdale trailhead, overlooking the restored Koshkonong Creek channel that once fed the Rockdale Mill, dam and mill pond.
It originally consisted of a 9-foot-deep stone entryway and two interior chambers that collectively extended 40 more feet into the hillside. Its walls are three feet thick, it has a four-foot-thick stone roof and an 11-foot-ceiling. The interior chambers are 14 feet wide.
The deeper chamber was intentionally collapsed with dynamite around 1910 out of safety concerns, local lore says, but the front chamber and entryway remain intact.
When in use by the brewery, it was likely accessed by a rough trail on the north shore of the mill pond, Moen said. Around 1915, a railroad bed was graded for a hoped-for Chicago & Lake Superior Railway line that never materialized. Today that graded gravel stretch is part of the main CamRock County Park trail that connects Rockdale and Cambridge.
Moen is a member of a variety of local historical groups and groups that do volunteer work at CamRock Park, including Friends of Cam-Rock Park. He is past president of the Koshkonong Prairie Historical Society.
But he said he's undertaken the beer cellar's restoration independentally, not through those groups, though some have lent support.
Dane County has long envisioned restoring the Beer Cave; it's mentioned in a 2008 master plan for CamRock Park.
"We love highlighting history and culture in our parks," Dane County Deputy Parks Director Joleen Stinson said. But, those kinds of efforts require partnerships, she said. Now, at the Beer Cave site "we've got a volunteer who can do the work and we can support him," she said.
With permission from Dane County, Moen said he began work last year with the original intent to make the site "presentable" for a historic Rockdale walking tour he planned to lead in August for the Sons of Norway.
He said it quickly became much more involved.
He ended up working through early December, and then picked things up again this spring.
He said the tentative goal is to have a public unveiling event in mid-July.
The job has been laborious – digging out original cut stones, dirt and forest debris by hand and with a borrowed backhoe, washing and sorting stones on wooden pallets, rebuilding the entryway and an exterior stone retaining wall, and beginning to restore a short connector path from the main park trail to be barrier free and handicapped accessible. New informational signs are also planned.
Moen called rebuilding the entryway and stone retaining wall "a three- dimensional jigsaw puzzle," project that has involved reusing original stones and some new replacement stones from a nearby quarry. He has spent a lot of hours spreading new mortar.
With financial help from Dane County and the Cambridge Foundation, new security gates were installed at the cellar's entrance, that lock when he's not on site. Stinson said the county has budgeted about $1,000 toward the project. T&T Stone Company, of Cambridge, has also lent heavy equipment.
Moen said he's found one artifact, a glass bottle with a wire closure manufactured in Watertown. He's looking into when it was made.
Moen admits he launched into the work when "the level of effort to be required was unknown, the results were unknown and the merits were unknown 'does anybody care?"
"And my Viking spirit said 'I don't care if anybody cares, I'm doing it."
He has since found that park users do, in fact, care a lot.
"They come by and cheer me on. I don't need cheering, but it is nice," he said, adding, that he posted a small whiteboard with project details on it "because I was spending at least half the day talking to people," who happened by and were curious.
"One fellow was stroking his chin and asking very thoughtful questions and then he asked 'what possessed you to do this?" he continued.
"For posterity. It needed to be done."
Stinson said Dane County is actively talking with Capitol Off Road Pathfinders, a mountain biking group that built and maintains the mountain biking trails at CamRock Park, about relocating a stretch of its single track that now passes right in front of the cellar's entrance.
It might be moved to the hill above, but that isn't yet certain, she said. She said that would involve redrawing the park's mountain bike trail map.
The beer cellar isn't a registered historic site; Moen says that's a goal.
"I would like to see it, at least, become a Dane County historical site, like we have over here at the mill," he said. "That would be nice."
Stinson said preserving historical features like the Beer Cave is key to the county's philosophy that parks should have a variety of elements that appeal to different users. Not everyone is interested or able to use recreational bike and water trails, she said, but a short walk on a level gravel path to see a historical beer cellar might interest them.
"When I think about what makes a really good park system, it has something for everyone," Stinson said. "For people who are really interested in culture and history, this is something they can get excited about."
Stinson said whether future visitors will be able to simply peek into the cellar through a security gate or be allowed to enter as part of a tour, remains undecided.
The 2008 Cam-Rock Park Master Plan Report recommended that the county "investigate further restoration of the interior of the beer cave for potential future access."
But, at least at this point, that is "not the plan," Stinson said. "We will be gating it off when Richard is done."