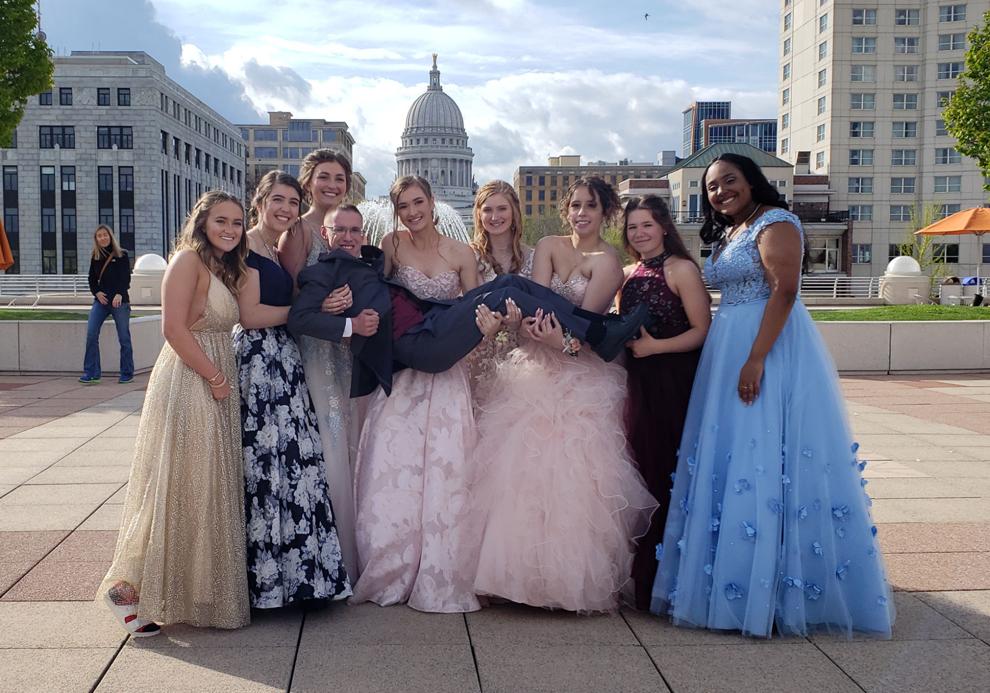 After both Cambridge and Deerfield high schools canceled their Proms last year due to the pandemic, administrators have announced that a version of Prom will be happening in Deerfield, but postponed in Cambridge.
This spring, administrators, class advisors and students have been meeting in both communities, to flush out Prom plans.
School administrators in Deerfield shared at an April 12 meeting that DHS will likely hold an adapted Prom celebration involving an outdoor meal.
In Cambridge, however, Prom will be postponed until next year.
And in-person graduation ceremonies are likely to happen in both communities, administrators say.
Deerfield Prom
Deerfield High School principal Brett Jacobson said that at this point, the school is looking to hold a Prom event on May 22.
Instead of a dance, Jacobson said students expressed interest in renting a tent and having a formal, catered meal together.
Jacobson said he's been meeting with junior and senior class officers regularly to plan.
And while this year's event won't look like a typical Prom, Jacobson said students have been able to make it their own. He called it a "clean slate."
"They understand it's going to be different," Superintendent Michelle Jensen agreed.
Jacobson said Prom would likely be limited to members of the junior and senior classes, and not include dates or underclassmen. Jensen added that this would keep numbers lower and social distancing possible while students ate.
Students and Prom advisors researched options for a catered meal, Jacobson said, and had opted not to have a DJ or entertainment. Grand marches and prom court selections for both classes are likely, though, Jacobson said.
Administrators have also been brainstorming post-Prom activities, Jacobson said, and there might also be spirit week activities, similar to that of homecoming, leading up to Prom. Jacobson jokingly called it "Prom-coming."
Those plans are still in the works.
Administrators want to "recognize that those are the two classes that have not had that opportunity" of Prom, Jensen said. "That's the opportunity we're trying to give to them."
Cambridge prom
Unlike Deerfield, Cambridge High School will not be holding a Prom this spring.
CHS principal Keith Schneider said the dance be postponed until the 2021-22 school year.
That decision was made by students in the junior class, Schneider said.
Instead, Schneider said they're considering holding a fall Prom, or planning a combined Prom with the junior and senior classes in the spring of 2022. Those plans are still in the works, Schneider said.
In an email, Schneider expressed his gratitude to the junior class advisors and students for working toward this decision.
Graduations
Both Cambridge and Deerfield administrators say that each high school will likely hold an in-person graduation ceremony on Sunday, June 6.
Deerfield High School will hold graduation at 1 p.m. June 6. Jensen said administrators are considering an outdoor ceremony this year, to allow for higher attendance.
Jensen said Deerfield has not held an outdoor graduation before, usually having a ceremony in the high school gym. Last year, due to COVID-19, graduates attended shortened individual ceremonies in the gym. They were able to bring a small group of family members, walk into the gym to Pomp & Circumstance, and receive their diploma on stage.
Cambridge High School did hold an in-person graduation ceremony in 2020, moving the event into the school's stadium and limiting attendance. Graduates also participated in a senior parade through downtown Cambridge, not organized by the school, and a virtual ceremony.
Schneider said that this year's graduation will be held in-person at 2 p.m. on June 6.
Schneider said it hasn't been decided whether the ceremony will be indoors or outdoors, and whether attendance will be limited again.
"I'm excited to begin planning for a 'more normal' graduation event for our seniors," Schneider said.