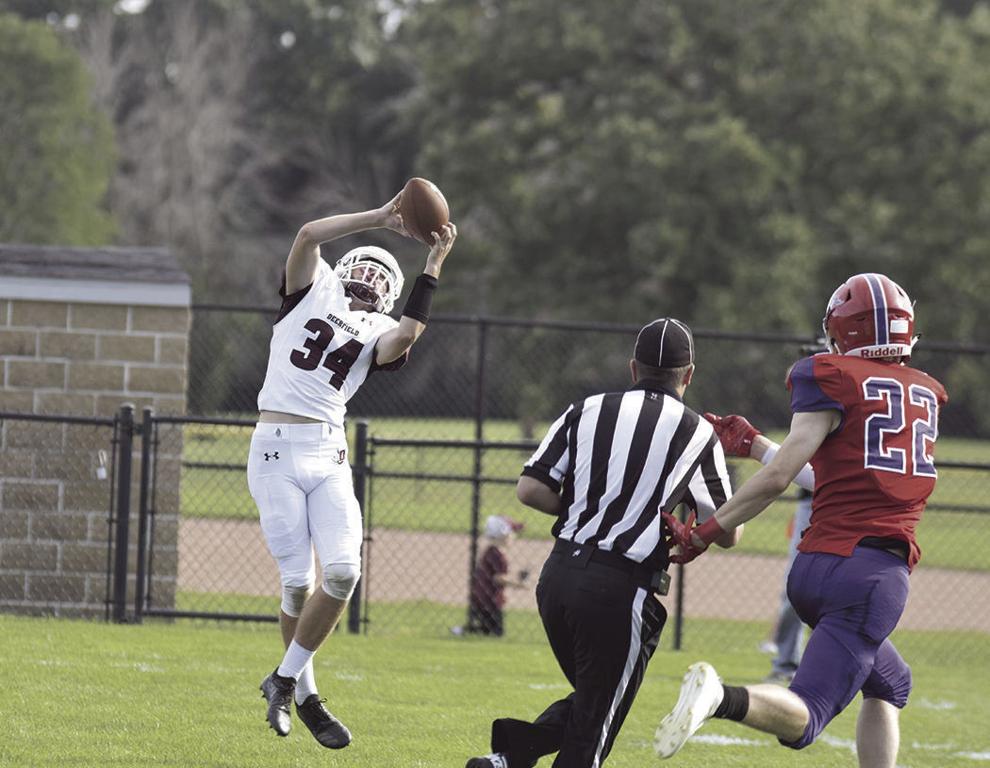 The Deerfield football team is just happy to be playing. After watching neighboring teams and nearly their entire conference play football in the usual fall season, the Demons were forced to put their season on pause due to being inside of Dane County and having to adhere to the Public Health of Madison and Dane County order.
"I can't state enough just how fantastic it is to have our guys together again, to be going through practice and to see them everyday," said Deerfield head coach Derek Sweger. "We've only been in person for about a month. You go from seeing everybody through a computer screen and communicate through text messages, and now we're seeing kids in the hallway and seeing kids in the locker room, it really puts a hop in your step seeing everybody back here and seeing what high school kids are supposed to be doing."
The 2019 Demons won just two of their nine games, which included a winless record in Trailways Small Conference play. But now, like 121 other teams throughout Wisconsin, Deerfield will play over the next six weeks in what has been deemed an alternate fall season. The Demons will join forces with Brodhead/Juda, New Glarus-Monticello, Parkview/Albany and Poynette in what will be known as the COVID Spring-Large Conference.
Originally scheduled to play six games, Deerfield will now only play four after its season opener with Brodhead/Juda was cancelled, as was a Week 6 game with New Glarus/Monticello.
"Once you get into that overlap period, it would be really tough (to play)," said Sweger, referring to spring baseball and other sports starting the last two weeks of April. "We're very cognisant that there was no spring season last year, so the last thing we as a district wanted to do was pull kids away from that; we thought playing the five games was the best way to give our kids a football season they deserve while also being respectful to what they want to do in the spring."
The spring football roster is 23 players deep, including nine seniors, four juniors, seven sophomores and four freshmen. Headlining that list are two extremely talented seniors, Reily Bonjour and Sean Gjermo were named to the Trailways Small honorable mention team as juniors.
Bonjour, a 6-foot-1, 165-pound wide receiver, caught 22 passes for 487 yards, an average of 22.1 yards/catch, and scored six touchdowns to lead the Demons in all receiving categories.
"The one thing that we have is basketball players — tall, lanky, athletic receivers — that really allow us to do some things downfield, " said Sweger of Bonjour, who also intercepted two passes on defense. "One of the big things is let's get the ball to them in space and let them operate and taking advantage of what guys like Reily do which is really something special."
Gjermo not only anchors the defensive line but is the leader of the entire Demons defense. The 6-2. 225-pound down lineman recorded 50 tackles (15 solos) and had a team-high 11 tackles for a loss. Gjermo also forced one fumble and defended a pass.
"He's really taken on that leadership role," Sweger said of Gjermo. "He's always been a thick kid by nature, but he and (assistant coach) Jim Haak really got after it in the weight room and Sean has added a considerable amount of weight to his bench and his squat; he's going to have a real big year and give some teams fits up front."
Senior linebacker Parker Massey (5-10, 160) led Deerfield with 80 tackles, including seven for a loss and had three quarterback sacks.
Fellow senior linebackers Luke Olson and Bene Lemke are also looked to be leaders both on and off the field. Olson (5-8, 160) made 37 tackles, while Lemke (5-8, 160) had 35 stops. Both players made four tackles in the backfield.
Lemke was also the team's second-leading rusher, training 288 yards on 65 carries while scoring three TDs.
"He's not a player that's going to run away from you, but he runs really smart and nobody really seems to get a clean shot at him," said Sweger. "The best thing about Bene is he's the leader — this is his team — he's the one organizing everything, he's the one barking out assignments, he's the one that knows what everybody's supposed to do."
Dayton Lasack will again be a threat on both sides of the football. The 6-2, 180-pound junior was third on the team in tackles (62) and caught 10 passes for 60 yards and a touchdown.
Junior defensive lineman Vince Mancheski (6-0, 200) finished with 39 tackles (5 TFLs) and forced one fumble while recovering a fumble, and junior linebacker Collin Klade (6-2, 180) registered 28 tackles and had seven TFLs.
Sophomore Cal Fisher played the final eight games of the season at quarterback, throwing for 791 yards and nine touchdowns, but has elected not to play during the alternate season to concentrate on baseball. Fisher is a University of Notre Dame recruit in baseball.
"He's a big loss for us, both on the field and off, he's a great kid," said Sweger. "When you have a kid of that talent, someone who's already had that type of an offer, it's similar to the advice I would give my own kid."
Another sophomore will be under center, however. The 5-7, 150-pounder appeared in two varsity games last season, but did not attempt a single pass.
"One of my favorite things about Tommy is he's a player that wants to get better; he's in here during study halls and looking at film," said Sweger. "There's certainly going to be some mistakes by being thrown into the fire, but he's an athletic kid with some speed."
The Demons kick off their alternate fall season Thursday, April 1 hosting Parkview/Albany in a 7 p.m. start.
DEERFIELD ALTERNATE FALL FOOTBALL SCHEDULE
Thurs., Apr. 1 PARKVIEW/ALBANY, 7
Sat., Apr. 10 MENOMONIE INDIAN, 1
Fri., Apr. 16 POYNETTE, 7
Fri., Apr. 23 Black Hawk, 7