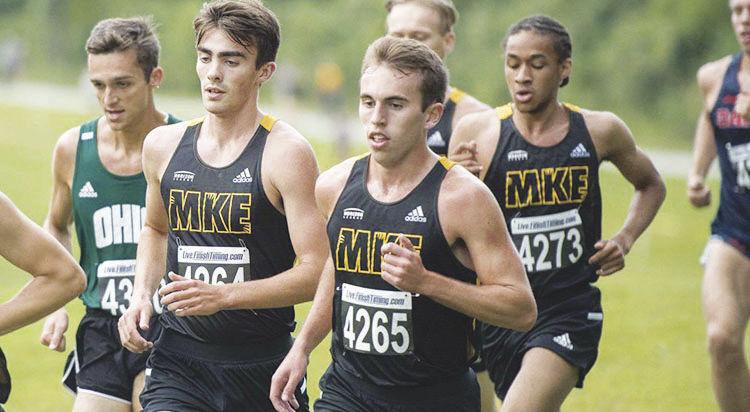 Sydney Currie still remembers her senior year on the Cambridge High School girls' track and field team, competing in the state tournament's 800-meter run. With spectators at UW-La Crosse cheering on the runners, Currie remembered a very distinct and encouraging voice.
"I don't remember the pain I felt during the race, all I remember is hearing my dad yell 'Go now, Sydney. Go, go, go!' at the 200-meter mark," said Currie, who won the race in state-record time. "Becoming a state champion was a special moment for myself and my dad because I finally achieved the goal I had set in the very beginning, and he knew how hard I worked and how bad I wanted it."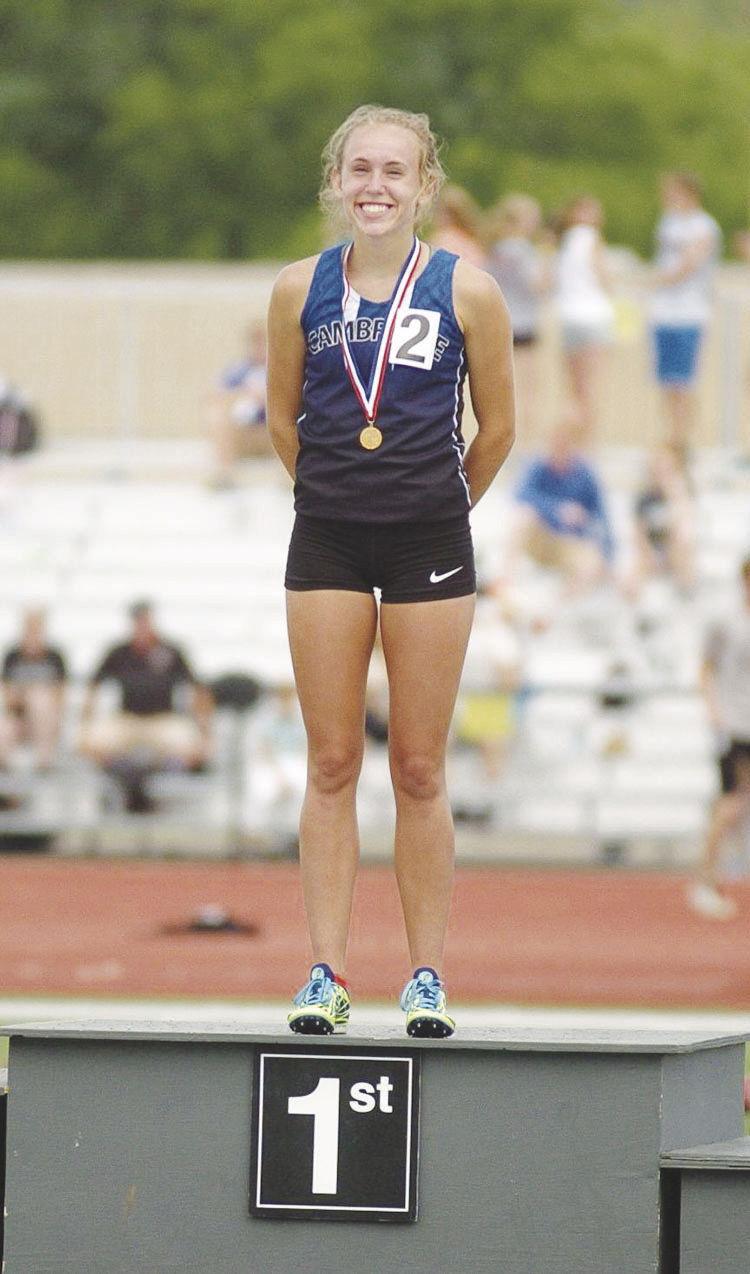 Breaking records and running fast have been a tradition for the Currie family, since Sean Currie, the father of Sydney and Spencer, took over as the Cambridge track and field coach in 2013 and before that, became an assistant coach on the cross-country team. Sean himself had a successful high school running career when he attended Cambridge in the early 1980s. The lessons he learned as a competitor have turned the Blue Jays into one of the leading track and field teams in Wisconsin. His daughter and son have been among the biggest beneficiaries of his coaching, but he didn't show them any mercy because they were his children. Coach Currie drove Syndey and Spencer as hard as he did the rest of the team. He knew his kids had the talent and the athleticism to be successful student athletes. In turn, Sydney and Spencer racked up many podium finishes and used their father's lessons to become accomplished individuals.
While growing up in Cambridge, Sean worked on local farms performing tasks such as bailing hay and harvesting tobacco. With the Curries living five miles outside of Cambridge, Sean would ride his bike into town to join his buddies in baseball or swimming in Lake Ripley. Currie's father, John, coached multiple state track and cross country champions at Madison Memorial High School in the 1960s and 1970s. Sean hung out with a lot of the team members and helped during meets.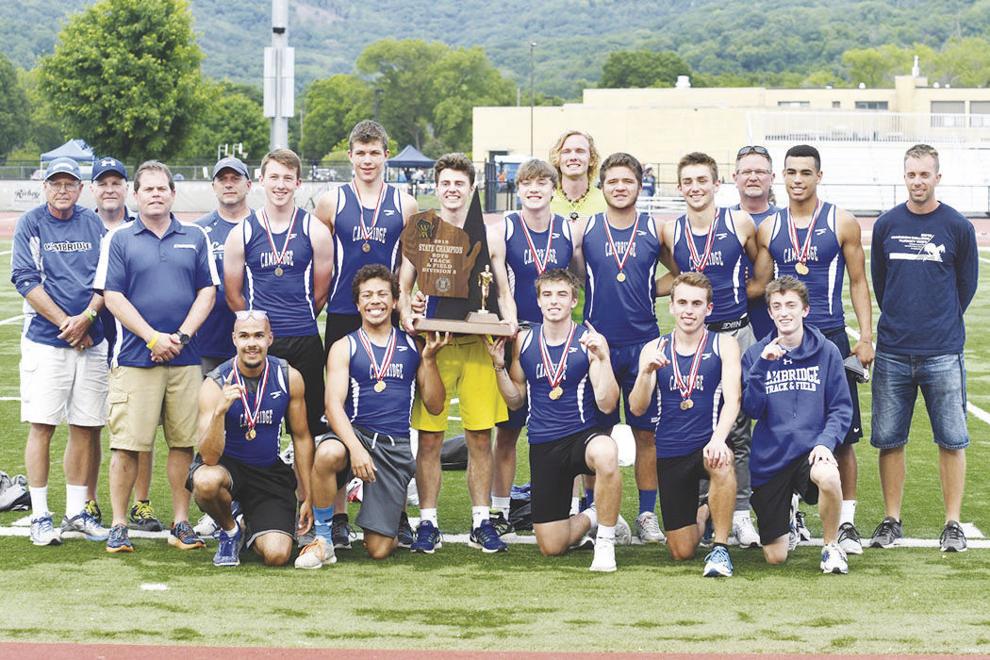 "I was the results runner for track meets; back then the timers would write down the results on a sheet of paper and I would take it and run up the stands to the press box so they could score the meet and announce results," Currie said.
At 8 years old, Currie's father signed up his son to his first competitive race, a 12-mile run in Mazomanie. The event solidified the young man's love for running.
"I made it six miles in the pouring rain. Somehow, I managed to finish those miles despite the rain, but what I remember the most of that race was the exhilarating feeling of starting with everyone at the start line with the anticipation of the gun going off," Currie said.
Currie entered Cambridge High School in 1981, and played football and basketball as a freshman before trying out for the Cambridge boys' track and field team. His high school running career got off to a great start as he finished second at State in the mile run. His time of 4:25 was the fastest ever run by a freshman in Wisconsin.
Inspired by his success, Currie tried out for the boys' cross country team as a sophomore. After knee surgery sidelined him as a junior, he won the individual WIAA Class C title in his senior year.
Currie credits Rick Rapp, his coach for both track and cross country for helping him develop as a runner.
"He was one of my mentors and the best coach I ever had. He got the best out of me, the best out of all us, without yelling or beating us down day in day out. He was a very focused coach and worked us hard, but we enjoyed working hard to get better," Currie said.
In his sophomore year, Currie returned to state in the mile run knowing he had to beat a Norwegian transfer student competing for Baldwin-Woodville High School. He knew coming up with a victory would be a challenge.
"My Dad warned me I would have to run 4-5 seconds faster than I had ever run before to win the race. Luckily, I pulled through and barely nipped him at the end to win and break the state record that had just been broken the year before," Currie said. "It was an awesome feeling knowing what I had just accomplished but it also put our team in contention for the State team title."
The Blue Jays finished second among Class C schools with Currie also running on the 800 and 1600-meter relay teams.
Currie graduated from Cambridge in 1985, and signed on with the UW-Madison men's track and field team. Yet, injuries forced Currie to leave the team after his freshman year.
He earned his degree in construction management and married his high school sweetheart Susie in 1995. After living a short time in Stoughton, the couple returned to Cambridge in 2000. Susie gave birth to Sydney in 1998, and Spencer in 2000.
In 2009 with his daughter Sydney in the seventh grade, Currie began his coaching career as assistant for Deerfield/Cambridge cross-country co-op, and became middle school track and field coach that same year. After he was named the Cambridge track and field head coach in 2013, he got the opportunity to coach his two children after they entered high school. As a father, Currie had an enjoyable experience coaching his kids in an assortment of sports beside cross-country and track.
"I thoroughly enjoyed coaching them and other kids, and the best thing was I got to be with my kids even more," Currie said.
In 2013, Sydney Currie's sophomore year, the Deerfield/Cambridge girls' cross-country co-op qualified for the Division 2 state tournament at Wisconsin Rapids. The team finished 11th in points with Sydney Currie finishing in 20th place. The girls returned to State in 2014 and finished 11th again with Sydney crossing the finish line in 20th.
Spencer would have four opportunities to run at State. As a freshman in 2014, he finished 67th, but in his sophomore year, the co-op reached State and finished 11th overall in points with Currie coming in 47th place.
Currie would qualify for State as an individual in 2016, his junior year, and take 22nd place. In his senior year, he did even better with a 17th place finish.
Spencer said having his father in charge of the team really helped him stay focused on the goals he wanted to achieve.
"To have someone you know that will always be there for you whenever you need them is always comforting, but also there to keep you motivated to achieve success in your own way," he said. "He would always be tougher on me than I think others because I knew the potential I had and he wanted me to do the best that I could."
With their father at the helm, both Sydney and Spencer had similar success on the Cambridge High School track and field team.
In Sydney's junior year in 2015, the team finished in fifth in points as she was part of the first-place 4 x 400 relay team and took third in the 1600-meter run.
As a senior, Sydney broke the state record in the 800-meter run by crossing the finish line in 2:11.80. She also took runner-up in the 400-meter dash.
As a freshman in 2015, Spencer was part of the 4 x 800 relay team that took first with Cambridge finishing third in team points.
After the 4 x 800 relay team took third in the 2017 state tournament, the Cambridge boys team won the 2018 state title by finishing first in points. Spencer had a fourth-place showing in the 1600-meter run, took eighth in the 800 meters, and was part of the 4 x 400 relay team that took fourth.
Sean Currie taught his team the rewards he received from being a successful competitor in high school, and Spencer said that rubbed off on his teammates, who grew to love and support each other.
"I think my dad coaching us really strengthened our bond because we went through so much together, and through all of it he always there for support even when things weren't going my way. That's all you can ask for in a parent. He always values hard work and teamwork and that really has helped us both on the track and in life."
After graduating from high school in 2016, Sydney competed two years on the University of Wisconsin women's track and field team before transferring to UW-La Crosse as a junior. Injuries ended her running career, but not her longtime ambition to help others less fortunate. She now works for ABLE, a non-profit organization in Minnesota that assists people with developmental disabilities.
Spencer attends school at the UW-Milwaukee where he competes on both the cross-country, and track and field teams. He hopes to graduate in 2022 with a degree in environmental science.
Sean Currie, who works in Madison at McKinstry, a national energy efficiency construction firm, still coaches the Cambridge High School track and field team. The 2019 boys' team finished third at State. Coach Currie said having the opportunity to coach his children and be a part of their lives was a very special time for him.
"I knew time, while they were young, would go by fast and it did," he said. "It was very important to be with my kids as they grew up. I am lucky enough for my work to let me coach all these years and be with my kids while coaching the sports I loved growing up."