Tommy Lees scored three touchdowns and Bene Lemke added a pair of scores leading the Deerfield football team to its first win of the alternate fall season, a 40-0 shutout of Menominee Indian at John Polzin Field Saturday.
Not only was it the Demons' first win of the season, but it was the first victory for the program since Sept. 28, 2019 when Deerfield also defeated Menominee Indian, 34-14.
Lees, who last week threw for a career-high 221 yards in his first-ever varsity start, didn't have a touchdown through the air this week as a steady rain limited his throws. However, the sophomore used his legs to score twice on the ground on runs of 10 and 25 yards, but it was his touchdown on the defensive side of the ball that turned the game around.
"It was one of those swing plays that we tell our kids the entire game hinges on — there's four or five plays like that in a game, you just never know when they are, but you know that they're coming — it changed the entire game," said Deerfield head coach Derek Sweger. "You could see all the wind come out of Menominee's sail; they never recovered and we continued to push forward."
With Deerfield clinging to a 6-0 lead late in the first half, Lees stepped in front of a Devin Beaulieu-Morgan pass and returned it 63 yards for a touchdown. The pick-six gave the Demons a two-touchdown lead going into halftime.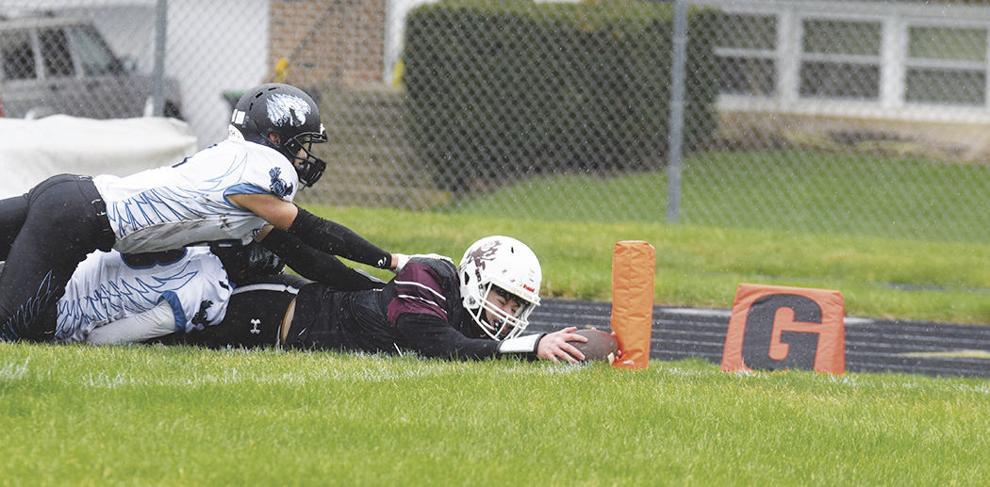 Lees opened the second-half scoring with an 11-yard run to cap Deerfield's possession, a five-play, 48-yard drive to extend the lead to 20-0.
Meanwhile, the Demon defense was dominating, holding the Eagles to just 52 yards rushing and 132 total yards.
"Our defensive line was incredible, they were everything we needed them to be. We were forced to move some guys around after losing some starters earlier this week: guys like Jackson Drobac, a freshman playing his second varsity game, was moved from linebacker to safety and he played all of his snaps back there. Our defensive ends Luke Olson and Parker Massey wreaked havoc and their offensive tackles couldn't handle them," said Sweger.
Lees scored his third consecutive touchdown early in the fourth quarter. Facing a fourth-and-7 and failing to find an open receiver, the sophomore tucked it under, found a seam and sprinted 25 yards to the end zone. The two-point conversion failed, but the Demons now held a comfortable 26-0 lead with 9:13 remaining.
"We had to strap a lot of the game plan with what we wanted to do (due to the weather)," said Sweger. "Tommy's got a good arm and we have some good athletes that we want to get out in space, but that wasn't something we were able to do. We knew we would get some good run-looks, but we exceeded any expectations. Tommy is hard to get a good hit on because he's so shifty and he really makes good fakes."
Lemke added his second touchdown, a 2-yard run, before senior Parker Massey also hit the end zone from the 2 to finalize the scoring.
"We rode Bene," Sweger said of the 6-foot-2, 170-pound back. "We told him early it was going to be his game. He ran behind (lineman) Sean Gjermo and Vince Mancheski all game, those two guys up front set the tone and made the stat lines for Tommy and Bene."
Lemke finished the day with 101 yards on 15 carries, while Lees added 71 yards on 12 carries while completing 5-of-13 passes for 81 yards.
"This is the result we wanted out of this spring season. We told the kids they're never going to forget this game, playing in the mud and crummy weather and when they get together 10 years from now they're going to talk about this game and this win," said Sweger. "This win made the entire season worth it."
Up Next
Deerfield (1-1) returns to John Polzin Field Friday night hosting Poynette on Senior Night.
"It's going to be a tough challenge against a perennial playoff team, another team bigger than us during this COVID season, but we'll take it. We are enjoying every minute we get to be together," Sweger said.
The COVID-Spring Large Conference kickoff is set for 7 p.m.
Deerfield — Lemke 1 run (run failed), 8:02.
Deerfield — Lees 63 interception return (pass failed), 2:33.
Deerfield — Lees 11 run (Lemke run), 6:16.
Deerfield — Lees 25 run (pass failed), 9:13.
Deerfield — Lemke 2 run (Massey run) 8:06.
Deerfield — Massey 2 run (pass failed), 2:47.
Rushing (Att.-Yds.) — MI 27-52, D 40-211. Passing Yards — M 80, D 81. Passes (Comp.-Att.-Int.) — M 8-18-1, D 5-13-0. Penalties — M 5-40, D 9-80.
Rushing: MI: Smith 14-46; D: Lemke 15-101, Lees 12-71.
Passing: MI: Morgan 8-18-1, 80; D: Lees 5-13-0, 81.
Receiving: MI: Smith 1-50; D: Lemke 3-16, Klade 2-46.