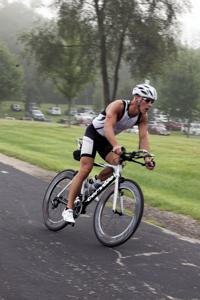 Try Cambridge Tri
Above: A lone male biker leans to make it around a corner during the 2018 Try Cambridge Tri.
A Cambridge-area triathlon and a bike ride for charity are back this summer after being canceled in 2020 due to COVID-19.
Lake Ripley Ride
The 2021 Lake Ripley Ride is Saturday, July 31, starting out at Ripley Park, N4310 Park Road in the town of Oakland.
It features three distances: a family friendly 18 mile route, a longer and slightly hilly 40 mile route and a more challenging 62 mile metric century route.
Participants will ride quiet country roads through Cambridge, Rockdale, Deerfield, and Lake Mills.
Registration includes a shirt, map/cue sheet, scenic rest stops, sag wagon, a sandy swimming beach, and a post ride celebration featuring live music, refreshments, and a dinner provided by the Cambridge Lions Club.
Race day registration will be accepted but you cannot be guaranteed a t-shirt.
Try Cambridge Tri
The 2021 Try Cambridge Tri triathlon is Sunday, Aug. 15.
It is a quarter-mile swim, 13 mile bike ride and 5K run in the Lake Ripley and Cambridge area.
The event will start and end at Ripley Park, N4310 Park Road in the town of Oakland. All triathletes will receive a medal and tech t-shirt for participation.
Registration fees are $75 for individuals and $115 for relay teams afer May 31. That goes up to $90 and $135 on race day.