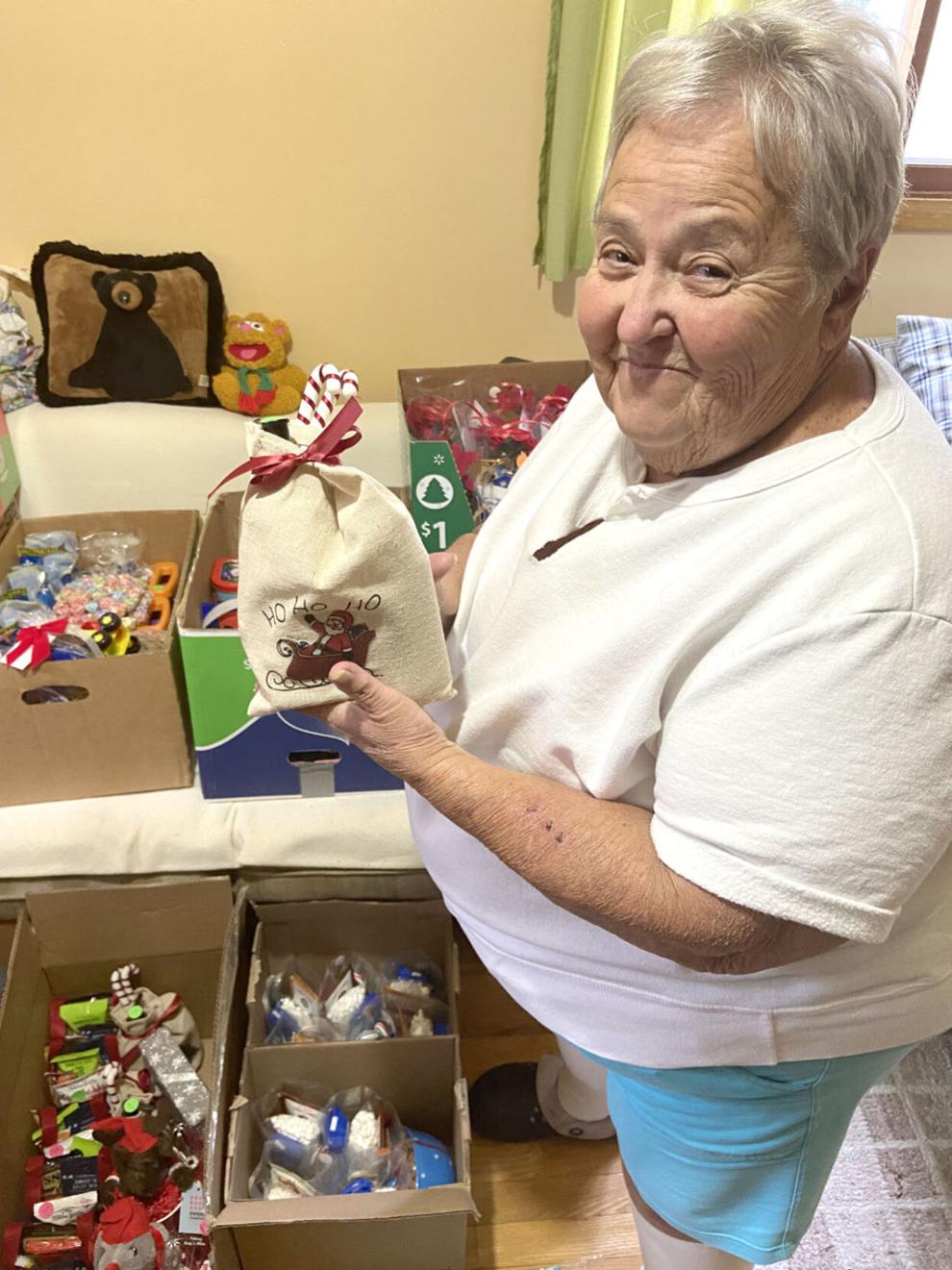 In a bedroom in her rural Cambridge home, Kathy Sayre is readying small gift buckets and bags with final touches: a carefully tied red bow and a child-friendly price sticker of $1 or $2.
For Sayre, it's the culmination of a year of shopping clearance sales for things children can afford and then thematically bundling them: personal care bags filled with mini lotions, a cooking bowl and cake mix combo, a water bottle stuffed with Kool-Aid packages.
"These are little kids that are going to be shopping. It's got to be eye appealing. It's got to be something that won't fall apart. And I want it to be something nice," that children are proud to give friends and family for Christmas, Sayre said.
For nearly 35 years, Sayre has personally funded all the purchasing for the annual Elf Shelf held at the Amundson Community Center the first weekend in December, as part of Cambridge Christmas.
"Nothing is donated. After Christmas, I hit every store I can possibly think of," Sayre said. Throughout the year, she relies on friends to alert her to sales.
For stuff-a-stocking, in which for $2 children fill a Christmas stocking with small toys and treats, Sayre orders from a bulk catalog. During a recent interview at Sayre's home, a small pile of dinosaur pencils sat on her dining room table. Paddle balls, water games and sippy cups are just some of the items children have been able to choose from in past years to stuff stockings.
Elf Shelf only been canceled once, in 2020 due to COVID-19.
This year it will be open from 3:30 to 9 p.m. Friday, Dec. 3; from 8 a.m. to 5 p.m. Saturday, Dec. 4; and from 9 a.m. to 3 p.m. Sunday, Dec. 5 at the Amundson Community Center, 200 Spring St. in Cambridge.
Additionally, for $2, children will be able to make a holiday craft. There will also be free entertainment by Rick Allen's Beyond Belief Magic Show at 6:45 p.m. on Friday. And all weekend long, with the help of other local volunteers, there will be free cookie decorating, movies and popcorn.
Sayre recoups some of her cost when children come in to buy gift items. The rest, she financially absorbs as her way of giving back to the Cambridge community where her two daughters grew up.
"We make absolutely no money. In fact, we lose money. But I'm not in it for that. I'm in it for the kids," said Sayre, now the grandmother of 5, who in recent years has watched in delight as children of her daughters' generation bring their children in to shop.
"It's such a joy to see their faces when they're shopping for somebody else, when they can't get anything for themselves," Sayre said. "For $10 or $20 they can shop for their whole family — plus."
When children are done shopping, volunteers wrap their purchases and help put on gift tags, so they're all set to give.
Items that don't sell go back to Sayre's house, to be stored until the following year.
Sayre was the leader of her daughters' Girl Scout Troop in 1987, when it was asked to take over the Elf Shelf from the Cambridge Jaycettes. The Jaycettes had run it for about five years.
"I thought, well, what the heck, why don't we do it?" she recalls.
At first, it continued to be held at M&I Bank, now Badger Bank, on Main Street. It later moved to the Amundson Community Center, expanding to include movies, the magic show, crafts and cookie decorating. Sayre also continues to annually cover the cost of the live entertainment.