It's been said familiarity breeds success.
Cambridge and Waterloo met for the second time in three weeks, and much like their 30-point win back on Oct. 30 the Blue Jays overwhelmed the Pirates, winning 29-6 in Saturday's WIAA Division 5 playoff opener.
The game was originally scheduled to be played Friday night, but both schools decided to move it to Saturday afternoon due to the fact that Cambridge had several players coming out of the 14-day self-isolation due to COVID-19 exposure.
The game between the Eastern Suburban Conference rivals was a defensive battle for the first 24 minutes, with the second-seeded Blue Jays (5-2) holding a 7-0 halftime advantage after senior quarterback Ezra Stein's 6-yard run and extra point in the opening quarter.
"The weather was certainly a factor," Blue Jays head coach Mike Klingbeil said. "It went from sunny to windy and overcast, and then about 5 minutes before kickoff the rain started spitting. That left the field conditions certainly not ideal."
Waterloo (4-4) made some offensive progress following Stein's run, driving inside the Cambridge red zone, but the stingy Blue Jay defense came up with a big stop preserving the first-half shutout.
Making matters worse for the third-seeded Pirates was the fact they lost their starting quarterback, senior Blake Huebner, to an injury in the first half.
"We were short handed and played with some young guys on the field and they responded to the challenge," Waterloo head coach Dave Frisell said. "Our defensive coaches did a good job of preparing them for what Cambridge likes to do, and the kids executed what they were asked to do. We had to rely on them to hold us in it, because we lost Blake on the second series of the game and we knew we would have to try to win a lower scoring game.
"I was very proud of our defense."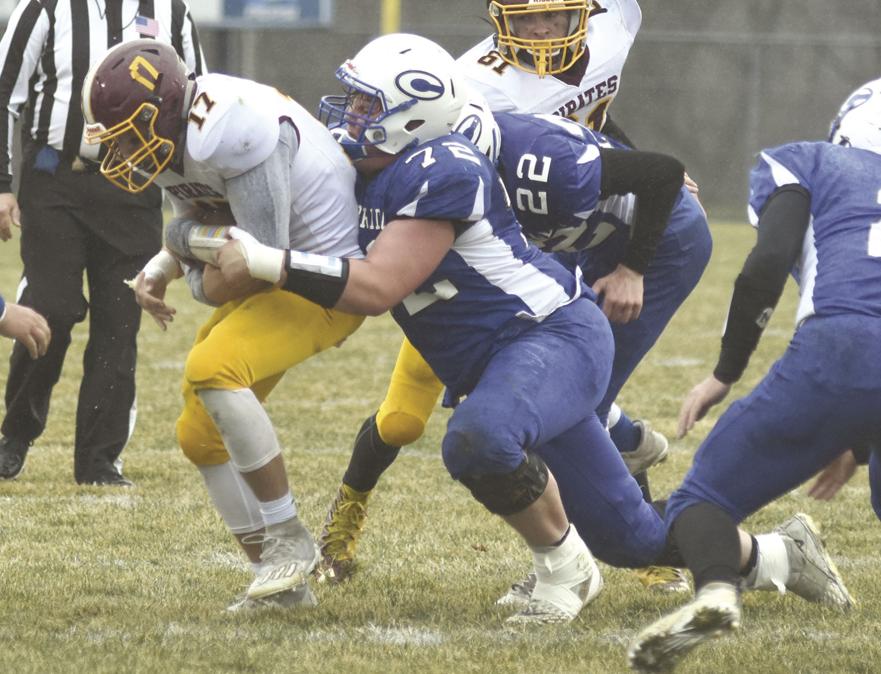 "We were fighting tough field position almost the entire first half," added Klingbeil. "We were pretty frustrated at halftime and we let our kids know about it, and they were frustrated, too."
Waterloo received the second-half kickoff, but Cambridge's defense again came up big with another stop. That's when Stein took over. The senior continued to be a thorn in the Pirates' side as he called his number twice more in the third quarter, scoring on a pair of 2-yard runs to up the Blue Jay lead to 22-0.
"They had to punt into the wind and we had a 30-yard field and scored off of that," said Klingbeil.
Waterloo finally broke into the scoring column in the fourth quarter when Eugene Wolff burst across the goal line from 6 yards out — his eighth TD of the season — cutting the Cambridge lead to 22-6.
The Pirates then attempted an onside kick, but the Blue Jays were ready and recovered it. Not long after that junior Trey Colts scored from 2 yards out, giving Cambridge a 29-6 advantage.
Colts finished with 144 yards on 19 carries to lead the CHS attack. Stein added 107 yards on 12 attempts.
Stein was also big on the defensive side of the ball, recording seven tackles from his linebacking spot. Junior linebacker Jon Gjertson led the Blue Jays with eight tackles, while senior defensive lineman Ryan Lund added seven stops.
Sully Schlieckau had an interception for Cambridge.
Cambridge was scheduled to face top-seeded Mineral Point, but the Pointers have elected to end their season early. (See related story). The Blue Jays were awarded a 1-0 forfeit victory.
"Even in late July we weren't sure if we were going to have a season. The WIAA Board of Control gave us a bunch of options, and then our school board had to make a decision, our conference had to make a decision," said Klingbeil. "We were lucky that seven out of the eight schools in our conference chose to play, so that really helped our schedule. Being able to play seven games has been great for us."
Cambridge — Ez. Stein 6 run (Ez. Stein kick)
Cambridge — Ez. Stein 2 run (Ez. Stein kick)
Cambridge — Ez. Stein 2 run (Ez. Stein kick)
Waterloo — Wolff 14 run (conversion failed)
Cambridge — Colts 2 run (Ez. Stein kick)
First downs — W 11, C 13. Rushing (Att.-Yds.) — W 34-161; C 31-214. Passing yards — W 26; C 8. Passes (Comp.-Att.-Int.) — W 2-8-2; C 2-5-1. Fumbles-lost — W 1-0; C 0-0. Penalties-yards — W 5-30; C 4-25.
Rushing — W: Wolff 30-160; C: Colts 19-144, Stein 12-107. Passing — W: Huebner 2-5-0, 26; C: Ez. Stein 2-5-0, 8. Receiving — W: Tschanz 2-26; C: Colts 1-11.