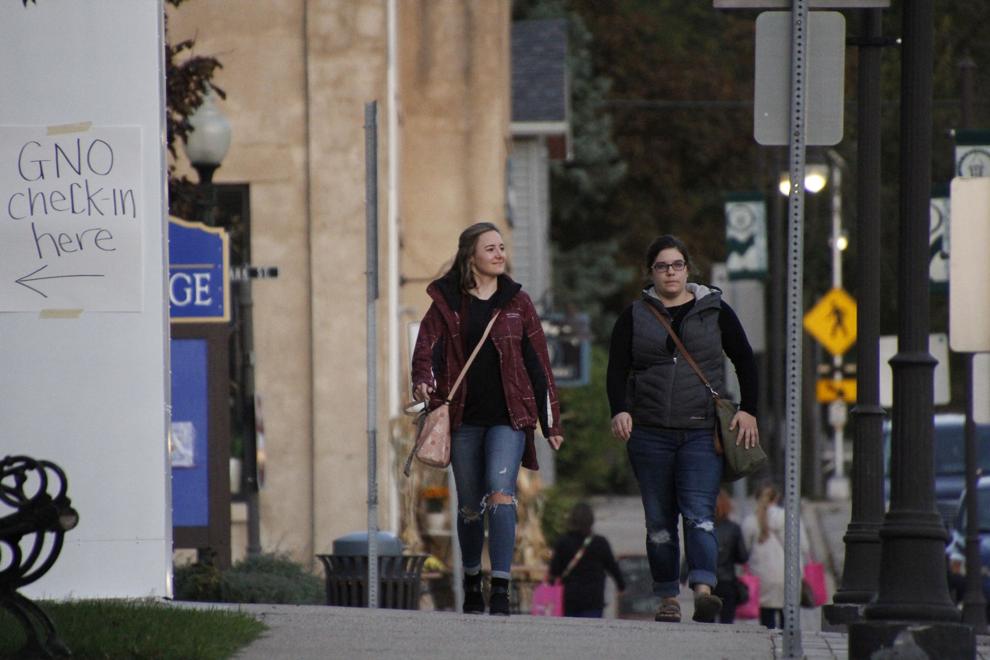 Nearly a year after the Cambridge Chamber of Commerce disbanded at the end of 2020, local merchants are busily preparing for holiday events and thinking independently and collectively about how to draw shoppers in 2022.
They're doing this in the absence of a local chamber structure that had been in place for generations.
What's emerged in 2021 is a loose-knit collaboration in which membership fees and chamber board participation expectations have given way to informal local collaboration and reaching out to existing organizations in larger communities to fill resource gaps.
There's now a twice-monthly coffee meet-up in an upstairs room at Cambridge Market Café and a shared understanding that business owners are free to join, on their own, chambers in communities like Fort Atkinson and Janesville.
They're also free to join, on their own, regional and county tourism and merchant-focused organizations like Dane Buy Local and the Jefferson County Tourism Council. There's a hope – but no expectation – that they'll share anything they've learned over coffee with others at an upcoming meet-up.
"I think most businesses have found an association to be part of," said Cathy Yerges, owner of Cambridge Market Café, 217 W. Main St., who this year began hosting the coffee meet-ups.
But, Yerges stressed, "those are individual decisions."
Yerges said the focus of the meet-ups, held early on Wednesday mornings, has in recent months been partially on what shops are doing themselves for Cambridge Christmas, Dec. 3-5, and on parts of that weekend they've chosen to work together on.
Their efforts benefitted from a surprise donation from a community member, earmarked for promoting Cambridge Christmas, that they put toward print and digital marketing.
And they've coordinated with community organizations like the Cambridge Area Lions Club to continue some beloved local holiday activities like the annual tree lighting in Veteran's Park.
Besides focusing on Cambridge Christmas and four other local events that business owners have decided to continue participating in – a spring and a fall Shop Hop (formerly Girls Night Out), Maxwell Street Days in August and Small Business Saturday, which this year falls on Nov. 27 – the coffee meet-ups have also hosted guest speakers from groups like Destination Madison and the Jefferson County Tourism Council.
And in-between meet-ups, business owners have found small ways to work together, for instance putting a coupon for Cambridge Market Café in gift bags given to bridal parties at Premiere Couture, a wedding dress boutique at 145 W. Main St. Yerges said Cambridge Market Café also now caters some Premiere Couture appointments with charcuterie boards and other menu offerings.
"So, there is actually trade happening among the businesses," and in the process "we're learned more about neighboring businesses, and found that we can actually utilize each other's services," Yerges said.
Amid a nationwide staffing shortage, a discussion this summer led the owner of a local marketing firm to organize a series of job fairs.
"He heard our struggles and was like 'can I put this together for you?'" Yerges recalls.
And yet another meet-up attendee recently volunteered to renew a longtime effort to erect a new welcome sign at the village entrance.
There's a public Cambridge Area Businesses Facebook page and a private local business Facebook group but no website, no bank account and no email contact list.
"If you want to participate the opportunity is there. The invitation is always open. But I don't have time to keep (coffee meet-up) minutes and I don't have time to maintain an email list," Yerges said. "People will say 'keep me posted' and I'm like 'no, you just show up.'"
"It's literally just a meet-up. We're businesses coming together to see how we can collaborate," continued Yerges, who recalls in the waning days of the Cambridge Area Chamber of Commerce, angst over what dues were funding, a lack of focus and burnout among board members.
Village involvement
Beyond collaborating over coffee, local merchants have gotten some help this year from the village of Cambridge, that has continued to fund a membership with Destination Madison, has retained a connection with the Wisconsin Economic Development Corporation and has continued to commit to having an Economic Development Committee. The village this year also sponsored an ad in Jefferson County's tourism guide.
Cambridge Village Board member Carla Galler chairs the Economic Development Committee that paused in 2020 amid the COVID-19 pandemic, and restarted this year.
"We were waking up (from COVID) and thinking about how to get back to our lives, and realized this committee was something that had to move forward," Galler said.
Galler said the committee's role is distinct from the village's Plan Commission that's charged with approving things like zoning change requests. 
She said she expects, as it regroups, that the committee will focus on bringing new businesses to Cambridge, supporting existing businesses and broadly weighing how things like a proposed solar farm west of the village and a need for workforce housing might affect future growth and commerce.
She said the committee has recently drafted a list of tasks it might like to accomplish in the near future.
She encouraged local business owners to attend the monthly committee meetings, to be aware of the work it's doing.
Chamber connection
Meghan Barthel, a partner at Ruby Rose Gallery at Galleria 214, 214 W. Main St., remembers the Cambridge Chamber's final days as "kind of turbulent."
"I haven't really felt a strong connection to our chamber and it really hasn't impacted my business experience in Cambridge, because it disbanded," she continued.
She said out of that disbanding has come, in the past year, a need to "be creative and to keep rolling," with promotional ideas and with the 5 events the chamber once got behind.
Barthel said she is "very grateful" for the Wednesday coffee meet-ups and for the business owners "who have stepped up and decided to continue those, events like Cambridge Christmas.
She said Ruby Rose Gallery has in the past year "collaborated with a lot of different organizations" including Dane Buy Local and the Jefferson County Tourism Council.
Ultimately, she said her goal is to do things that benefit her business and other Cambridge merchants, "to reach 100 people who will visit Cambridge and eat at Cambridge Market Café and explore our town."
"If our guests have a good experience then they are going to feel good about Cambridge and they are going to continue to come back," she said.
Close-knit group
Yerges agreed that a new comradery has developed among merchants.
"It's become a close-knit group, that meets on Wednesdays," she said. "I can call upon any of those business owners if I need anything, or if I have a question, or if I have an idea to bounce off of them."
Yerges said events like Small Business Saturday and Cambridge Christmas are ones that they all felt positively brand Cambridge as a shopping destination, with good potential to drive their sales.
"There are a lot of events we could participate in and maybe wanted the chamber to participate in, that really didn't have a commerce aspect to them," and those have been left to other non-profit community groups to organize, Yerges said.
She said promotion of Cambridge Christmas has included a co-hosted Facebook event, into which business owners are posting details about their individual activities that weekend. From there, they're sharing links to their own social media pages, and reaching out to their own email contacts.
"Participating businesses use their own resources to help get the word out," Yerges said. "It's up to them to post in that event, about what's going on in their location."
Yerges say one significant challenge right now is not being able to hold over leftover funds from an event to use in a subsequent year.
"We don't have an answer to that, and as soon as you do have an answer to that, you get an EIN number and then you become an organization and you need a board and minutes and insurance… and that's what we're trying to avoid," Yerges said.
Stephanie Locchetta, owner of Anew Vintage Dream, 156 W. Main St., was on the Chamber board when it dissolved.
"That was a hard decision to make," Locchetta recalls.
But, she said, it felt necessary, with the organization's focus having shifted more toward general community event planning than benefitting member businesses with education and marketing.
It had moved away "from what a true chamber should be," she said.
Locchetta said the new looser structure has an appeal.
"I want to help my community. I want to help my business," but shop owners don't want to sit on a board, she said. "We don't want to become an organization again. We don't want to become an entity."
If any lessons have come out of the COVID-19 pandemic, it's the need to stick together and to pivot, Locchetta said. "You've got to change with the times and you've got to have an open mind."
In the depth of the pandemic in 2020, businesses began reaching out to each other to come up with joint curbside pickup ideas, she said.
"How can my store compliment your store and how do we continue do do that?" Locchetta said. "I think we linked arms really well this past year. Honestly, I think we link arms way more now than when there was a chamber."
Toni Clemens opened Little Joys Children's Boutique at Galleria 214 early in the COVID-19 pandemic, in April 2020.
She said connecting with chambers in larger communities like Janesville and Fort Atkinson, and with regional and statewide organizations, rather than having a Cambridge chamber, seems to have proven a good route.
They have the staff and marketing resources that Cambridge is too small for, and a much larger population to direct toward Cambridge, she said.
"It's the wider reach that we need. That's not going to come from this small group of Cambridge businesses. We don't have the bandwidth to do that," she said.