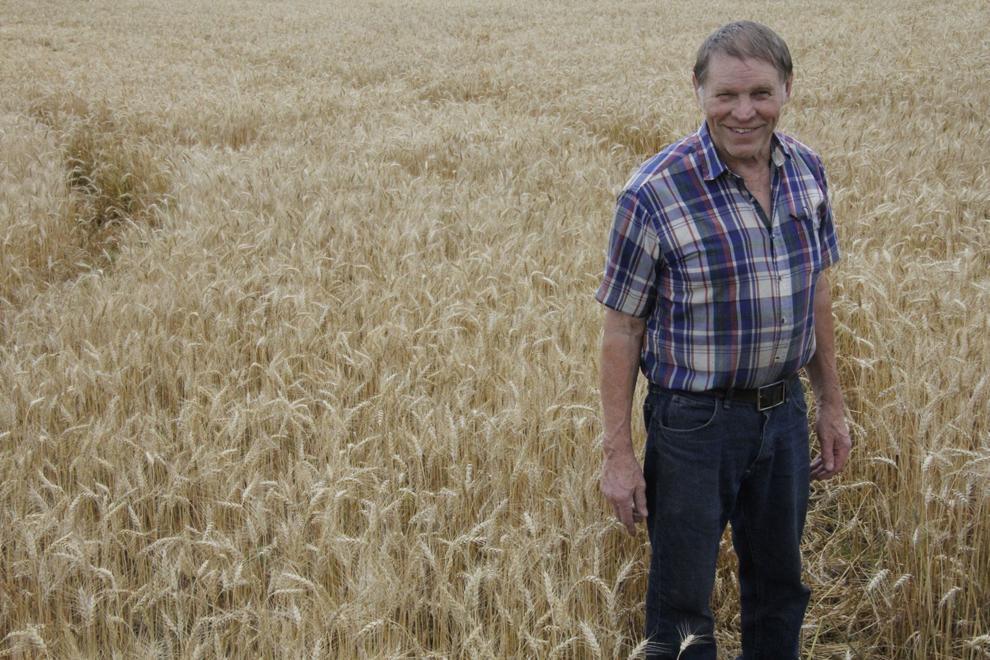 Jefferson County farmer Dean Weichmann is no stranger to farm field experimentation.
The Deerfield High School graduate, who has been cash cropping in the Milford area since 1970, first tried no-till farming 30 years ago and has stuck with it.
Today, he points to evidence that his soil is healthier by not being stirred up. He said he sees in a simple shovelful of dirt the renewed biodiversity of fungi, worms and other organisms.
Weichmann has also long sowed cover crops like winter wheat, winter rye and alfalfa on various-sized test plots, planting it amid his more than 300 acres of corn and soybeans. In addition to holding soil in place, keeping it from eroding and flowing into area waterways, he says cover crops' deep root systems draw nutrients like phosphorus, sulfur and nitrogen up toward the surface where shallow-rooted crops like corn can more easily absorb it.
That's good for the environment and "good for the pocketbook," reducing the amount of fertilizer farmers must purchase to apply, Weichmann said.
Weichmann said he's surrounded by neighboring farmers who have also tested out conservation practices.
Across one fence line, for instance, a neighbor is doing strip tilling. It lessens soil disturbance without fully committing to no-till.
"He has a little different way of going about it," says Weichmann.
Sometimes area farmers have collaborated. And they have long informally shared the results – both successes and failures — among themselves.
Now, across the county, such conversations are getting more formal. Weichmann and other Jefferson County farmers are in the process of incorporating a new non-profit farmer producer group, the Jefferson County Soil Builders.
It's modeled after other groups in the region, particularly one in Dodge County whose meetings Weichmann and others have travelled to. Members envision connecting with each other and also reaching out beyond their ranks.
"A neighbor of mine owns some land in Dodge County and is part of that group. I rode with him a couple of times to those meetings," Weichmann recalls. "We said 'we could do this in Jefferson County.'"
In April, Jefferson County Soil Builders held a field day in the Milford area. Activities included farm tours and soil samples of sites involved in different conservation practices. In a show of solidarity, some attendees were from Racine and Dodge counties.
Weichmann said about 25 Jefferson County farmers are now on his Soil Builders' message list.
The group next gathers Thursday night, July 22, in Lake Mills. This time, they're extending a collaborative invitation to representatives of two local lake groups – the Rock Lake Improvement District in Lake Mills and the Lake Ripley Management District in Cambridge.
There's no agenda; it's just an informal meet-and-greet during Brew with a View, a fundraiser benefitting the Jefferson County Parks Department at Korth County Park. The fundraiser is open to the public with live music, food vendors and beer from Tyranena Brewing Company of Lake Mills.
Helping to pull the July 22 gathering together is Michelle Probst, a natural resource educator with the University of Wisconsin-Madison's Division of Extension. Probst said in her region, in the southeast corner of the state, she has previously worked with other farmer producer groups, including the Dodge County Farmers for Healthy Soil and Healthy Water. She said they are mostly organized at the county or watershed level.
Over the past couple of years, she said she began to notice that "a lot of these farmers in Jefferson County were going to events that the Dodge County group was putting on. So, I knew there was interest."
The Wisconsin Department of Agriculture, Trade and Consumer Protection couldn't provide a list of farmer producer groups currently organized in Wisconsin, beyond those that have been recipients of a state grant program in place since 2016.
Since 2016, the Wisconsin Department of Agriculture, Trade and Consumer Protection has offered grants to farmer producer groups to help them fund conversation practices that protect area waterways. The 2021-23 state biennial budget recently signed by Gov. Tony Evers increases the available funding for those grants to $1 million a year statewide.
In 2021, 30 producer-led groups were awarded $750,000 in grants to do things like soil testing, no-till and strip-till farming, low-disturbance manure application, cover crop planting, and nutrient management, all with the aim of reducing sediment and phosphorus runoff into surrounding waterways
Since 2016, more than $3.2 million in such grants have been awarded statewide.
Probst said the Dodge County Farmers for Healthy Soil and Healthy Water is among the past state grant recipients.
Probst said farmer producers are a piece of a larger statewide water conservation puzzle, alongside urban groups who are thinking about practices like planting rain gardens, shoreland property owners who are thinking about adding native plantings and others.
"It's bringing all our stakeholders to the table to solve these issues," Probst said.
For farmers, she said it marks a fundamental shift in how soil is viewed, no longer looking at it "strictly as a medium in which to grow crops," but rather "as alive."
"We are looking at it as ecosystem," she said, that can be damaged and also restored.
Probst said the July 22 gathering in Lake Mills is hopefully just the start of connecting local farmers and lake groups. She said she expects at future meetings they will dig deeper, specifically defining how they can work together for their mutual benefit.
"Building relationships takes a long time; we want to create the foundation for that," she said.
Patricia Cicero, director of the Jefferson County Land and Water Conservation Department, has also helped facilitate the local conversation. Unlike in some other counties where clashes with lake groups have spurred farmers to organize, she said the upcoming meeting between the Jefferson County Soil Builders and the two lake groups is preemptive.
Weichmann agreed that it's not being spurred by problems or a push for change by lake groups.
"We don't really have that pressure here," Weichmann said, adding that it's best to begin to meet before something like that happens.
Weichmann said there's plenty that farmers can learn from each other by joining a producer group.
Any change in farming practices takes patience, for instance. He said he learned through experience that it takes about five years of no-till farming to see a marked change its the biodiversity of a field's soil.
He said farmer producer groups can also play a mentor role, including encouraging newcomers to step in slowly.
"Some people jump in with both feet and try everything, but you are risking everything," he said. "The best thing is to start out small, try something and see how it works."
And, he said, local intentional conversation can be just as valuable as tapping government and university research and data.
"We are trying lots of things, and sometimes the university research lags behind what people are doing out in the countryside," he said.
For more information on the Jefferson County Soil Builders see the group's Facebook page or contact Weichmann at dbcm@intaccess.com or (920) 988-4620.