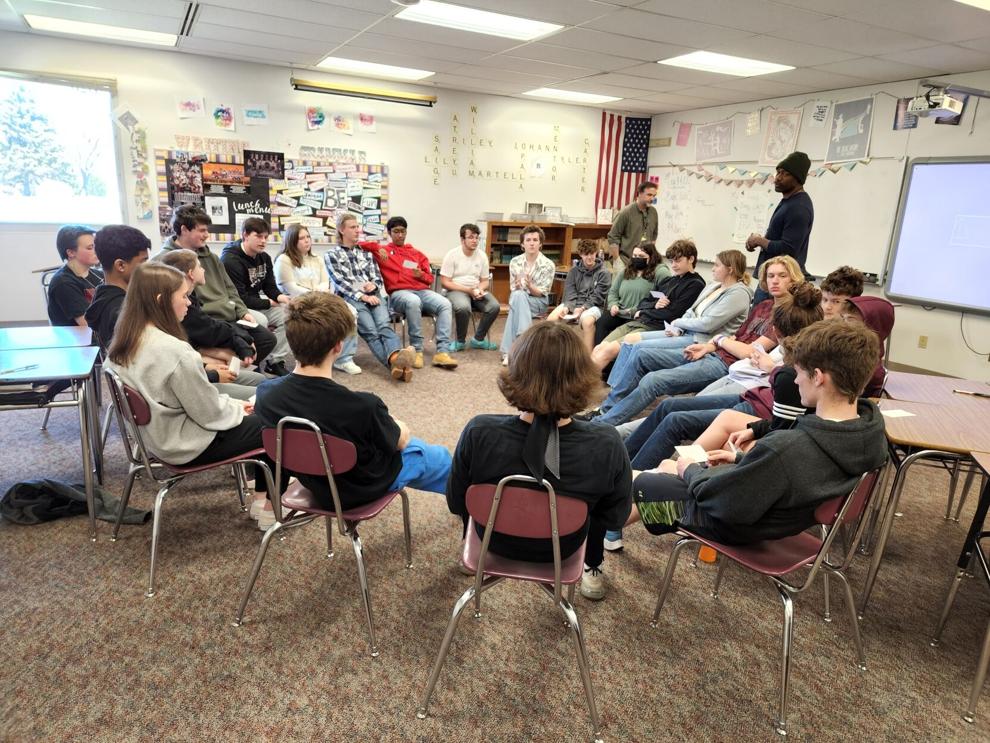 Deerfield High School students tackled a series of discussions and workshops on the topic of race last week through an American Players Theatre residency, "The Words Between Us."
The workshop comes amidst a national discussion of what topics belong in classrooms, and more specifically, which don't.
The 5-day residency was created based on a need, according to APT actor and teaching artist Jamal James, that was presented to APT by a couple of teachers from a rural Wisconsin district during the racial reckoning resulting from the death of George Floyd.
The residency is designed to expose high school students to racially-themed literature "to cultivate conversations that deal with racial fluency, to expose people to different sides of different viewpoints, different sides of life," and to explore "different words and different protagonists, especially protagonists of color and…how that might influence people's ideas or perceptions or upbringing in an area such as Deerfield," James said.
The hope is that rural students come away with "tools and the facility to engage in whatever conversation they want, from whatever area or facet that they want to talk about, but to have a group discussion that is healthy, that has conflict in it, but that conflict drives the conversation forward," APT actor and teaching artist David Daniel.
Residency participants were required to read one of four suggested books, and in this case, students read "Dear Martin," which has faced its share of challenges and outright bannings from school libraries nationwide. The 2019 novel follows a black seventeen-year-old who struggles with his identity as a minority and eventually is a victim of police brutality.
Debra Kohlwey, who has been teaching at Deerfield High School since 1988, learned of the program and applied, hoping the Madison-based Evjue Foundation would select DHS as a recipient of the $5,000 grant needed to host the program. DHS has hosted many APT workshops in the past and Kohlwey, who "couldn't say enough good things" about APT, was thrilled to learn it had been chosen as a recipient of the grant.
While Kohlwey said she was initially "scared" to bring the challenging topics found in "Dear Martin" into her classroom, she found her students "hungry for it," and said teachers shouldn't be afraid to delve into such topics with their students.
After discussing boundaries and discussion etiquette, including the fact that "they were more than just one opinion," the class dived in. Kohlwey said several of her students not only bought their own copies of the books, but have also ordered the sequel, "Dear Justyce."
Lynzie Wollin, a DHS junior, is one of those students.
"I read ahead; I probably finished the book four or five days ahead of us actually finishing the book (as a class)," Wollin said.
Wollin said she plans to reread the books every year to remind herself that the kinds of events they depict happen. Wollin said the workshop helped bring new perspectives to the high school, which she pointed out doesn't have a very diverse student population.
Kohlwey emphasized that the residency, while guiding students through discussions, didn't impart opinions on them. Rather, it left them with skills to navigate challenging conversations and topics.
One such skill was the idea of "draft." While their thoughts or ideas may not be fully formed or completely understood, students could easily work through them by sharing them with the class if they announced it was a "draft."
Wollin and Miles Peterson, also a junior at DHS, said they gained a lot of skills and emphasized the importance of these conversations.
"This whole program is teaching us skills," Peterson said. "They're talking to us about race, but they're giving us a toolbox of how to be understandable and how to say our opinion."
The program is also "teaching us skills to be decent human beings, and really make sure that we understand each other more, which I think is really important," Miles said.
The skills and topics covered in the residency, Peterson later added, aren't difficult to approach if you have the right mindset.
"It's not that difficult to talk about these things and if you just get yourself into a safe space, and you make those agreements beforehand, you can have some really deep and thoughtful conversations with people."