A Dane County Board supervisor who's pushed to repeal the county's mask mandate challenged the public health director on Sept. 9 about her agency's COVID-19 decision making.
Supervisor Jeff Weigand lives in Marshall and represents the county board's District 20 in northeast Dane County. He won a seat on the board in August as a write-in candidate in a special election after the previous supervisor died.
On Sept. 1, Weigand brought a resolution to the Board of Health for Madison and Dane County, asking Janel Heinrich, director of Public Health Madison & Dane County, to "pull back her emergency order (requiring masks indoors) until public input and the consent of the governed has been achieved."
The board of health voted on Sept. 1 to place the resolution on file.
A subsequent statement issued Sept. 13, signed by 6 members of the board of health, said they were opposed to Weigand's resolution.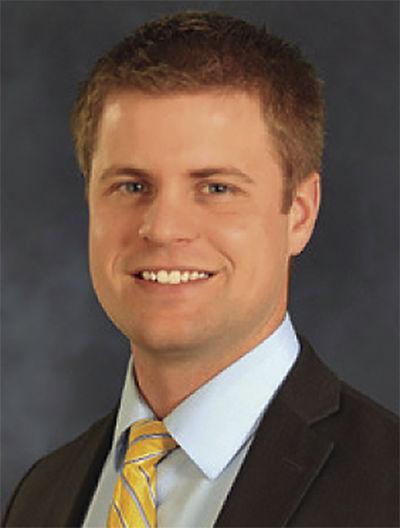 "The board finds it extremely disheartening that Supervisor Weigand has chosen to use his platform to bring forth a resolution that suggests that public health decisions aren't based on science, facts, and data," the statement said. "That is simply not true and further spreads misinformation."
Public health board members who signed the statement included Dr. Jerry Halverson, Kim Whitmore, Robin Lankton, Holly Hatcher and Paula Tran Inzeo.
The statement quoted U.S. Surgeon General Vivek Murthy, who has urged "all Americans to help slow the spread of health misinformation."
"Although we have made great progress with high vaccination rates in Dane County, we are still in an active global pandemic," the public health board's statement continued, adding that it "fully supports the use of emergency public health orders" that are being "brought forth with thoughtful consideration of data by experienced and knowledgeable public health staff."
"Wearing a mask is the least we can do to try to eradicate this horrible disease and protect our fellow citizens. We should continue to follow the educated, trusted, expert guidance of our public health leaders in regards to these matters," the public health board said.
The county has been back under a mask order since Aug. 19, as cases rise locally amid the spread of the delta variant. The mask order issued in August was set to expire on Sept. 16. But a new order went into effect on Sept. 10, closely mirroring the first with some exceptions for performing artists.
Heinrich attended a virtual Dane County Board meeting on Sept. 9, offering supervisors a COVID-19 update and fielding their questions.
Weigand's list of questions included what research Public Health Madison & Dane County based its mask order on.
"What type of data did the health department review in making these mandates?" he questioned. And "what criteria will be used to evaluate whether or not to extend this mask mandate even further?"
"I wonder what the goal posts are?" he continued, regarding the minimum case count required to sunset the order. "Do we need to have zero cases in Dane County, or do we need to have less than 10 per 100,000 people?"
Weigand also asked whether the public health department planned to offer education on "therapeutics or other strategies to mitigate COVID," including spending time outdoors and taking Vitamin D.
"There are a whole host of things that can be done. I'm curious if those are in your toolbox?" he said.
And he questioned whether the public health department is open to taking general public input as part of issuing orders like mask mandates. Weigand said he would be open to public health orders first being issued, and then public hearings being held immediately afterward.
"Is that something that you've thought about doing?" he said.
"We have not thought about that," Heinrich responded.
The health department needs "to act swiftly and to make decisions in this emergency swiftly," she said. "This is a different process than we might use for other policy decisions. We are in a pandemic. We are in an emergency and that is how we are acting," under statutory authority.
Heinrich said before her department issues an order, it consults with the board of public health, the mayor of Madison and the Dane County executive. And she countered that her department listens to the public, fielding more than 10,000 COVID-19-related phone calls and emails from citizens since the start of the pandemic.
She said that a team of epidemiologists and health department staff "are constantly reviewing the recommendations, and the roll up of the scientific literature provided by the CDC (Centers for Disease Control and Prevention), the WHO (World Health Organization) and other peer-reviewed literature on the effectiveness of masks. We know that the evidence is clear and resounding that masks are effective in reducing the spread of illness, especially for COVID-19."
She said that while alternative therapies are good for general health, her department isn't actively looking into those.
"I wouldn't say that those at the top of the toolbox," she said. "We are focusing on things that have evidence that support prevention."
And she said that the mask mandate is based on Dane County's current high rate of COVID-19 transmission, based on the CDC's definition.
"We have exceeded that for quite a while," she said, and a decision to end the mask mandate will be based on that and other metrics."