As COVID-19 canceled conventions and large events such as the Ironman, CrossFit Games and World Dairy Expo, Dane County hotels suffered, many closing for good.
Waunakee's one hotel on Hwy. 19, once known as the Baymont Inn & Suites, transformed as the owners began working with nonprofits to offer transitional housing.
The owners, Tony Jakacki and Mian Asghar said that was the alternative to shutting the doors and closing it for good.
Today, Sankofa Educational Leadership United oversees much of the operation of what is for now a transitional housing program for displaced families in the organization's rapid rehousing program.
Sankofa relates to a West African proverb that roughly translates to "go back and get that which belongs to you," the organization's founder, Jalateefa Meyer explained.
The organization aims to address disparities in education, criminal justice and health. Housing is key.
"It's really important to dig deep into such a big social determinant of health and find ways to change that," Meyer said.
COVID-19 Impact on Housing Security
Sankofa supports families with a variety of housing issues. Prior to the pandemic, Sankofa provided families with bill-paying assistance, but when the Safer at Home Order was issued last year, many lost their jobs and then housing.
"The calls began to change in June," Meyer said. Rather than seeking assistance to pay bills, people were already on the street.
Unemployment benefits were delayed as well.
"People were losing housing that had never experienced homelessness before. It wasn't just people with mental health or substance abuse issues," Meyer said, adding these were blue collar workers.
"The calls kept coming and didn't slow down. We were like, we need to pause and figure out a strategic plan of how to help people," Meyer added.
Located in Sun Prairie, Sankofa Educational Leadership United serves mainly residents outside of the City of Madison. Meyer noted that many would not feel safe at Madison hotels as shootings have become more commonplace there.
Sankofa initially found a few rooms at the Waunakee hotel.
Jakacki and Asghar had previously provided transitional housing for another nonprofit's clients. However, that nonprofit did not help with maintenance or janitorial services or client support with training and case management.
The hotel staff were ill-equipped to accommodate the displaced families' needs.
"We asked the owners, how would you feel if Sankofa took over the building?" Meyer said.
"We realized we needed case managers around the clock and staff. We needed people with the ability to problem-solve with people in crisis."
Many families there are struggling financially with extreme stress as they lack secure housing.
Sankofa also provides the residents with linens, towels and cleaning supplies to take along when permanent housing is secured. The hotel provides housekeeping once a week, and clients can use the laundry onsite.
Sankofa also provides educational training in the hotel's conference room. During the pandemic, this was done via Zoom. United Way supplied cellular phones for the families, so they could participate from their rooms.
Meyer called the rapid rehousing a "housing first" program. When a client comes to Sankofa, a needs assessment is done within the first 72 hours to identify any barriers to housing stability such as mental health or health care issues, poor credit, lack of employment or transportation and others.
Based on that assessment, the case managers provide a housing stability plan to ensure the clients can overcome all barriers.
The goal is to secure housing within 30 to 90 days.
Meyer described three different models. For those without an income, Sankofa will pay the first month's rent and security deposit, then continue assisting with lesser amounts as the tenant finds employment and financial stability.
Sankofa also supports those who are not able-bodied, assisting with rent until Section 8 housing can be found.
"If income is not a barrier, we still do a gradual release of responsibilities," Meyer said. Case managers monitor along the way to be sure bills are being paid.
Currently, the Waunakee hotel has 37 rooms for families only. The Magnuson Grand Hotel Madison near Cambridge provides 50 rooms for families and single individuals.
Sankofa prioritizes the clients served, responding first to those with small children on the street or living out of a vehicle. Families with children under 2 are first to receive attention. Meyer said this is one way Sankofa addresses the high infant-mortality rate among African Americans.
Meyer estimates about 50 families are on a waiting list for the rapid rehousing program.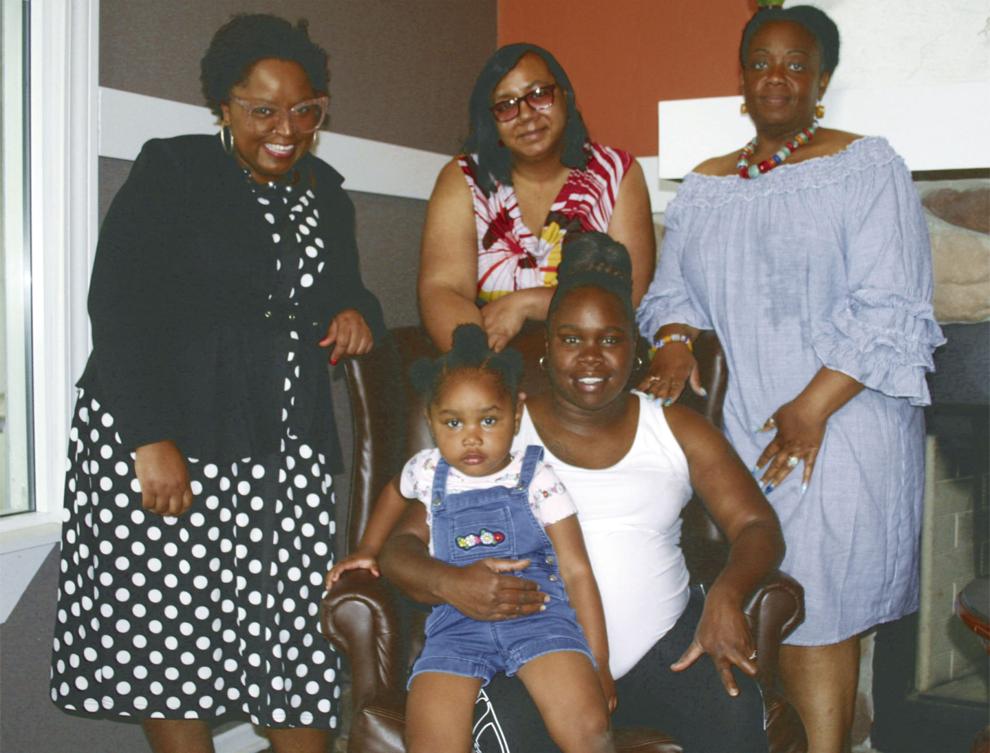 Ireanna Anderson is expecting her fourth child in early July. Her 10- and 6-year-olds were at school when the Tribune visited the hotel. Anderson had been living in Janesville when she lost her section 8 housing in January. She has been living at the Waunakee hotel and is due to move into an apartment on Allied Drive.
Anderson said she's grateful for the services Sankofa provides single women and families. Her third-born, Jamiya, age 3, attends child care when Anderson works at KFC. She previously had two jobs, but one put her on maternity leave.
"It feels wonderful," she said about getting back to work and finding housing. "I didn't know what I was going to do."
Anderson said the case managers look after the families, and she meets with hers weekly.
Jakacki said he and Asghar were considering closing the hotel when they met Meyer and the others at Sankofa. They liked that the hotel housing would be very temporary for residents, and initially promised five to 10 rooms. They said the other nonprofit they worked with to provide transitional housing was a poor fit as their hotel staff were not trained to work with people in crisis.
But they began to develop a relationship with Sankofa and provided more rooms.
The two owners estimate that 70 percent of their hotel's rooms had accommodated overflow from large Dane County events like the CrossFit Games and World Dairy Expo; travel risks during COVID-19 prevented guest stays from those visiting family in Waunakee for weddings or graduations.
They don't expect the lodging situation to change soon, either. Asghar said industry experts predict hotels stays may begin to pick up in 2023 or 2024.
"Nationwide, destination-based hotels are making good money, but we are not a destination-based hotel," Asghar said.
Because the hotel is now operating as nonprofit, it is not collecting a room tax. Jakacki said the owners have spoken to village officials and offered tourism dollars.
Jakacki and Asghar had plans to renovate the hotel and add a third story in 2019.
"We were just about to put a deposit down with an architect for construction plans," Jakacki said, adding the pandemic put the plans on hold.
The hotel is accepting contributions of clothing, particularly professional clothes for job interviews, and food. Sankofa also accepts monetary contributions. To learn more about the nonprofit, visit the website, www.sankofaelu.com