You have to be a strong, fierce and courageous woman to run a multi-million-dollar business in a male dominated industry. Michelle Sukow is all of those things.
Sukow has been the majority owner of Topel Truck Center since it's purchase from Clifford Topel in 2000.
When her children were young, her former husband Shawn Topel, had a lot of time invested into the family business.
"I said, if you want to do this, we're going to do it," she said of splitting the heavy towing from the auto repair and car and truck towing business.
The family members came to an agreement and started Topel Truck Center on April 15, 2000.
"I've been 51% owner in the business since day one," Sukow said. She had two young kids at the time and was looking for a more stable income for her family.
They had two heavy trucks and a service truck and leased a building from the truck stop, near their current location.
They stayed there until 2006 when they built their own building, where the business resides today.
There were four employees to start with and now Sukow has 18 employees in two locations in Madison and Lake Mills.
They now have six heavy trucks, one medium duty and two service trucks.
The Madison location joined the business in September 2008.
"A lot of our customers were asking us to come into the Madison area. We did a lot of work with the dealerships and businesses in Madison."
"We had some major growth spirts," she said. "There was a constant learning curve, learning about the industry, learning about business, learning about every aspect."
Through the trials and tribulations of growing a business Sukow says she has loved challenges.
"I always felt like failure was never an option, so I worked really hard to try to figure it out, but I learned after so many years that failure is a part of it. We learn from our failures and that's how you become successful."
Her failures became easier to swallow when she looked at it as a lesson.
She became the sole owner of the business just last year.
"My employees came to me and they were not happy with the direction of leadership in our business, so I had to make some tough choices and one of those choices was to do a buyout and become the sole owner of this business."
She says she is excited the Topel Truck Center brand is now a Sukow Company.
"I'm so excited to be the sole owner," she said. Her plan is to form a parent company and have all of her company's underneath that umbrella.
Sukow also owns Main Street Auto and Car Wash as well as Lake Mills Laundry. Her newest venture is her personal brand. She does public speaking and coaching.
Since being sole owner at Topel Truck Center, it was important to Sukow to change the company work culture and environment. She wanted it to be a healthy and positive place to work.
"I wanted there to be a positive mindset and an encouraging environment so we all could grow together, that was important to me."
The most important thing she did was make sure her employees felt they were respected.
"Taking pride in your work environment and taking pride in the shop so it's clean and safe and has a good atmosphere," she said. "We're all a team so we help each other out."
She said it's important for the culture of the company for everyone to work together.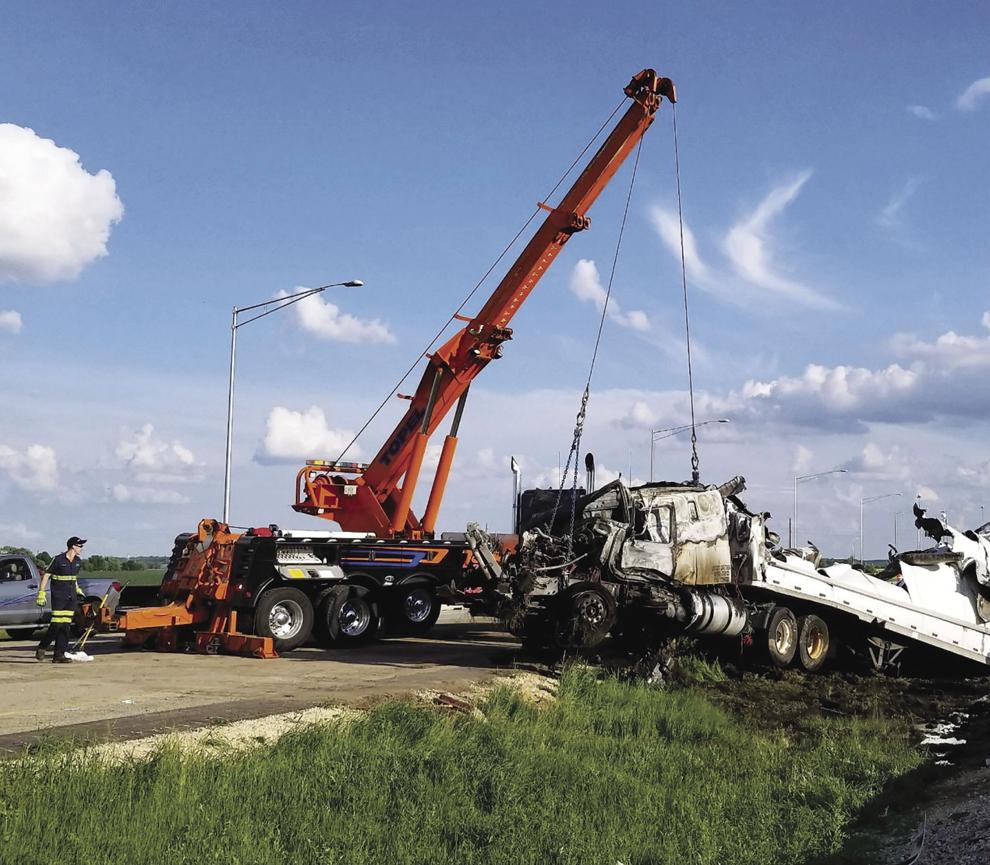 "I make sure I'm out there sweeping the floors. I make sure I'm out there conversing with employees. I make sure that my dispatchers have plenty of room to make decisions and grow."
For Sukow the best thing about owning the business is working with her son Keegan.
"It's a privilege to get to do that. I love watching him grow. I love giving him the room to expand his horizons," she said. "He's taken on leadership roles, probably sooner than he intended on, and he's taken it with grace and courage. He's done a remarkable job."
It's also nice to get visits from her grandson and daughter-in-law once in a while.
Sukow's mother Linda Sukow has also worked at the business since 2008.
"It's a family atmosphere here," she said. "I get to have my grandson here and it's the best."
Sukow says it's exciting to watch her grandson get excited about riding in the tow truck with his dad.
"I can't wait to watch him grow up in this."
The business now has three generations working there with a fourth showing up for playtime once in a while.
The towing business is feast or famine, she says. Winter is a busy season for them.
"It was one of the best winter's we've ever had," she said. "Winter was a prime example, my guys would say, 'I know I'm not on call this weekend but I'm around if anything comes up.' They know it's important to get the job done."
Sukow feels like she has helped to change the culture of the business over the years.
"I hear it from my guys all the time."
The business has many long-term employees, some of whom have been with them since the beginning or close to it.
The pandemic caused many changes for the business, most of them positive.
"It was just scary because you didn't know if you were even going to be in business."
The pandemic helped them to look at things differently and keep a better eye on the bottom line, like watching overtime, expenses and making good choices on equipment maintenance.
"When things slowed down, we took the time to clean and organize."
The mom of two grown children dreamed of being a physical therapist or psychologist when she was younger, but she's grown into an independent business owner with even bigger dreams.
"I've always enjoyed entrepreneurship and business and the challenges it brings. I enjoy the accomplishments. I enjoy working with people and helping them. Every business that I own is a service-based business."
Her personal brand focuses on coaching business owners and public speaking. Recently she had branched into doing podcasts.
"It's helping business owners learn from my mistakes and give them ideas and suggestions to become successful and work with one another."
She said she just wants to help people be happy and successful in their business and life.
"Our businesses and careers are a huge part of our life. They take up the majority of our day, so if we're not happy in that aspect of our life how can we go home and be the best person we can be for our families. We just can't."
After going through her divorce, she also helps people with that aspect of their lives in her coaching business.
"I want to inspire people to live their best lives and take back control of their lives," she said there isn't a lot of help for people out there going through divorce.
"I love being a restart coach."
She does webinars, seminars, workshops and public speaking and sometimes one on one coaching. She also offers several products including gratitude journals.
Her coaching and public speaking business got started after she began speaking during different events for the Women of the Towing and Recovery Association of America and the Towing and Recovery Association of America. She is a board member in each association.
"I enjoy volunteering in this industry. I want to see it grow in unity and professionalism and get the respect these men and women deserve. It's a great profession."
Much of her work centers around safety.
"It's dangerous and they risk their lives, like any other first responders on the side of the road. It's scary for me to send my guys out there and to send my son out there. I want everyone to be safe and come home every night to their families."
Recently Sukow participated in a legislative conference where they discussed the "Slow Down or Move Over" law.
"I really love this industry, I wasn't born into it, but the more I do the more I want to educate those who are not in this industry about what we do and how important our job is."
She feels like she has grown as a person and a business owner during these years.
"I'm excited for the future. I can't wait to see where this goes. At some point I will hand the reigns over to my son," she said. "I have always enjoyed coming to work and I've always enjoyed what I do."
Sukow feels like she is in good company in Lake Mills, where there is no shortage of female owned businesses.
"Woman have a lot of success here, a lot of power here."