James "Jim" Bartlett and Elinor "Ellie" Bartlett of Lake Mills are both veterans of the United States Navy, and Jim served in the U.S. Army as well from 1965 to 1968.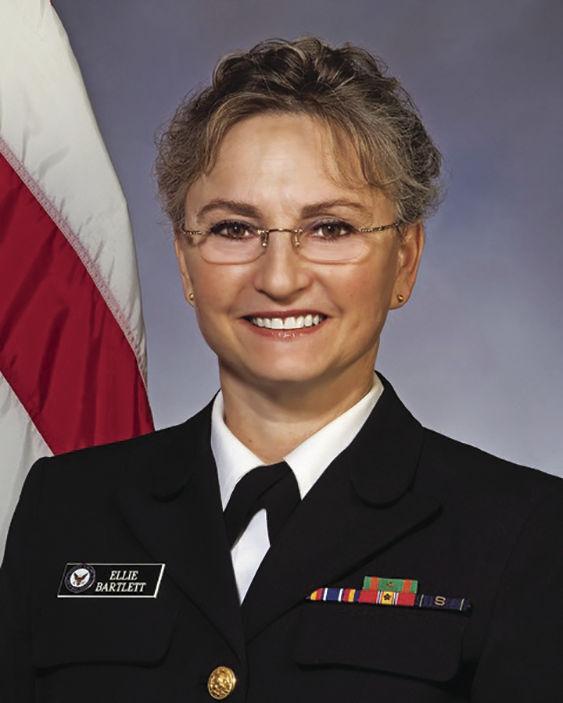 Ellie was born in New York and raised in the Middle East. Her father was an engineer for the Arabian American Oil Company.
"I grew up on the Persian Gulf, in the Eastern Province of the Kingdom of Saudi Arabia," Ellie said. "My upbringing in the Middle East was fascinating and fun. We lived in American compounds and studied in an American school system through ninth grade, after which parents would send their children to international boarding schools for the last three years of high school, to places like Egypt, Lebanon, Greece, or Switzerland. We would fly home to Arabia during Christmas and summer breaks."
Ellie said she didn't realize how unusual her upbringing was until later in life.
"I realized that not everyone got to study abroad and travel around the world like jet-setters."
She traveled extensively in Europe and the Middle East in her younger years.
During their six weeks of family vacation they would return to the United States to repatriate and travel all over the world.
"It was a privilege to actually visit the many places we studied about in school, and to experience many different cultures and languages up close and first-hand, especially when we traveled to third-world countries or behind the iron curtain. Realizing that many people in the world lived under socialism, communism, or under the rule of a dictator or monarch made me understand and appreciate what it meant to be an American. Freedom is precious, and rare."
Before she entered the military, she was working in Iran for the Niavaran Cultural Center in Tehran.
"My sister and I were both there. We fled Iran on Christmas Eve 1978 about two weeks before the shah went into exile."
The sisters came back to the United States. They left everything behind, including money in the bank.
"I had personally experienced the fear and uncertainly of living, studying, and working in war-torn, chaotic, and oppressive parts of the world."
"That's when I decided to join the U.S. military. My mom had been a U.S. Naval officer and served during the Korean crisis, and my father was also in the Navy."
She walked past a Naval recruiting poster in downtown Houston, Texas and decided to join.
"The Navy's slogan was "Join the Navy and See the World," and even though I had done a lot of that, I loved to travel, and I loved the idea of military service."
She took the admission exam and said she didn't think she would be accepted into the Naval officer program due to her degree in performing arts and humanities.
"I wasn't sure the Navy would need anyone with that kind of degree."
She attended officer candidate school in Newport, Rhode Island and was commissioned an Ensign in December 1979.
Ellie had several tours before she met Jim. She was stationed as a security officer at the Washington Navy Yard. She also had two tours in the Pentagon.
Ellie and Jim met at the U.S. Naval Academy, where they both stationed. Jim was an assistant professor of military law, and Ellie worked in the commandant's office. They met through the sailing program.
"When military members marry, they try to keep you together," Jim said. "In Washington D.C. we could have been miles away from each other, but as it turned out, we were both assigned to the Pentagon. We could see each other from our offices right across the hall."
Eventually Ellie transferred to the Navy Reserve to take care of their three kids while Jim stayed on active duty.
"Both of us were up at dawn and dropping the kids off with a babysitter who spoke Farsi. We only saw our kids for a short time in the morning and evening," Jim said.
"It was hard," Ellie said. "I really tried to have a career and raise a family, because when you are young you think, 'I can do it all.' But I couldn't do both, so I chose to put my family first."
In the Naval Reserve, she drilled one weekend a month and two weeks a year earning points toward her retirement. She was also able to be promoted through the ranks. She also had the opportunity to become commanding officer of a reserve unit in Naples, Italy while Jim was stationed there.
Jim started after high school as a rock and roll disk jockey, radio-TV announcer, and broadcast engineer.
"I worked for a total of 13 radio and TV stations before I finally gave it up," Jim said. "I would be in the radio station studio with a big glass window playing rock and roll music, and the kids would come up and bang on the window. I was a big celebrity, but it was a fast lifestyle where I was constantly looking to move to a bigger city."
"When I was in Key West, Florida I got an invitation from Uncle Sam to join the Army," he said. "That was in 1965 at the start of the Vietnam War, so rather than being drafted and for two years going in the infantry, they gave me the option of joining up for three years and choosing my occupation." He was assigned as a DOD counterintelligence agent.
"When I graduated from there I was like Men in Black, with civilian clothes."
During his three years in the Army, he worked as an undercover agent stationed mostly in Los Angeles.
"I never wore my uniform, so it was not like being in the Army during Vietnam."
He got out of the Army as a sergeant and used his GI Bill to go to college and law school, while still working as a radio announcer sleeping every other night and working overnight shifts.
He went to college at Eastern Washington University and obtained a J.D. from Albany Law School, Union University in Albany, New York.
After law school the Navy offered him a job as a prosecutor.
"That's exactly what I wanted to do, so I joined the Navy JAG."
While he was Executive Assistant to the Navy Judge Advocate General, had a first look at the script for the TV show "JAG." When the show came on TV, Jim said recruitment for Navy JAG tripled.
He was the JAG lawyer on the USS AMERICA aircraft carrier for two years.
"That ship had over 5,000 men on board, and I was their only lawyer. Everybody had legal problems and many incidents had to be investigated. We had hundreds of crimes, several plane crashes, and six deaths in my time on the carrier," he said. "Our brig was full all the time."
He said joining the military as a lawyer is a great way to start a legal career." Jim was a Navy lawyer for 20 years, retiring in 1995.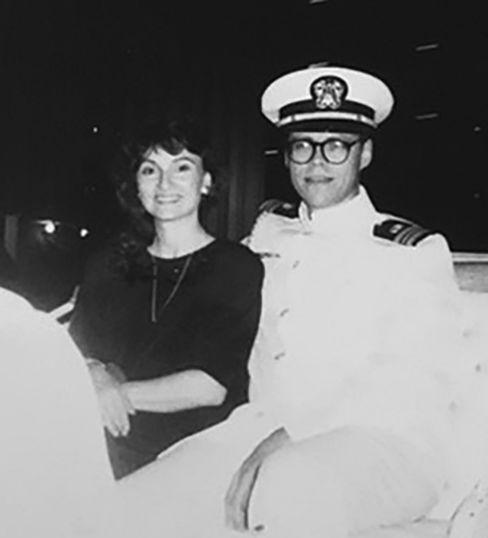 Both Jim and Ellie retired as commanders from the Navy. For Ellie it was important to defend the American way of life by serving her country. "Serving really appealed to me because I had grown up in countries where there wasn't a lot of freedom. I thought that serving a country that stood for the freedoms everybody seeks was an important thing to protect." Jim agreed.
When Jim retired from the Navy, he joined a large law firm in D.C. before moving to Florida to work for the Harris Corporation where he was senior council for government contracts.
While at Harris he began seeing companies fined millions of dollars for export control violations. He became director of global trade controls, got a license as a Customs Broker, and became an expert in the International Traffic in Arms Regulations. He eventually moved to Northrop Grumman Corporation in Arlington, Virginia, where he was Senior Counsel for Export/Import Law. This led to his third career, opening a Washington D.C. based law firm called Full Circle Trade Law and becoming a partner in a firm in the Netherlands called Full Circle Compliance.
It is a violation of federal law to allow certain persons to see export-controlled information without government authorization.
"If you let non-U.S. persons to see restricted information, that may violation that can result in big fines or other penalties," Jim said. "Most of my clients are companies who are in trouble for mistakes made by their employees."
"One of the interesting things about Jim is I didn't realize he was such a workaholic when I married him," Ellie said. "He's retired twice, but back at work, so I ask him when he's really going to retire, and he said I've tried it twice and I don't like it."
Ellie says he keeps doing what he likes to do, practicing law and she keeps supporting him to the best of her abilities.
Jim also writes textbooks on international trade law and publishes "The Daily Bugle," a daily newsletter with over 10,000 subscribers. Jim is Judge Advocate of the VFW in Jefferson, and both Ellie and Jim are members of the Lake Mills American Legion post.
The couple has six children and 13 grandchildren and moved to Lake Mills to be closer to their youngest daughter, who has six children in Lake Mills.
"At the time we moved out here they were all under eight and we were traveling back and forth a lot" Jim said.
"We love it here! We should have moved to Lake Mills years ago," Ellie said, and Jim agreed.