Vice President Mike Pence sought to portray himself and President Donald Trump as the law-and-order ticket in his campaign appearance in Janesville on Monday, and the crowd loved it.
Speaking to about 300 people at the Holiday Inn Express and Conference Center, Pence said police are "some of the best people in this country … They count our lives more than their own."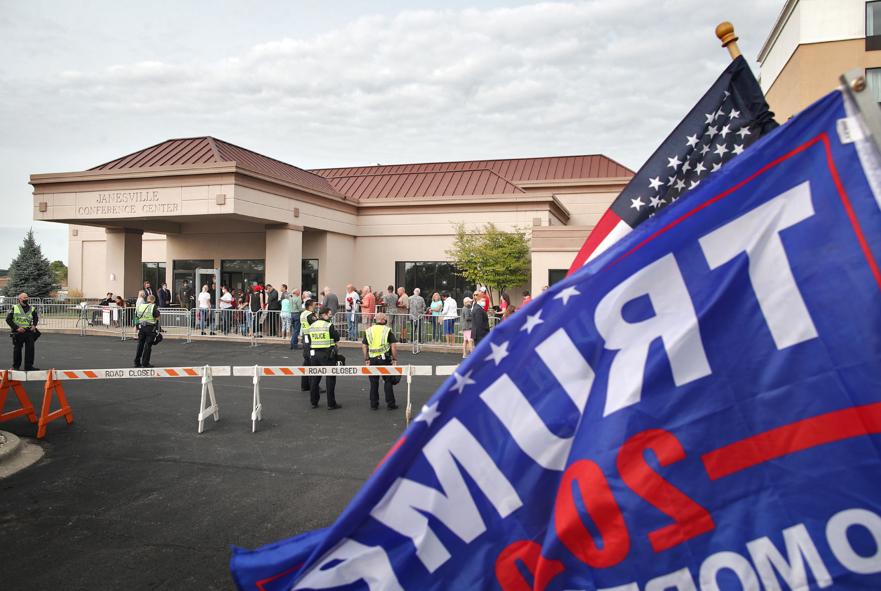 He did not directly address the issue that has led to massive protests in recent weeks over charges of racially motivated police brutality and killings of Black people.
Pence portrayed Democratic presidential candidate Joe Biden as someone who speaks of peaceful protests while cities burn and who would repeat policies that led to violence in cities. He did not say what policies he meant.
Pence did mention the apparent ambush shooting of two Los Angeles sheriff's deputies Saturday and the protesters who showed up at the hospital where they were treated, saying, "We hope they die."
Pence said he and Trump support the right to protest, but he said rioting and looting are not free speech, and that must stop now. He said offenders would be prosecuted "to the full extent of the law," a line that lifted the crowd to its feet.
There is no reason the country can't fund law enforcement while expanding opportunities "for our African American neighbors," Pence said.
Other big applause lines included support for "the sanctity of life," for "reopening schools" and a call for an end to rioting.
The crowd came to its feet often during the speech and several times chanted, "Four more years!"
Pence noted the record-setting fires on the West Coast and a hurricane threat in the South.
"Know you are in our prayers, and that we are with you every step of the way until we build back, bigger and better," Pence said.
Pence visited Janesville 50 days from the election, his second stop to the area in less than 30 days. He spoke at a town of Darien factory Aug. 19.
"The road to victory runs right through Wisconsin," Pence said, echoing analysts who say the Badger State could tip the balance Nov. 3.
Rep. Bryan Steil, R-1st District, who introduced Pence, also stressed the law-and-order theme.
"President Trump, Vice President Pence and I oppose defunding police and back the badge," Steil said, eliciting strong applause.
Steil asked the crowd to applaud all local law enforcement officers. The crowd obliged.
Pence called Steil a rising star.
"What a great young guy, and big shoes to fill here in Janesville," Pence said, perhaps referring to Steil's predecessor, Paul Ryan, who was speaker of the House before retiring from Congress in 2018.(tncms-asset)59c38766-aba0-526e-bde7-ff831cc11541[1](/tncms-asset)
Ryan, who had been close to Pence during their time in Congress, was not seen at the rally.
Pence had Steil's parents stand up and acknowledge applause. They waved and smiled.
Attendee Robert Zas of Janesville said he will vote for Trump, who he sees as someone who has made mistakes.
"But he met the Lord, got saved, repented of his sins," Zas said. "God forgave him; I forgive him. He makes some stupid mistakes here and there. We all do. He speaks his mind. He tells the truth. He's here to protect this country."
The event ended around 11:45 a.m. as Pence's motorcade headed back to the Southern Wisconsin Regional Airport. Pence said he was headed to an event in Montana.
Based on a Gazette reporter's survey of vehicles parked in the guest lot set up for rally attendees, those who came Monday were mainly a local crowd.
Most vehicles in the lot had Wisconsin license plates—although a handful were Illinois plates, along with a few Florida, Georgia and Indiana plates.
And unlike some of Trump's public appearances in the last month, Pence's Janesville rally did not draw a large crowd of protesters or counter-protesters.
Three demonstrators—two people who oppose Trump's reelection because of his stances on the coronavirus pandemic and climate change, and one person urging Democratic Gov. Tony Evers' recall—made up the entire protest crowd.
A hotel grounds manager said anyone picketing or demonstrating was being asked to stay off the hotel property. That rule kept protesters and rallygoers mostly separated.
One man waved a flag outside calling for Evers' recall. He declined to identify himself. His wife asked people arriving to sign a recall petition.
The man explained his efforts only by saying, "Evers is a joke."
Closer to the event's entrance, on the sidewalk alongside a temporary picket fence between the hotel grounds and Wellington Place, Chris Hionis of Evansville stood holding a sign that read: "Trump lies. People die."(tncms-asset)89cdef6c-ed34-5993-be74-3592c59dd490[2](/tncms-asset)
Hionis said he's a "lifelong conservative" who identifies himself as a "never Trumper." He said he will vote for Biden.
Hionis believes Trump has told "20,000 lies" during his presidency, the most significant coming from recent revelations that the president was on record downplaying COVID-19 concerns.
Hionis is concerned that almost 200,000 people in the United States have died from the coronavirus while the president played down the pandemic.
Janesville resident David Innes protested on the same sidewalk as Hionis.
His two signs did double-duty. The one side read: "Fix Climate" and "Tax Carbon." The other side read "Black Lives Matter."
"Signs have two sides, so you might as well use both sides," Innes said.
Innes said he plans to vote for Biden, but he said he wasn't protesting Pence's appearance to pick a fight with supporters of Trump or Pence.
He told reporters that he thinks the "hate fest" between Democrats and Republicans is "sophomoric" and a "distraction" from what he views as the world's biggest problem: climate change.
"But a lot of the young people don't care about climate change and half the state of California on fire, or 200,000 people dying from a virus," Innes said.
Innes, his face covered by a mask, pointed at a tall woman in her 20s. The woman was mask-free, proudly showing a masked TV reporter her satin Mike Pence banner.
"The young people are not too worried about all this deficit spending we're having to do right now," Innes said.
"Instead, they just keep holding big university parties. You know what's not laughable about that? They're going to be the ones picking up the bill for years and years."
At least two SWAT teams were present at the hotel Monday morning. A Gazette reporter saw law enforcement from Janesville, Milton, Beloit, the Rock County Sheriff's Office and the Dane County Sheriff's Office.
Two officers with rifles on tripods were stationed on the roof above the entry to the seating area at the rally.
On the hotel roof, one armed Janesville police officer monitored the crowd.(tncms-asset)e993b0cd-2e00-539f-a20b-625e9fc9dfb0[3](/tncms-asset)
Several police agencies involved in security for Pence visit to Janesville