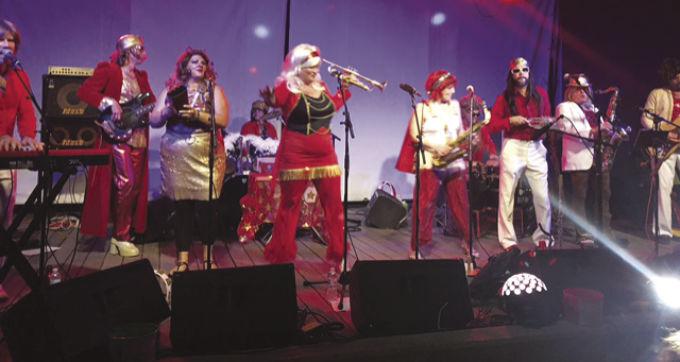 Grab your boogie shoes and relive the disco era while benefiting a regional non-profit. The Koats for Kids DiscoMania fundraiser will be held Saturday, Sept. 18 from 2-5 p.m. in the Lake Mills Market parking lot, 375 E. Tyranena Road.
DiscoMania will serve as a drop-off point for new or gently used children's coats. Those who do not have a coat to donate are asked to pay a $5 per person donation to benefit the Koats for Kids program. Coats can also be dropped off in advance at the Lake Mills Market's service desk where donors will be provided an advance ticket to the Sept. 18 event.
According to a release, the event will feature live music from VO5, an award-winning nine-piece funk and disco band out of Madison that will cover the best disco hits from the '70s including ABBA, Bee Gees, and Earth, Wind & Fire beginning at 3 p.m.
Children will be able to get their faces painted with groovy 1970s themed designs and pick up free love beans and paper peace signs.
Attendees are invited to dress in their best disco or '70s attire and participate in the disco costume parade. There will also be a photo background people can use to take pictures.
Those who work up an appetite while dancing to the disco hits will be able to purchase concessions. There will be a cookout featuring hot dogs, brats, burgers, peace sign cookies, snacks and beverages.
Two Lake Mills businesses are behind the fundraiser. Nancy Boebel, the owner of Cream City Marketing, said the business had just begun working with the Community Action Coalition (CAC), which coordinates the Koats for Kids program, to build awareness of the organization's presence in Jefferson and Waukesha counties. She approached Lake Mills Market owner Mitch Eveland to see if he would host an event to benefit Koats for Kids.
"He thought it was a fun idea (and) wanted it to be a family event and joined in as a corporate sponsor of the program as well," Boebel said.
"We are very happy to support Koats for Kids, a great community-wide effort," Eveland said. "Our shoppers have already shown their support of the program through our August round-up for Koats for Kids."
According to the event press release, the Koats for Kids program was founded in 1986 and has collected, cleaned and distributed more than 330,000 new or gently used coats to children in Jefferson, Dane and Waukesha counties. Since its inception, the coats distributed in Jefferson County have been cleaned free of charge by the Lake Mills Cleaners.
The 2021 Koats for Kids campaign runs from Sept. 13 through Oct. 9. CAC has a goal of 6,000 donated children's coats. The CAC reported an increase in requests for children's outwear of all sizes at last year's distribution event, with demand exceeding items donated.
"Our hope is that everyone attending has a great fun afternoon — VO5 is super fun to watch," Boebel said, adding she hopes to make the DiscoMania Koats for Kids fundraiser an annual event.
For more information about DiscoMania, contact Boebel at 414-207-6575.
Anyone who would like information on how to receive a coat and the Koats for Kids program should contact contact Oliver Soler, Community Engagement Coordinator for CAC of South Central Wisconsin at 608-279-0821 or visit www.cacscw.org.