Last weekend I went with my mom to Watertown in hopes of finding some creepy yet office-appropriate Halloween decorations. I realized a lot of the seasonal décor I have might not exactly be a great fit for a professional environment and if I wanted to celebrate the most wonderful time of the year at work, I'd need to purchase a few new things.
The hunt for Halloween was unsuccessful – either stores didn't get much inventory to begin with or everything had already been picked over. It seemed Christmas decorations were already taking over the shelves (that's a whole other topic I won't even get into here).
I was a bit bummed out about not getting any decorations for the office on the ride home. But then, I saw something that lifted my spirits beyond finding holiday décor. We were driving through Johnson Creek when I saw it: a van. Not just your typical van, but one that was painted the signature colors of the Mystery Machine.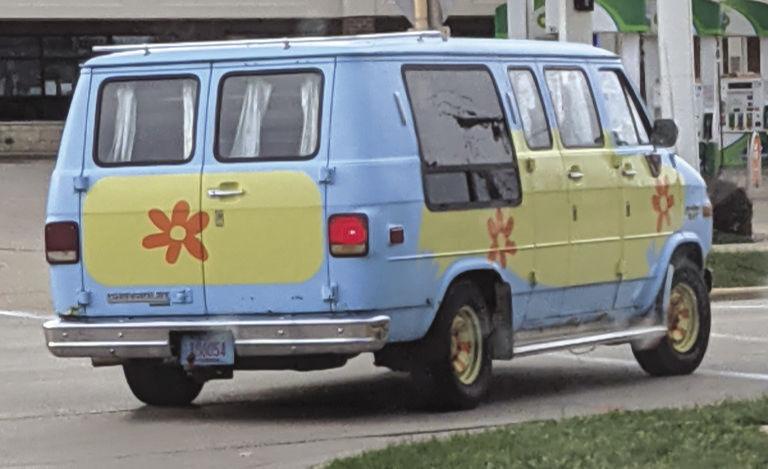 For those who aren't aware, the Mystery Machine is the mode of transportation for Scooby-Doo and his teenage companions. It's a far out blue and green van with orange flowers. It is one of those iconic vehicles you would be able to recognized anywhere. There is really no mistaking the Mystery Machine.
The van was heading west on Highway B – directly towards Lake Mills.
The pursuit to get a decent picture with my phone was on. There was no way I was going to see a real-life cartoon vehicle and not get photographic evidence.
Now, maybe you're wondering why I was so determined to get a picture of this van. Why would a 39-year-old woman be asking her mom to follow this random van?
Simple. I loved Scooby-Doo cartoons when I was growing up and that includes through my college years. I liked how the teenage sleuths and their cowardly canine were able to solve the mysteries involving monsters and specters that were often greedy adults who were looking to make some easy cash. As a child, I liked the idea of solving mysteries, probably because so many nights were spent watching "Unsolved Mysteries" with my family.
I liked the "13 Ghosts of Scooby-Doo" featuring the voice talent of Vincent Price and even tolerated Scrappy-Doo who, like cousin Oliver in "The Brady Bunch," was among the most disliked character of the series. "A Pup Named Scooby-Doo" taught me about red herrings, mostly since Fred always blamed a character named Red Herring for each crime.
And, all right, maybe, just maybe, I could see a physical resemblance between myself and Velma. I think it was the first time I saw a female character with short brown hair and wore glasses on TV, even if she was just a cartoon.
We followed the van into Lake Mills as I encouraged my mom to get as close as possible. Did I encourage her to drive a bit faster? I plead the fifth. Eventually, the van made it to downtown Lake Mills and I was able to get a picture of the side and back of the Mystery Machine replica.
If anyone knows the driver of this van, be sure to thank them for me. Seeing the Mystery Machine show up in real life brightened up my day and likely helped bring some happiness to everyone who recognized it.