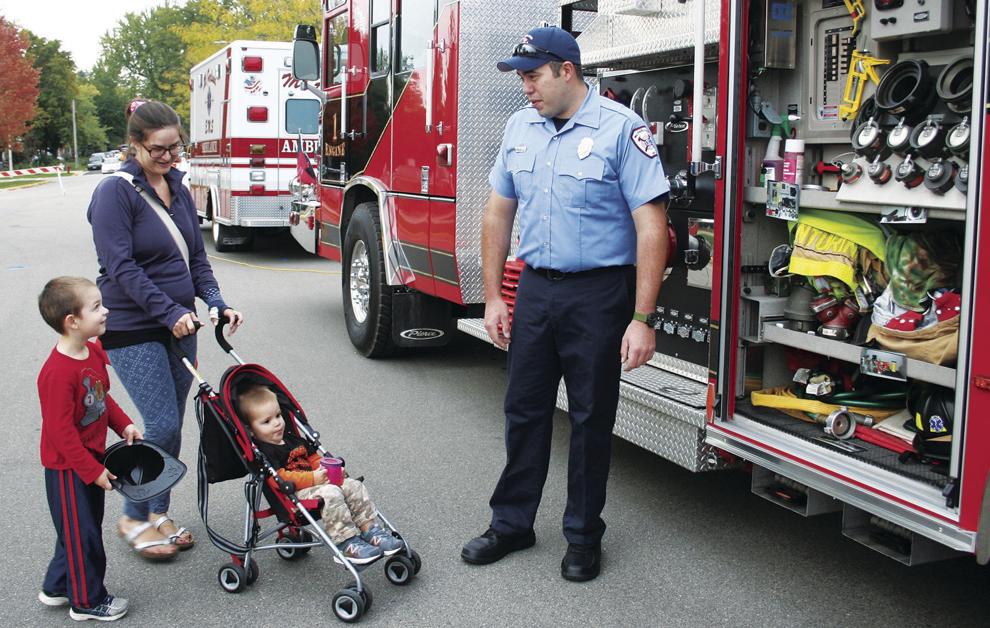 Fire Prevention Week is Oct. 3-9 this year, and McFarland Fire and Rescue will be marking the occasion.
"While we don't only focus on fire prevention education during fire prevention week, having a week dedicated to fire prevention education, we can reach all ages in hopes of reducing fire property loss, injury, and death," McFarland Fire Chief Chris Dennis said.
Jaxon Buchholz was excited to meet his hero, Sparky the Fire Dog, at the open house in 2019.
The department will be holding an outdoor event on Wednesday, Oct. 6 from 5-6:30 p.m. in the Madison Curling Club parking lot on Marsh Road.
The open house will feature sprinkler trainer demonstrations, the opportunity to practice extinguishing fires, use of fire hoses for kids and tours of the fire facilities in McFarland.
Kylie Johnson holds a fire hose as Andrea Terbrack sprays out a "fire" with the help of Capt. Harlan Hettrick during Fire Prevention Week acti…
"To help protect everyone, we decided to perform the open house outdoors only this year," Dennis said.
The open house marks a return to in-person Fire Prevention Week events. Dennis called 2020 a challenging year due to the COVID-19 pandemic. The department didn't have in-person events, but did share fire prevention information with local daycares, teachers and students in the community.
In addition to an open house this year, McFarland Fire and Rescue is working with the kindergarten classes and teaching staff in McFarland to "provide a fire safety message and education within the school." The department will also be visiting daycares for in-person safety education.
"According to the U.S. Fire Administration, there were 2,139 home fire fatalities reported in the U.S in 2020. The annual number is going down, and fire prevention education and protection systems are the main reason for the decrease. Hopefully, someday we can make it zero deaths," Dennis said.
Conrad Campbell, left, and Mary Ann Seaberg enjoy dinner and cake at the annual McFarland Fire and Rescue's open house special senior meal in …
Fire Prevention Week is sponsored by the National Fire Protection Association, and was created in 1922.
This year's Fire Prevention Week theme is "Learn the Sounds of Fire Safety," which encourages families to identify the sounds that smoke and carbon monoxide alarms sound like, and how to respond when both adults and children hear those sounds.
From left: Grayson Doll, Sterling Boldt and Kylie Johnson explore the inside of an ambulance in October 2019 in honor of Fire Prevention Week …
The National Fire Protection Association is encouraging everyone to test all smoke and carbon monoxide alarms monthly, replace change batteries when necessary, replace those alarms every ten years and learn the difference between the sounds of the two alarms. If you hear a smoke or carbon monoxide alarm, exit the home immediately. If someone in your household is deaf or hard of hearing, install a bed shaker and strobe light alarms.