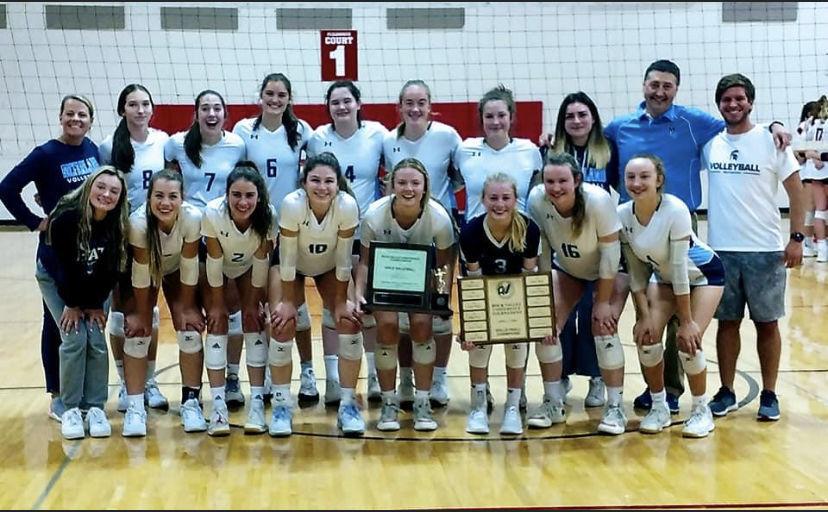 Continuing a streak of dominating in Rock Valley Conference play, the McFarland Spartans defeated the competition on their way to winning the Rock Valley Conference tournament on Saturday, Oct. 15.
McFarland defeated Turner (25-7, 25-7) and Whitewater (25-13, 25-19) to advance to the championship game against Brodhead. Against Brodhead, the Spartans won (25-9, 25-13) with senior defensive specialist Holly Casucci serving four aces. Senior setter Maddy Fortune recorded seven digs and had 22 assists.
The Spartans finish the regular season with a record of 35-2. Earning a one-seed for the postseason playoff bracket, McFarland will play the winner between Whitewater and Big Foot at 7 p.m. on Thursday, Oct. 21.
In the debut battle for the M&M Cup, the McFarland Spartans swept the Monona Grove Silver Eagles (3-0) on Tuesday, Oct. 12.
The McFarland Spartans celebrate with the M&M Cup after defeating Monona Grove 3-0 on Tuesday, Oct. 12.
"We had been playing each other non-conference for quite a few years," said McFarland head coach Trish Fortune. "We've always talked about doing something kind of like how Minnesota and Wisconsin play for the axe, hockey plays for the Waubesa Cup and so Todd was like you know what, I think I got it figured out, so he had a name and we split the cost and it's cute."
Sophomore middle hitter/outside hitter Ainsley Pennekamp hits a shot in between two Monona Grove middle blockers on Tuesday, Oct. 12. Pennekam…
Monona Grove opened the game with a 3-0 lead before McFarland went on a 9-3 run to go up 9-6. The Spartans extended their lead to 16-11, causing the Silver Eagles to take a timeout. After the timeout, McFarland went on a 4-1 run and kept a comfortable lead to win 17-25 in the first set.
In the second set, senior outside hitter Avery Pennekamp broke the game out of a 4-4 tie with a devastating spike. McFarland went on an 11-5 run before Monona Grove took a timeout with the lead at 17-11.
"We have a lot of offensive tools, and so that provides a difficult time for the other team to figure out who to block and who to focus on," said Fortune. "If they focus on one, Maddy can move the ball to someone else."
The closest Monona Grove got to the lead was 20-14, but McFarland closed out the second set on a 5-2 run to win 25-16.
Senior setter Maddy Fortune hits a serve in McFarland's 3-0 victory over Monona Grove on Tuesday, Oct. 12.
In the third set, the Spartans and Silver Eagles both traded points as McFarland led 11-10. A 3-0 run by McFarland caused Monona Grove to take a timeout. However, McFarland could not pull away as Monona Grove cut the lead to 21-20 before the Spartans took a timeout.
"We just need to pick up our intensity and focus, and we talked about really focusing on the first and second touch. The third touch will come, but the first and second touch are so key," said Fortune.
After the timeout, McFarland rattled off four straight points as Pennekamp served an ace on the final serve to win 25-20.
Senior outside hitter Hannah Rounds hit 14 kills and had four aces. Pennekamp served three aces and recorded 14 digs. Senior setter Maddy Fortune recorded 33 assists and 10 digs in the win.