McFarland police arrested a man July 14 on fourth offense OWI charges.
According to a media release from the McFarland Police Department, a McFarland police officer witnessed an eastbound vehicle traveling in the westbound lane of Farwell Street at approximately 11:24 p.m. on Wednesday, July 14.
The officer conducted an "evasive maneuver" to avoid being hit by the vehicle, before pulling a U-turn to follow the vehicle and attempt a traffic stop. After continuing to travel eastbound in the westbound lane at a pace below the speed limit, the driver pulled over, the release said.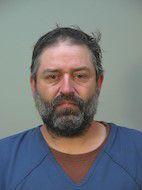 Once the officer made contact, the driver was identified as 45-year-old Mark Wahl of McFarland. Wahl reportedly told the officer he was traveling on the wrong side of the road because he was "trying to avoid the bumps and all that."
Wahl submitted to field sobriety tests and an evidentiary chemical breath test, which registered at 0.21. Due to his three previous OWI offenses, Wahl has a 0.02 blood alcohol (BAC) restriction.
Wahl was booked into the Dane County Jail for operating a motor vehicle while intoxicated fourth offense, and operating with a prohibited alcohol concentration fourth offense. He also received a citation for operating a motor vehicle left of center.