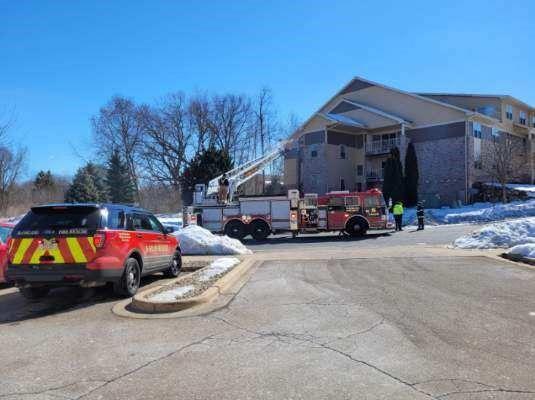 McFarland Fire & Rescue responded to a second-story balcony on fire just before 11:30 a.m. on Monday, which staff says was controlled by a fire sprinkler.
At 11:21 a.m., crews were dispatched to the fire at 5601 Lexington St. in the village of McFarland, which they found controlled by an exterior fire sprinkler head. They were able to extinguish the fire within about 15 minutes of it being reported.
According to a press release from the department, the sprinkler prevented the fire from extending into the attic of the building, though it did spread into the furnace room of the apartment, displacing one tenant.
the apartment that caught fire was unoccupied, one apartment resident was transported by a city of Madison ambulance with a non-life-threatening medical emergency.
A passerby called 911 after seeing the sprinkler activate.
"Without the fire sprinkler and fire alarm system, the fire's outcome would have been much worse," the department said in a release.
The city of Madison and city of Monona fire departments, along with the McFarland Police, responded to the incident as well.