Kathy Krusiec usually invites a dozen women to join her for decorating the Larson House Museum the weekend after Thanksgiving.
Unfortunately, because of the COVID-19 pandemic, the McFarland Historical Society's Larson House will not be part of Christmas in the Village or have open house all the Sundays in December.
Instead, Krusiec thought inviting a few people at a time to arrange and light up trees would be safer while still providing a cheery presence to those viewing the outside of this beautifully restored Victorian home at 6003 Exchange Street in McFarland.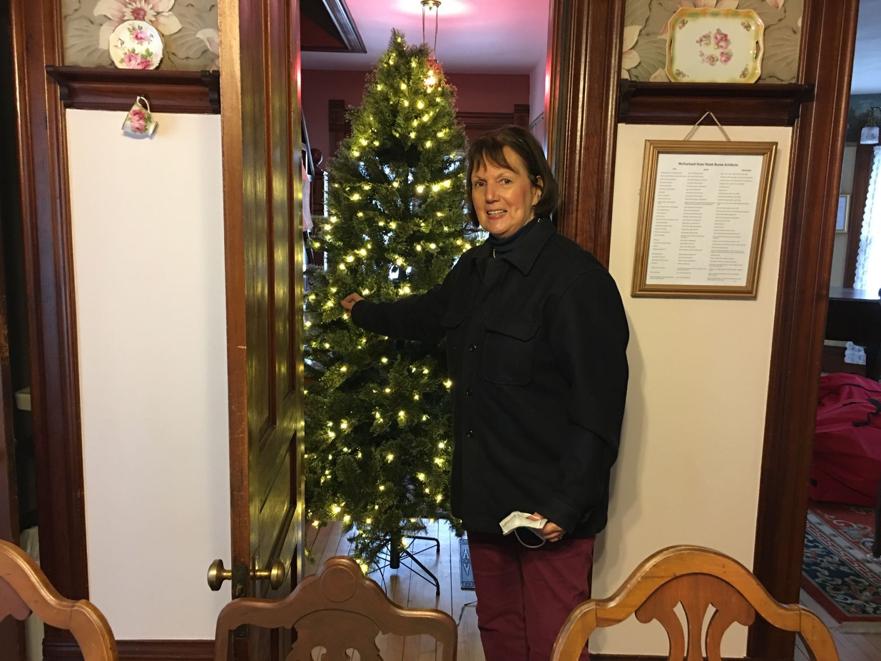 Wes and Jane Licht hauled up all the Christmas trees from the basement of the Larson house. Carol Torgeson and Jane Licht set up two trees and checked the lights on them.
Using money from the sale of Christmas gift baskets in past years, Krusiec had purchased many new artificial trees that were already adorned with lights and she purchased special large canvas bags that the trees were stored in. Nearly every room, with the exception of the kitchen and dining room, would have its own Christmas tree, each with its own theme. But this year, there would only be lights, no special ornaments hung from those trees.
Kathy and husband Norbert Krusiec hauled all the upstairs trees down from the attic at the Larson House. They set up five trees in the various rooms upstairs and downstairs and checked the lights.
Later, Russ and Judy St. Clair stopped by to place the old-fashioned lights on the large tree in the living room. Jane Licht will add timers to the electric cords and turn them on after Thanksgiving. She added lights and other decorations to the outside of the Larson House so all is ready to light up this corner of Farwell and Exchange Streets.
Even though regular open house hours will not be scheduled, Jane Licht is willing to give tours to small groups of six or fewer people wearing masks during the month of December.
"We still have our wedding gown display up, showing gowns from 1884 through 1977. We never charge for admission but always appreciate donations," said Licht.
Because there will be no Christmas in the Village or other open house events and no gift baskets for sale, the donations that usually provide important revenue will not be available this year. If you wish to arrange a special tour or give a donation to the Larson House, please contact Jane at 608-838-8178 or by email at licht.jane@gmail.com