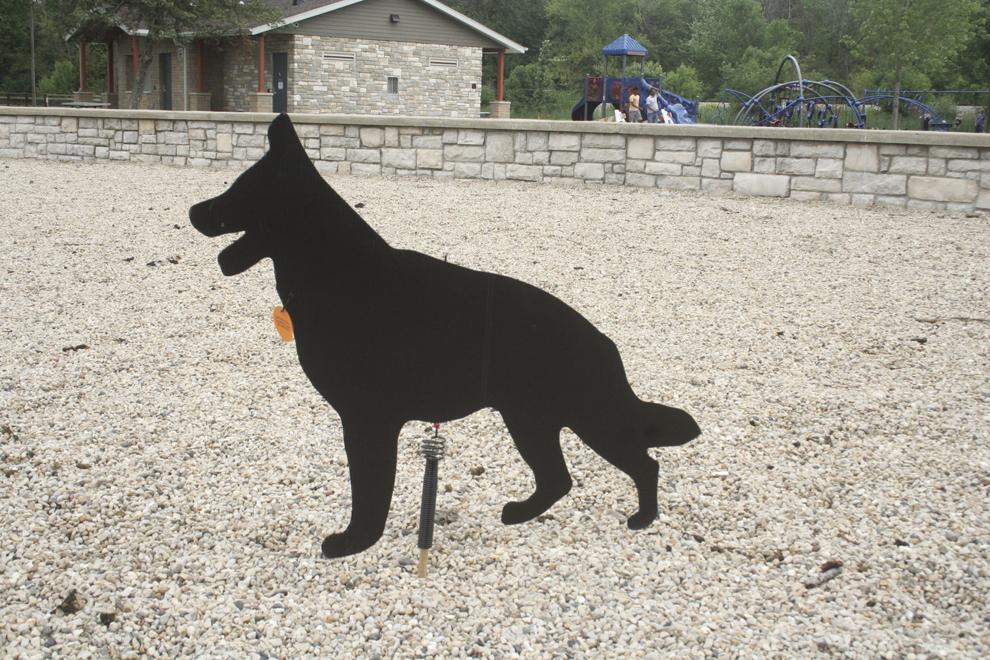 Mac
Mac, a decoy dog made of corrugated plastic, patrols McDaniel Park in McFarland as a deterrent to geese.
Park goers in McFarland will likely see a decrease in geese at McDaniel Park this summer, after the village made two new four-legged additions.
Mac and Willie, officially known as 'dog decoys,' were installed July 7 at McDaniel Park. The fake dogs are mounted to the ground but blow in the wind, with the intent to scare away any potential geese that approach the park.
McFarland Parks Superintendent Sayer Larson said a gathering of too many geese can quickly become a public health issue.
"Although a few geese are tolerable, there have been times where over 70 geese have been at the park," Larson said. "This many geese create a human health hazard as each goose drops two to four pounds of excrement per day. This also has an effect on beach closures as well."
Goose excrement carries a plethora of parasites and bacteria, including cryptosporidium, which can cause serious illness in humans, according to the Centers for Disease Control (CDC).
Cryptosporidium was behind a 1993 illness outbreak in Milwaukee that infected more than 400,000 people and killed 100 others after the parasite contaminated the city's water supply, the CDC website confirms.
Mac and Willie are helping McFarland avoid such an outbreak.
The fake dogs' silhouettes act as a visual deterrent for geese, Larson said, and they spin around for a live action effect. The dogs are made out of weather-resistant corrugated plastic.
Larson said the public is welcome to say hi to Mac and Willie, but encourages visitors to follow a few rules to keep the plastic canines safe.
"People are welcome to come and visit Willie and Mac, but please do not move them as they're hard at work," he said. "Also, the geese have left a mess prior to Willie and Mac's arrival, so please watch your step."
Efforts to clean the area are slow due to soft shell turtle nesting season, Larson added.