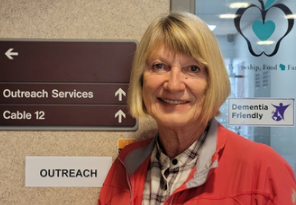 The saying goes that 'a retired nurse never stops nurturing and caring,' and volunteer driver Monica Sitter proves that to be true.
Shortly after retiring from her 35-year career as a mental health nurse, Sitter registered as a volunteer Driver Escort out of McFarland Senior Outreach, providing medical appointment rides to seniors in the area.
"I was looking for something to do when I retired, and this was similar to parts of the work I did in my job,where I was often responsible for taking veterans to their appointments," Sitter said.
Aside from its sense of familiarity, volunteering as a driver attracted Sitter because of the interaction with people.
"This is a good way to stay connected to the community," Sitter shared. "It's enjoyable to meet other members of thecommunity. You can make nice connections with people over time."
It's widely accepted that social isolation is now considered a top health risk, and Sitter understands the impact that providing rides has on people without personal transportation.
"A lot of the passengers do not have means to get to an appointment," she said. "They might have family, but their family is working, and they have no other resources to get them to their appointment. So my experience has been very positive — the passengers are very grateful to you and appreciative of your time."
In addition to the satisfaction of knowing she is truly helping someone, there are other benefits to the job.
"What I like is that it's flexible," she said. "You can give whatever you have time for and if you don't have time, then you can say no without any pressure. And Katie gives enough notice so I have time to plan."
Because Sitter and her husband-of-37-years, Woody Kneppreth, live active, busy lives, this flexibility is key to sticking with this important volunteer role. (And no surprise, Kneppreth also volunteers as a driver for the Driver Escort program, as well as the Vets Helping Vets program).
Sitter also volunteers as a substitute meal delivery driver and meal packer at the senior center, and has been seen helping with the newsletter mailing too.
During her down time, Sitter golfs, rides her e-bike, reads, takes daily trips to the dog park and she is a self-proclaimed cross-word puzzle addict. She also helps care for her 98-year-old father who lives with her sister nearby.
During pre-pandemic times, she and Kneppreth traveled frequently and are eagerly awaiting being able to finally visit Ecuador after cancelling the trip three times!