There's a new dentist in town in McFarland, and his approach to dentistry is a unique one.
Located at 5610 U.S. Highway 51, Lakeview Modern Dentistry officially opened for business last week under the direction of Dr. Kevin DeGroot.
Dr. DeGroot says his dental philosophy is unlike others in the area because he focuses heavily on comfort, relaxation, and a pain-free experience.
Clients in Dr. DeGroot's chair can enjoy amenities such as noise canceling headphones, watching Netflix as dental work gets done, and laughing gas for patients with high anxiety.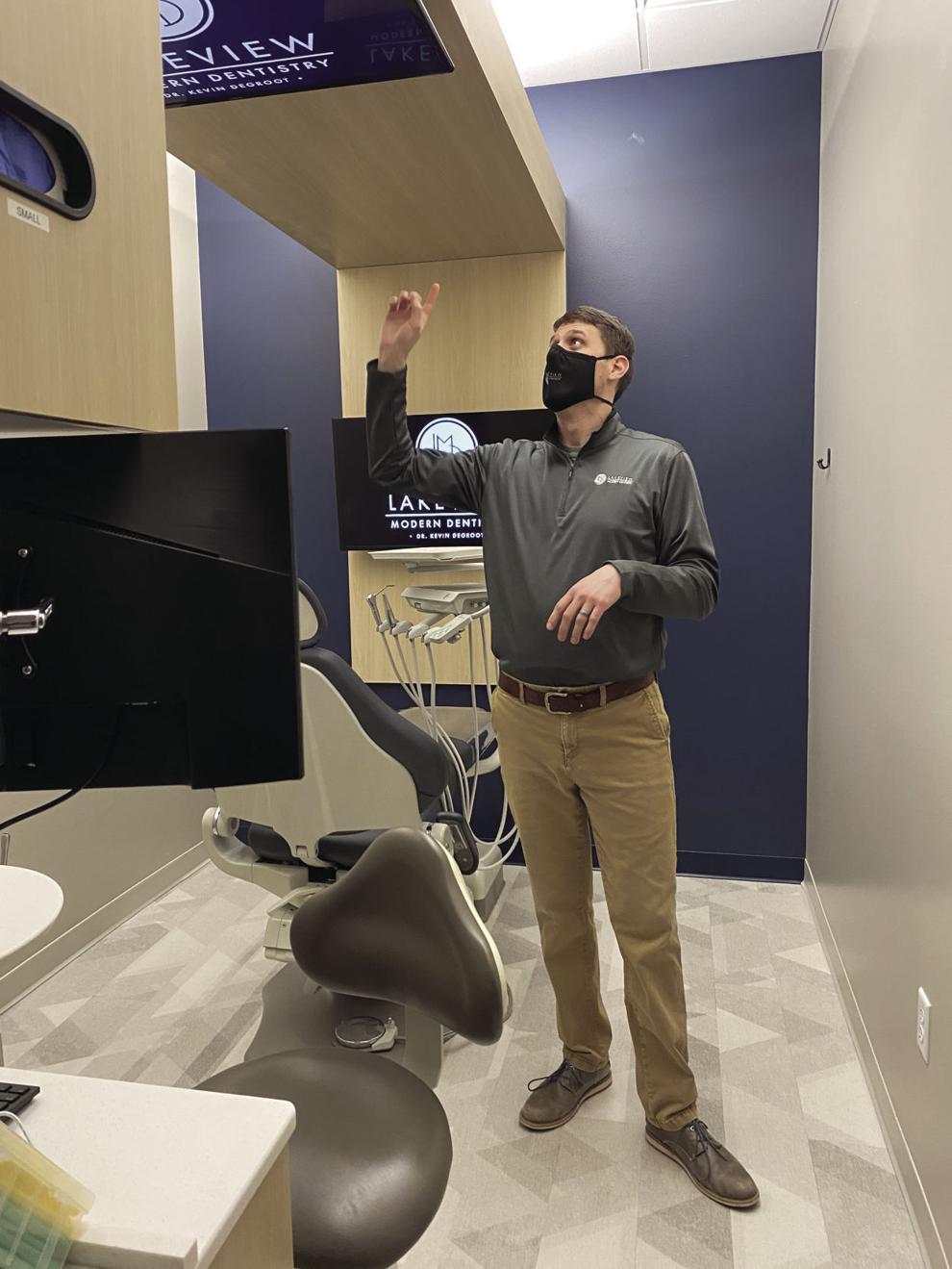 "My sole purpose in dentistry is to deliver great experiences. This can mean something different to each patient," Dr. DeGroot said. "Everything I do is aimed at improving the patient experience. It's a personal mission and our practice's only goal. We've got all the bells and whistles that will make your visit as close to fun and enjoyable as possible."
Katelin DeGroot, Dr. DeGroot's wife and business partner, said the couple hopes to change the local landscape of dental anxiety.
"The hope is to help people let go of their past and possible negative associations of going to the dentist by providing them with a safe, comfortable and judgment-free place to get the care they need," she said.
Dr. DeGroot attended Marquette University, where he graduated with both a bachelor's and Doctorate of Dental Surgery (DDS). He worked in a Madison-based dental office for nearly eight years before deciding to put down roots in McFarland.
The DeGroots decided on McFarland after visiting friends who live in the area.
"Our love of McFarland started when we became friends with a couple who had lived there for years. After spending time in the town and getting to know the community a bit, we decided it was on the shortlist of places we wanted to end up," Dr. DeGroot said. "Having two young kids, we were looking for a family-oriented community to put roots down in for good. McFarland has become that place for us."
The planning process for Lakeview Modern Dentistry began two years ago, but when the COVID-19 pandemic shut down much of the world last year, the opening process was delayed.
"COVID had a profound impact on our opening process. We were set to begin the construction over a year ago. However, we ended up being delayed about nine months due to the pandemic shutdown," said Dr. DeGroot. "Like all things in life, it ended up working out and I could not be happier with the timing of our grand opening."
One of the advantages of having a brand new clinic amid a pandemic, Dr. DeGroot said, is the environment it provides for high quality COVID-19 precautions.
"Being a brand-new, small office, we are perfectly equipped to be COVID-friendly. What I mean by that is, we only see one patient at any given time. There won't be any patient-to-patient contact at any point," Dr. DeGroot explained.
Additionally, patients at Lakeview Modern Dentistry will rotate between four rooms. This means that every patient will be seen in a freshly cleaned, new room that no other clients have been in for several hours.
Patients will also be screened for COVID-19 symptoms prior to their appointment and temperature scans will be taken frequently. An extensive list of the clinic's Coronavirus precautions can be found on Lakeview's website, www.lakeviewmoderndentistry.com.
"I believe we will be the most COVID-safe clinic in the area," said Dr. DeGroot.
With a long list of safety precautions, a unique spa-like dental experience and a clientele of all ages, the DeGroots say they're excited to bring a brand new village favorite to McFarland.
"Thinking about where we wanted to raise our two young children played a huge role in deciding where to start this practice and we couldn't be happier that it landed us in McFarland," Katelin said. "We already feel so welcomed into the McFarland community and we are looking forward to exploring all of the bike paths in the area soon."