After an alternate season full of uncertainty, the McFarland Spartans never wavered, playing as consistently good as any team in the state. They capped off their undefeated season by winning the WIAA Division 2 State Championship on Saturday.
After knocking off Fort Atkinson 3-0 in the semifinal, McFarland's 6-1 victory over Notre Dame (14-4-2) gave the Spartans the first state championship in program history on Saturday, May 16. McFarland ended its season with a record of 13-0-1.
"I couldn't be more proud of our guys, our team in general, but also the seniors and their leadership," said McFarland head coach Brett Ogorzalek.
Early in the game, Notre Dame had control of the possession with opportunities to score. However, a strong defensive performance by the Spartans held the Tritons scoreless early. Junior goalkeeper Matt Schutt praised McFarland's defensive performance on the night.
They won some great battles in the air, and I'm more than thankful for them," said Schutt of his defenders. "I'm going to miss them so much next year, I don't know what I'd do without them."
Ogorzalek also praised his defense's efforts at stopping Notre Dame when a couple of offensive attacks looked threatening.
"It was pretty nerve-racking because we knew this was a dangerous team with a ton of weapons on their offense, so you're never comfortable when they're putting dangerous shots on goal or serving dangerous balls into our penalty box," said Ogorzalek. "At the same time, we tried to stay confident and know that if we play our game and give ourselves opportunities to score, then good things will happen."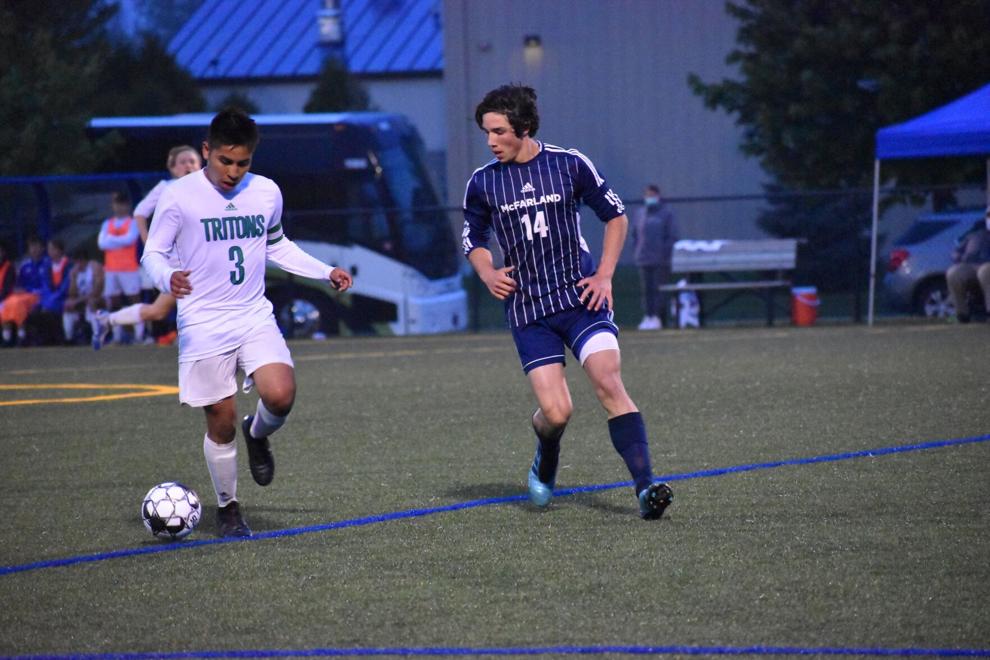 The Spartans took advantage on offense when they had chances to score. Sophomore midfielder Keegan Bell broke through in the sixth minute, giving the Spartans a 1-0 lead. Sophomore midfielder Bubba Blair's header in the 30th minute from junior forward Zach Nichols made the score 2-0. Junior defender Riley Turner scored his first goal of the season in the 44th minute, giving the Spartans a 3-0 lead entering the half.
"We had a lot of guys, who normally don't score, who were playing out of their minds and stepping it up big," Ogorzalek said. "That's what great players do, they step it up in the big games they need to."
McFarland did not let up in the second half. Junior midfielder Kyle Connor scored his first goal of the season after collecting a rebound from Bell's shot in the 54th minute.
A free kick by Notre Dame's Sam Limoni in the 65th minute would cut the Spartans' lead to 4-1. That would be the closest the Tritons would get to the lead for the rest of the night.
Late goals by Nichols and senior midfielder Ben Hoang in the 71st and 87th gave the Spartans the 6-1 victory.
"Probably one of the best feelings I'll ever have in my life," Nichols said after the game.
Six different Spartans provided a goal in McFarland's victory.
"We had so many other people come in, even guys off the bench, who were contributing," Ogorzalek said. "It was a clinical display that these guys put on tonight."
Schutt ended his night with five saves for McFarland, while Nichols had one goal on two assists.