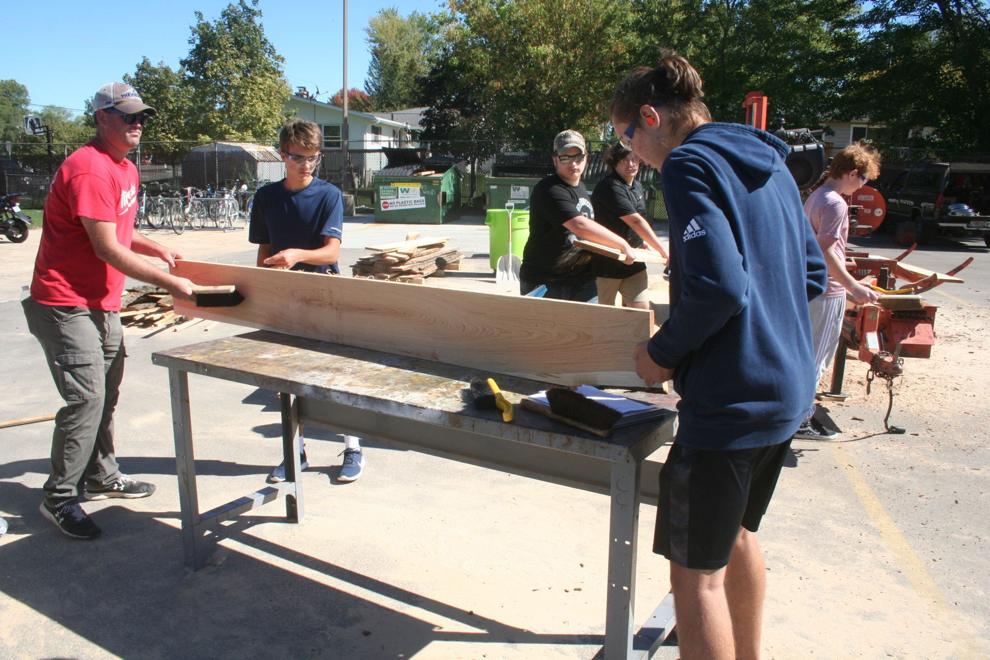 McFarland High School students are turning discarded wood into usable lumber, and thinking about future careers while doing so.
The high school's technical education students spent Sept. 28 learning alongside sawmill operator Charlie Tom in the school's parking lot, as he demonstrated the life cycle of turning a tree trunk into workable lumber.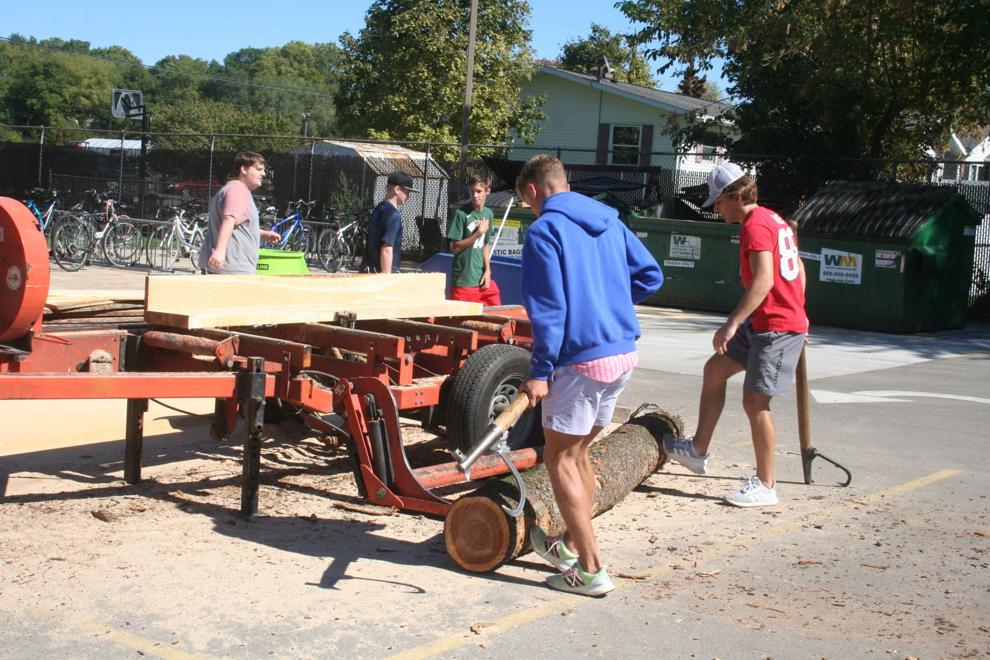 Students helped Tom load tree trunks onto the sawmill before brushing off and preparing the wood as it came off the saw.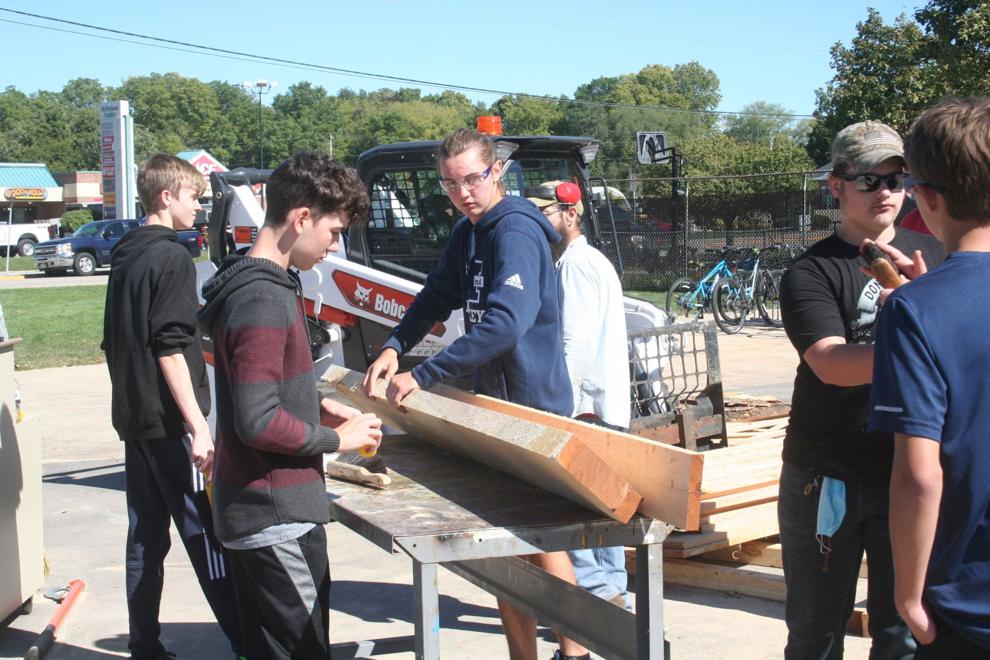 Steve Pennekamp, a technical education teacher at McFarland High School, said the project not only taught students new skills, but motivated them to consider a career in equipment operations.
"Our hope is that they were able to see Charlie... as a professional operator of the sawmill and understand that the work he did, and the students did, has great value," Pennekamp said.
The wood that students prepared will be used in all three levels of the high school's woodworking courses, to build projects like cabinets and tables.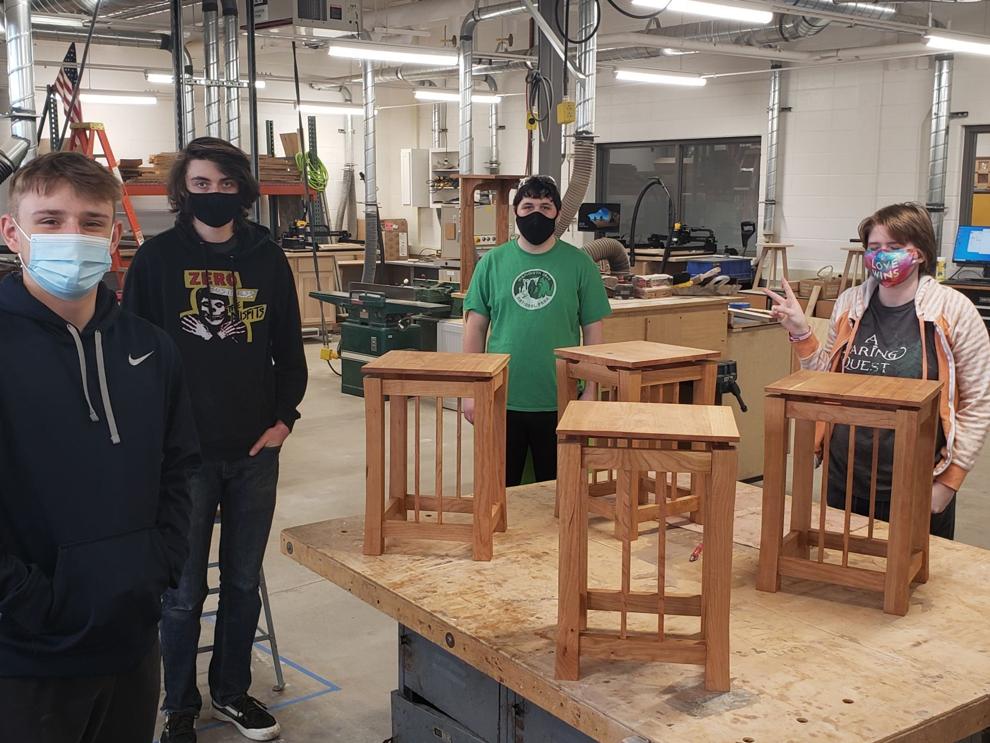 Pennekamp said the process of turning tree trunks into woodworking material can be cumbersome, with an air-dry time of nearly one year for every inch of thickness.
He said the goal is to go from 40-60% moisture content to 6-8% moisture content, as lower moisture makes for more stable lumber.
The students are helping with that, too, by building a kiln that will speed up the drying timeline.
As the process stretches on, Pennekamp said it didn't just begin last week in the high school parking lot.
It began two years ago, he said, when Jeff Crull, a McFarland resident, was cutting down trees in his backyard to make room for a new pool.
Crull donated the extra lumber to the high school's tech ed. department, and that's when Pennekamp enlisted Tom. The duo, alongside fellow McFarland tech. ed teacher Travis Ray, conducted a trial run with the sawmill at Ray's house.
The wood from that trial run was used in McFarland's woodworking classes throughout 2020 and into 2021, and inspired Pennekamp to seek out more lumber for a second go-around, this time with his students at the helm.
He was able to procure a maple tree that was cut down in the city of Madison, before bringing in more logs from R.G. Huston, a Cottage Grove based general contractor.
"This opened up so many bigger opportunities for the event than I imagined when we started with the maple tree," the tech. ed teacher said. "The process also allowed us to connect with R.G. Huston and promote to kids what they do and motivate students to think about careers in equipment operations."
He said showing local students the magic of careers in tech. ed is, at its base, what the project is all about.
"Not all careers will provide you with the same value of satisfaction, and to understand where each student fits in the world of careers and work is important," Pennekamp said. "In tech ed. we just happen to use wood, metal, cars, computers and engineering as avenues for students to gain confidence and skills to do the work of the future."