While most teams struggled during last year's winter season last season, the McFarland Spartans girls basketball team was a bright spot.
Finishing with a record of 9-5, the Spartans won regionals before losing the sectional final to Reedsburg. The Spartans now have a full season to prepare for another run at state for the 2021-22 season.
"We have full practices now, which we get a lot more done, so we'll be in a much better place in March," said junior guard Adrienne Kirch.
Although McFarland brings back significant talent, the Spartans will have to fill some holes because of graduation. Forward Katie Hildebrandt and guards Morgan Butler and Lindsey Lonigro have graduated after accumulating 1,206 minutes, 364 points and 202 rebounds in their senior seasons.
"It was so fun playing with that group of seniors, they taught me so much about basketball and they really prepared me for this year," said sophomore forward Teagan Mallegni.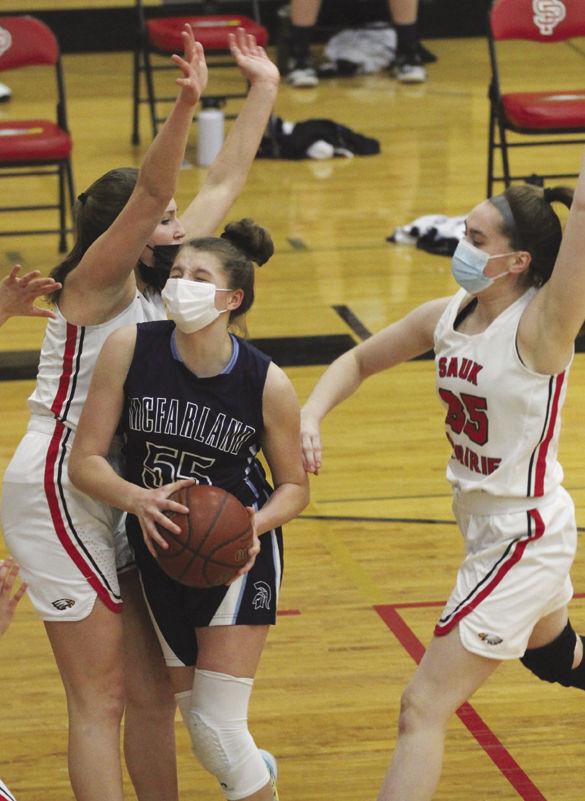 Mallegni is a key returner to the program after averaging 19.2 points per game last season, grabbing 106 rebounds and blocking 12 shots as a freshman. Mallegni earned honorable mention for the Division 2 Girls Basketball All-State team.
Along with Mallegni, Kirch returns after leading the team last year with a .368% from three.
"It's going to be a team effort. It will be pretty well spread around depending on who's hot," said McFarland head coach Sara Mallegni.
The Spartans have been playing in scrimmages, helping them become familiar with their new teammates.
"I love all of these people, they've become my second family so I'm really excited to work with them for March," said Kirch.
Even with a younger team, the expectations are still high for the McFarland Spartans as they begin their season.
"We plan to finish at the top of the conference, we're ranked second in the coaches poll, but I think we're going to surprise some people with being as young as we are, I'm not sure they're expecting us to come out as strong as I plan to."
McFarland tips off its home opener at 7:00 p.m. against Whitewater on Friday, Nov. 19. The Whippets went 10-13 last season.