With a global health crisis, job losses and an economic downturn reminiscent of the great recession, 2020 left a tangible mark on communities across the world.
Since the U.S. arrival of COVID-19 in early spring, individual people and large organizations alike have instituted social media campaigns and other traditions to spread positivity and incite hope in what, for many, has been a dark year.
One such campaign began in McFarland when retired McFarland School District teacher Nancy Walsh-Boeder took a walk on the village's Grandview Trail.
"Back in July, I was on the trail taking a walk and came across a rock with a message by the bridge," Walsh-Boeder said. "I was thinking about how many people needed hope during the pandemic, and I thought the project would be a way to have something positive to do."
The project, now known as 'Rocks of Love,' is a way for community members to spread messages of hope by painting rocks and placing them along the bridge. Walsh-Boeder said her inspiration behind the name came from the Locks of Love bridges in Europe.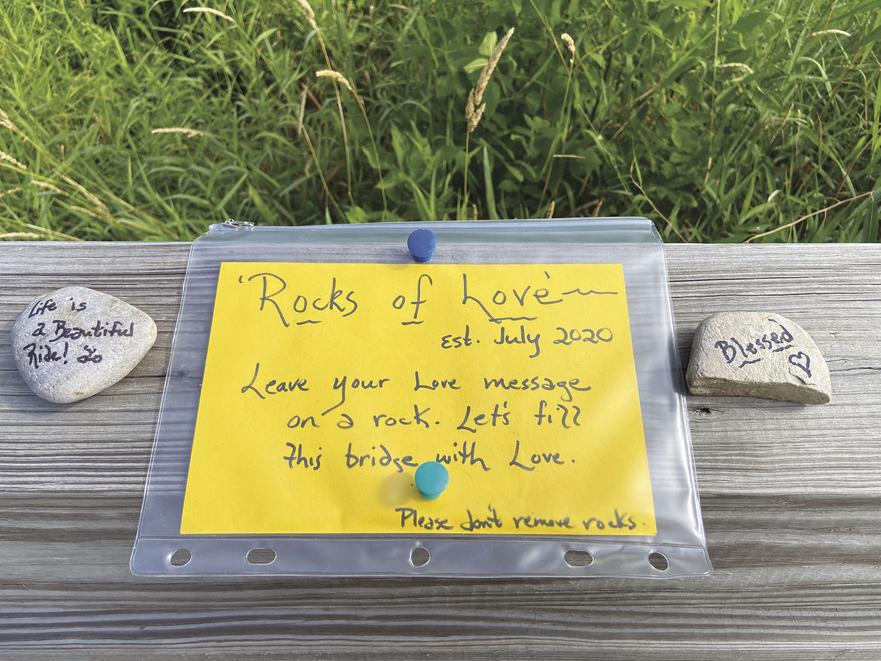 The build-up was slow at first, but once a sign was posted to explain the meaning behind the rocks, people began posting photos of the bridge all over social media. This, Walsh-Boeder said, is when the project really took off. By October, more than 150 rocks had been placed along the bridge.
When November rolled around, however, the rocks, along with the sign, mysteriously disappeared. Confused by the sudden and unexplained vanishing act, community members, Walsh-Boeder included, took to social media for answers; but to no avail.
Many assumed someone with the Village of McFarland had removed the rocks, but Parks Superintendent Sayer Larson said the village was equally perplexed by the disappearance.
"To my knowledge, village staff did not remove the rocks from the bridge," Larson said. "In the future, staff could remove the rocks if they are deemed a hazard to maintenance operations."
According to Larson, snow removal is one example of a maintenance project that could potentially require displacement of the rocks.
Despite the peculiar nature of the rocks' disappearance, however, Walsh-Boeder decided to reinstate the project in December after much demand from community members.
"People on Facebook were encouraging me to start it over, so the Holiday Rocks of Love was born in late December," Walsh-Boeder said.
Since revamping the project last month, the Rocks of Love campaign is in full swing once again.
To leave a message of hope or observe the rocks, the bridge is located adjacent to Edger Park in McFarland.