The search for a new police chief is underway in McFarland, and members of the public have voiced their opinions on what they're looking for in the new face of the force.
At a Jan. 26 public listening session held by the village, community members and village personnel came together to discuss priorities and expectations regarding the hiring of a new chief following Craig Sherven's retirement from the position last November.
The meeting was co-hosted by McFarland Village Administrator Matt Schuenke and two representatives from Riseling Group, the consulting firm hired to conduct the recruitment process.
Upholding values of racial equity and support for policies that decrease the department's use of force were two of the key characteristics discussed as baseline expectations for whomever is hired to fill the position.
On behalf of the McFarland Equity Project (MEP), village resident Christine Pribbenow said these issues are a top priority for MEP as the search for a police chief continues.
"One of our concerns would be that [the new chief] supports policies and practices to decrease use of force and continue to evaluate themselves as described in McFarland's department action steps regarding police use of force," Pribbenow said. "Also, upholding the values of racial equity, that would be something we would expect the candidate to have as we continue to make our village welcoming, inclusive and equity-focused."
A strong sense of visibility, transparent communication, and a commitment to community policing were also discussed as qualities that will be essential for the new chief to possess.
"A topic I've heard over the last several weeks is the visibility of a chief, and that was a desirable quality in the former individual," Schuenke said. "Going forward, that visibility in the community is important in a physical sense, in terms of events and things of that nature, but also in terms of social media."
Debra Hettrick, a Riseling Group representative, said the consulting agency is focused on looking for a candidate who is willing to assert a presence in the community outside of their duties as police chief. An individual who exhibits an approachable, open-minded personality will be high on Riseling's list of finalists, Hettrick said.
When asked what aspects of the McFarland Police Department that community members would like to see change as a whole, another thing mentioned was better representation of race and gender diversity.
Currently, the McFarland Police Department employs three non-white officers and two female officers. Both female officers are currently inactive on the force, one out on medical leave and the other on family leave.
On the flip side, Hettrick posed the question of what the community feels are the strongest qualities of the current police force in McFarland. Friendliness, approachability and certain officers' willingness to attend a Black Lives Matter event last summer were among the qualities discussed by the public. Professionalism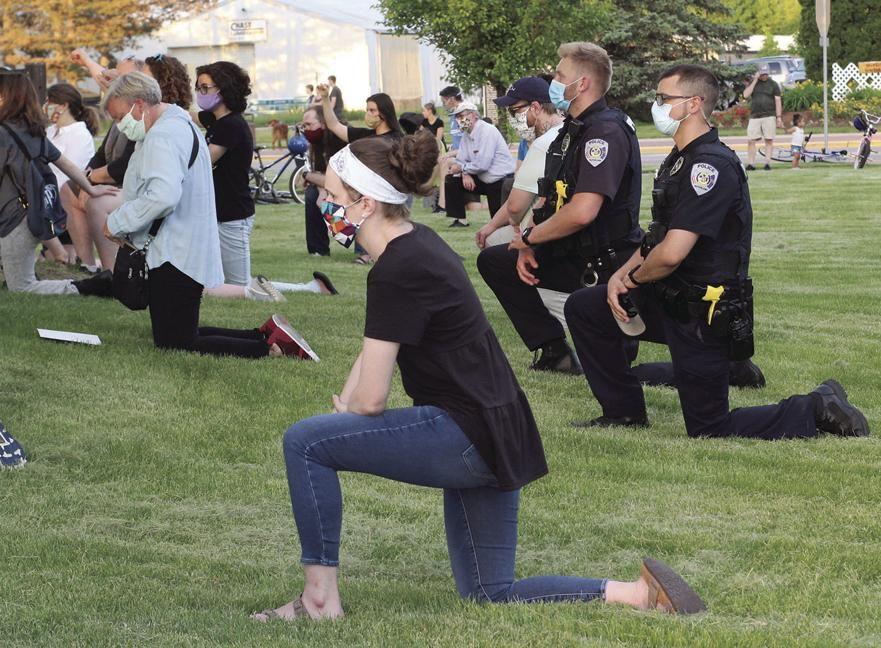 and promptness in responding to calls were also mentioned.
"One thing that was very meaningful to me as a community member was their willingness to attend when some of the students organized a Black Lives Matter gathering," said Jessica Garvey, a math teacher with the McFarland School District. "Our officers went and they were there, and whether it was passing out masks or water, just seeing their presence there was really meaningful and seeing their willingness to kind of go out into something that might have been, I don't want to say uncomfortable, but for some of them, it might have been... I thought that was pretty powerful and meaningful."
As for an outline of the hiring process moving forward, Hettrick said all applications for the position will be reviewed for specific benchmarks. Only those applicants who meet the benchmarks will be moved forward, at which point they will be interviewed by a Police and Fire Commission (PFC) panel. The final decision will be left to the head of the PFC, and the last remaining candidate will then be presented to the McFarland Village Board.
According to Hettrick, candidates will undergo psychological and physical examinations, an intensive background check, and a home visit. The psychological examination will screen for racial and other biases.
Hettrick is also working on a proposal for the candidate(s) to appear at a public hearing where community members will be able to ask questions and get a feel for the applicant(s).
Any questions or concerns regarding the village's recruitment process for police chief can be directed to Schuenke, at Matt.Schuenke@mcfarland.wi.us or (608)-838-2303.