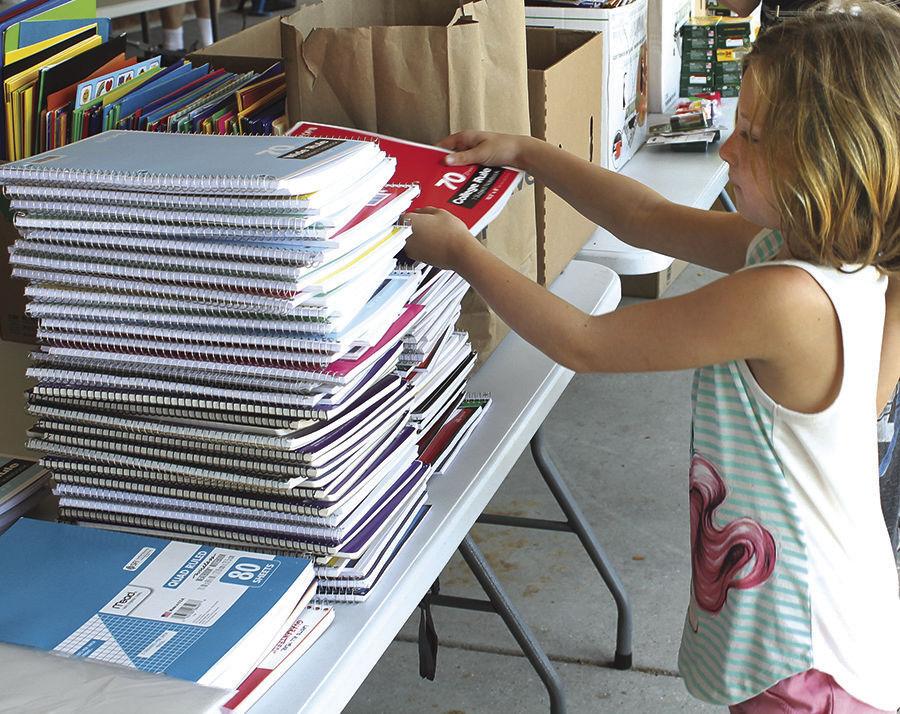 Stuff the bus 2018
Makenna Jacobson adds notebooks to the growing pile of school supplies outside of the McFarland High School during a Stuff the Bus collection …
The annual Stuff the Bus campaign in McFarland is approaching.
The McFarland Stuff the Bus drive is a community campaign that collects backpacks and school supplies for children of families served by the McFarland Community Food Pantry.
This year's campaign will run from Saturday, July 31 to Saturday, Aug. 14.
McFarland Lion's Club member and Stuff the Bus campaign coordinator Russ St. Clair said last year's campaign collected more than $12,000 in school supplies and cash.
McFarland Food Pantry co-director Sue Steinmetz said the goal this year is to meet the needs of 110 school-age children.
The campaign is seeking items like: backpacks with child-popular themes for younger students, Post-Its, packs of blue and black pens, wooden pencils, glue sticks, washable markers, black Expo dry erase markers, 12-count colored pencils, notebooks, paper, 1-2 inch three-ring binder, two-pocket folders, pointed tip scissors, 24-count Crayons, Kleenex, large erasers, cloth face masks and containers of disinfectant wipes.
During the campaign, there will be donation boxes located at One Community Bank, Pick 'n Save, Walgreens, the McFarland Municipal Building, the American Legion, Rock 'n Rollz Sandwich Company, the McFarland Library, the McFarland Lutheran Church, Culver's, Forward Pharmacy, Medicine Shoppe, McFarland Café and Zelm Chiropractic.
There will be two collection events this year for the drive as well, one outside McFarland High School and one outside the McFarland Pick 'n Save and Walgreens stores. More information to come.
On Wednesday, Aug. 4, Rock 'n Rollz Sandwich Company will donate a percentage of its sandwich sales to the campaign.
Community members can also make a donation to Stuff the Bus directly through the McFarland Community Pantry (P.O. Box 101, McFarland WI 53558). Checks should be made out to the McFarland Community Food Pantry, with "Stuff the Bus" on the memo line. Online donations are also being collected at http://mcfarlandfoodpantry.org/donate/ and specify 'Stuff the Bus' in a comment.
The Stuff the Bus campaign is sponsored by McFarland Lions, McFarland Lioness Lions, One Community Bank, McFarland United Church of Christ, McFarland Lutheran Church, McFarland Food Pantry, American Legion Auxiliary and Thrivent Financial.