A former McFarland student is one of 417 students nationwide to be named a Goldwater Scholar, a prestigious scholarship program honoring undergraduate students pursuing the sciences.
Elias Kemna of McFarland was one of the four students from UW-Madison to win the scholarship program, which honors the late Sen. Barry Goldwater. Kemna, who is currently a UW-Madison junior working towards a degree in microbiology and a certificate in global health, will receive $7,500 towards the final year of his undergraduate at the university.
Four were nominated for the award at UW-Madison, out of 1,242 college sophomores and juniors nominated by 433 different academic institutions.
The Goldwater Scholarship, he said, will make finishing his undergraduate degree much easier.
"That's just really going to help just take some of the financial pressure off for the last year, and just help me get my undergrad degree," Kemna said.
Kemna graduated from McFarland High School in 2019, but by then was already pursuing his work in microbiology. As a senior, he began working in a UW-Madison lab assisting Dr. Brian Fox, studying enzymes used for biofuel production during his final three semesters of high school.
During that time, Kemna earned second authorship for an article published in the Journal of Biological Chemistry.
Currently, Kemna is researching soil science in the lab of associate professor Thea Whitman, studying interactions between microbes and a compound created during wildfires called pyrogenic organic matter. Kemna explained the compound, known as pyOM, plays a significant role in how much carbon can be stored in the soil and can impact climate change. His research, funded by a research training grant program for second-year students called the Sophomore Research Fellowship award, focuses on the microbial accessibility of pyOM.
While the Goldwater Scholarship will help Kemna with his undergraduate degree, Kemna said this degree likely won't be his last. He plans on pursuing a PhD in genetics or microbiology. Once his time in education comes to a close, Kemna plans on putting his degrees to work, helping improve agriculture.
"Well, I guess the overarching goal is to help farmers, " Kemna said. "In the next century, there's going to be a lot of transitions for farmers, there's going to be climate change, and especially in certain parts of the world, a huge boom in population. I've seen some estimates and stuff of how much farmers are going to have to increase their yields and it's anywhere from 10% to 50%."
"Farmers are going to have quite a challenge in the next 100 years, and this technology has the potential to help them deal with that and improve conventional agriculture in a way that can handle those changes," he continued.
Kemna attributes his interests in agriculture to his family. With his grandfather and aunt in farming, he said he has spent plenty of time getting his hands dirty.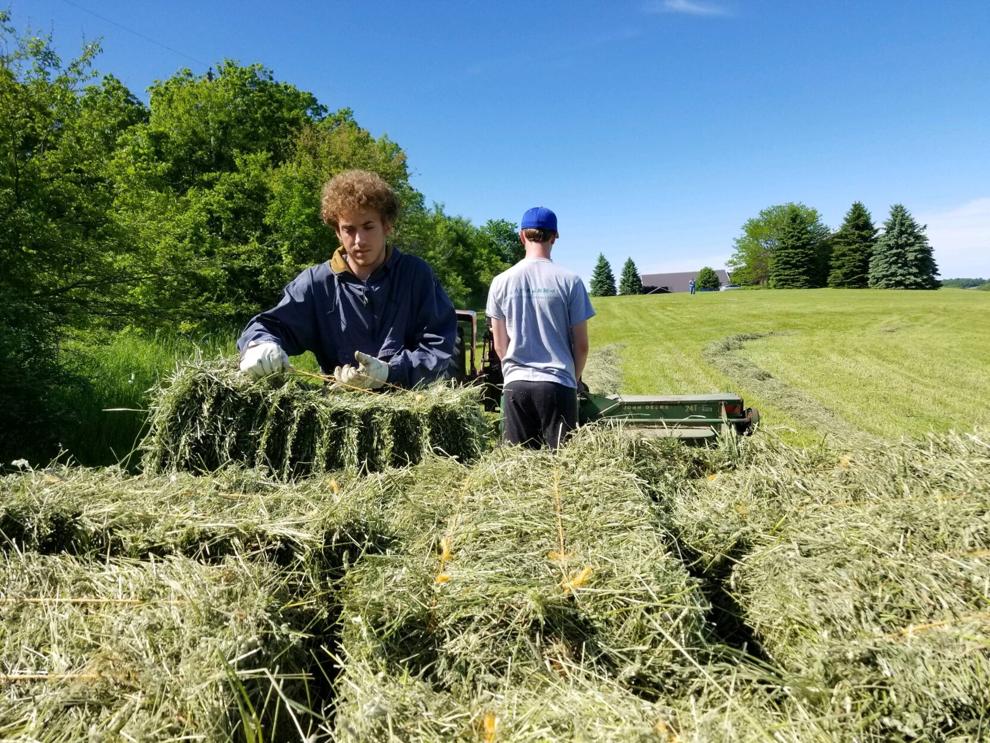 "I've gotten lots of opportunities to work for both of them and just to experience being on a farm and being out there, getting time on the land with the animals and all this other stuff, it just feels good to me," Kemna said. "I was trying to think of a way I could combine my interest in science and microbes into farming, and I think this is a way to do that."
Kemna also said he still remembers the teachers and coaches from McFarland High School, specifically his AP Biology teacher and career coordinator, who helped him get where he is today.
"The overarching feeling that I've had is just gratitude and I'm still proud of myself for achieving this thing, but it really was the people around me and the opportunities they presented to me that even made it possible for me to be where I am," Kemna said.