"This is part of the state test. You don't make this, you go home," barked firefighting instructor Paul Yakowenko to a class of recruits from Blackhawk Technical College last week.
Yakowenko was teaching a basic technique: passing through 16-inch gap between two studs in a burning house in full gear, including a mask and air tank.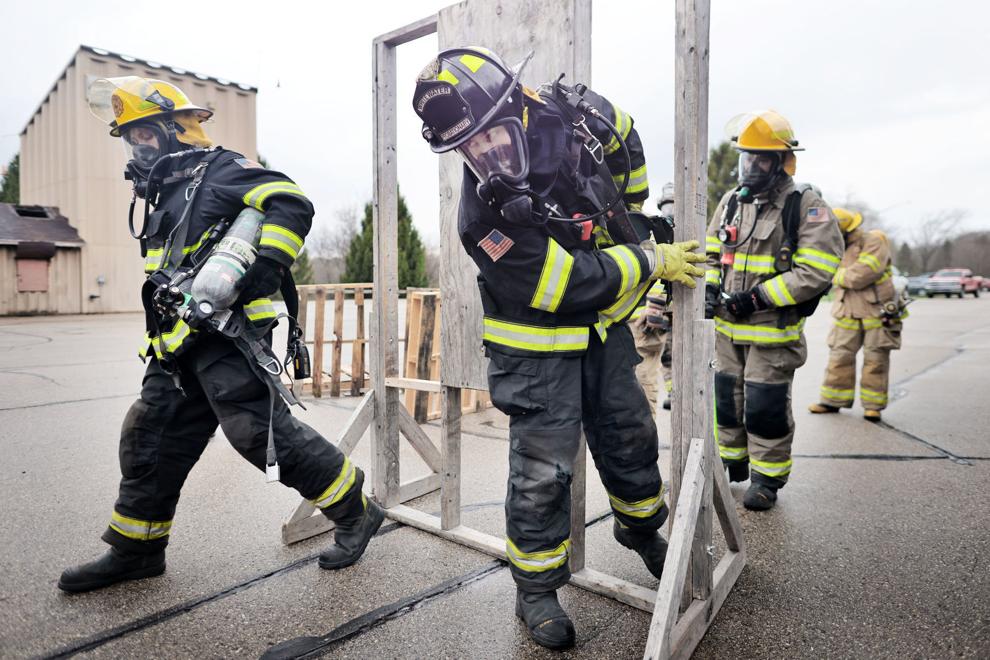 The training at the Janesville Fire Department's training center was part of a course called Firefighter 1.
The state requires 60 hours of instruction before a recruit can go on a call.
Many fire departments require additional training, driven by the fear of lawsuits from damage or injury resulting from wrong decisions by young volunteers, said Rob Balsamo, fire science coordinator at Blackhawk Tech.
Among the recruits squeezing between the studs was Cameron Letts, 22, the newest recruit for the Footville Fire Department. The Janesville warehouse worker said he'll get paid $7.25 an hour each time he goes on a call.
"I'm not in it for the money," he said.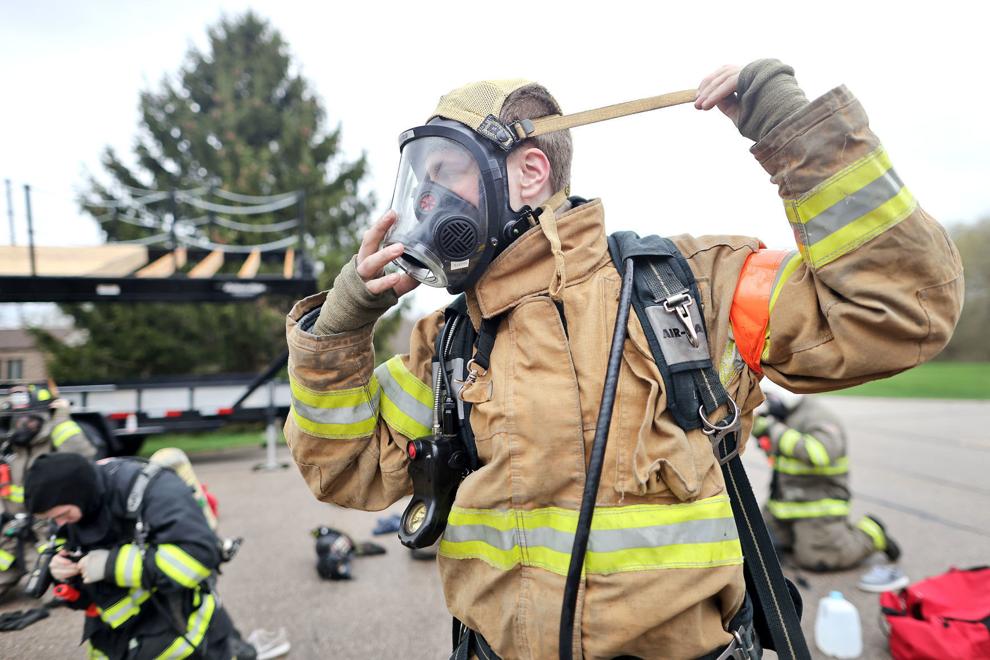 The same could be said for many hundreds of rural firefighters in the state these days. They are paid for each call, and they're still called volunteers.
This "paid on call" system is one of many changes in rural firefighting driven by societal changes over the past 30 years, said Edgerton Fire Chief Randy Pickering, who has served in rural departments around the state during that time.
The result has been a drop in volunteers and in some areas, longer response times.
The problem has crept up slowly, and it's become a crisis that few outside the fire service understand, Pickering said.
Another recruit in the Blackhawk Tech class was Phil Loduha, 30, a probationary member of the Brodhead Fire Department.
"I want to serve the community, and I know it takes volunteers serving to make it work," he said.
Loduha grew up in Rockford, Illinois. During his past eight years of living in small towns, he has grown to love rural America.
"And I know it takes volunteers serving to make it work, to keep it what it is, and I wanted to be able to contribute to that. Somebody's got to do it, and volunteer numbers are dwindling, so I really wanted to help out. …
"That is something that is always top-of-mind for department leadership, the recruiting aspect, finding new folks."
Pickering, who has been a volunteer firefighter in several Wisconsin fire departments, said American society and the fire service have changed greatly over the years, and those changes are the root of the problem.
Call volumes
Pickering joined his first department 40 years ago. His department answered 356 calls that year, and that was considered a busy year.
Today, the Edgerton Fire Protection District handles 90 calls a month, including medical calls. That's 1,080 calls a year.
Employers used to let workers run out the door once or twice a week to answer emergency calls. They saw it as supporting their community, Pickering said.
"But as demands have grown exponentially over the past 30 years, my guys were going out the doors three times a day," he said. "No employer in the world who is trying to stay in business is going to let their employees run out the door three times a day."
Letts said his employer has been understanding about him leaving work early to get the required training, but he won't be rushing from work to answer calls. Rather, like a lot of volunteers these days, he will take his turn handling weekend shifts.
Family time
Husbands and wives often both work full-time jobs these days, Pickering noted.
"If they want to spend any time with their families, one or two calls a week back 30 years ago was at least doable," he said.
"You have more demands for service and people with less discretionary time to offer," Pickering said.
Stopgaps
Rural departments have responded by making changes that cost money. Pickering called it a Band-Aid approach to a problem that never stopped festering.
Paying by the call is one widespread change. Another is hiring a few career firefighters to staff shifts while keeping the volunteers.
Edgerton has six career firefighters and 42 who are paid per call. Milton has three career firefighters plus its volunteers, Pickering said.
Pickering spoke to The Janesville Gazette before his department began talking to the town of Milton, which is considering breaking away from its longtime joint fire department with the city of Milton.
Often, career employees staff the ambulances, which handle the bulk of calls these days, and they are there to get things rolling if there's a fire, Pickering said. Volunteers fill in on nights and weekends.
Another solution is creating shifts that paid-on-call workers sign up to work.
"It really starts to get to the point of a part-time job," Pickering said. "We call them 'paid on premise.' Of my 42 paid-on-call, we average about 1.5 a day in paid-on-premise time."
The first step for all-volunteer departments is often to hire a full-time chief. Those chiefs typically also become the local fire inspector, a must-have because the state requires fire inspections.
Edgerton is required to perform 620 fire inspections a year, for example. That's a lot of work on top of administrative duties.
Departments with ambulances often turn to full-time EMTs or paramedics to make sure they have the staff to take calls, Pickering said.
Pickering is a volunteer, but that's unusual, he said. The advantage of a volunteer chief is that money is available for other paid staff.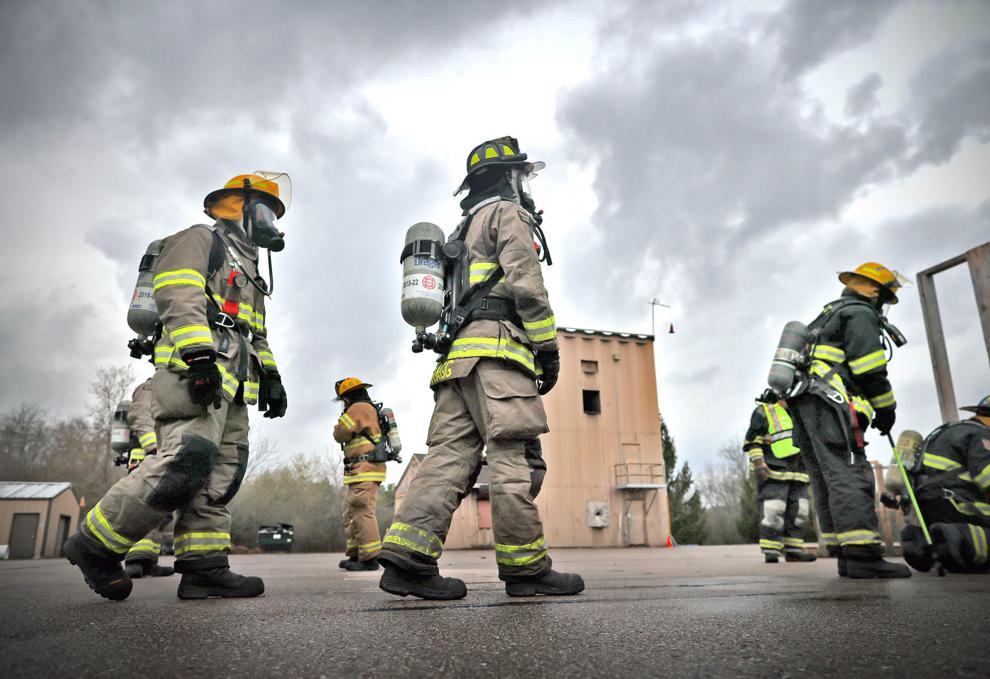 Training
There was a time when a volunteer firefighter could jump on the truck and fight a fire with little training, but the state has increased its requirements over the years.
Some departments require even more training, which helps protect them from lawsuits over injuries or property damage during calls, said Blackhawk Tech's Balsamo.
The minimum training now takes 60 hours. A full Firefighter 1 certification takes more than double that, Pickering said. It's another burden that could dissuade potential volunteers.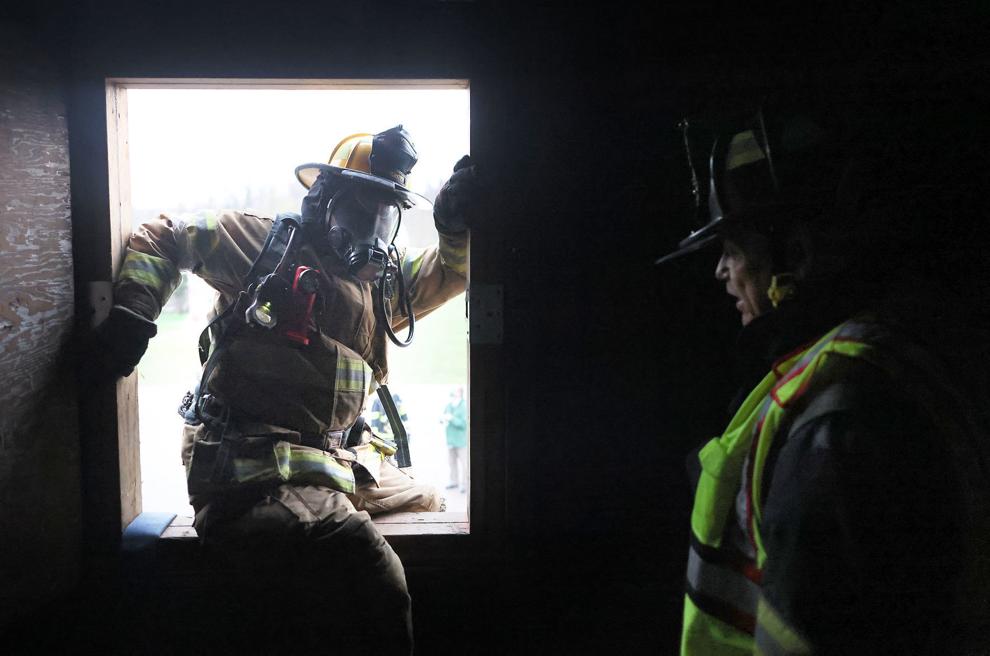 Standards increase every year, Pickering said, and for good reason. Requirements include training on topics such as hazardous materials, bloodborne pathogens and cancer risk in firefighting.
Free time
Pickering's staff must also train in water and ice rescue, as his department covers parts of Lake Koshkonong and two rivers frequented by boaters.
Pickering is proud of his staff's handling of the situation. He talked about a recent Sunday in which Edgerton firefighters fully staffed two ambulance calls and requests for mutual aid for big fires in Beloit and Stoughton.
"Just because it's hard doesn't mean you shouldn't be focused on how to solve the problem. Finding people who've got the discretionary time to volunteer and assist is really hard right now," he said.
Pickering's approach: "Basically, you're vying for people's discretionary time. You have to create an environment where they see value in what they're doing with their discretionary time. If they feel they're treated with respect and treated to the context that what they're doing is helping their community, and you provide training and good equipment and facilities, there are people out there who are willing to help. It can work, but takes a lot of hard work to make that work."
But Pickering knows of three other Wisconsin communities—he wouldn't name them—where things have gotten so bad that when a call comes in, the 911 center dispatches all three fire departments.
Often, the crew for one call is cobbled together from two or three departments, and that extends the response time as EMTs travel to a next-door community.
Sometimes, volunteers will put off vacations because they fear their ambulance won't be staffed, Pickering said.
The locals of the unnamed departments organized a meeting two years ago to educate elected officials, but none showed up, he said.
Response time
Pickering pointed to a chart by the American Heart Association that shows for every one minute of delay in emergency care of a heart attack, survival chances drop 10%.
Likewise, the chances for a structure to survive drop fast if a fire in a room doesn't feel the gush from a fire hose within seven minutes, he said.
"The policymakers are absolutely immune to getting their heads around how bad this problem is," Pickering said.
Lawmakers haven't been totally deaf. The state Department of Safety and Professional Services recently proposed a grant program to promote training partnerships among fire departments, technical colleges and high schools.
The program would allow training to begin in high school. Credits would apply toward high school graduation and firefighter preparation programs.
Janesville Fire Chief Ernie Rhodes promoted a youth firefighting program when he appeared before the Legislature's Joint Finance Committee in Whitewater on April 9, requesting $100,000 for a pilot program.
Congressional proposals to make volunteer fire and EMS personnel eligible for student loan forgiveness and housing assistance have not passed, according to news reports. Other proposals include modifying the tax code to make it easier for local communities to offer incentives.
Costs
Tax dollars pay for a lot of fire department expenses, but with state caps on how much municipalities can raise through property taxes, most volunteer departments still hold fundraisers to help pay for equipment.
"A fire engine at minimum can cost you $300,000, and that's a cheap one," Balsamo said. "Firefighting gear without the air pack is $3,000, minimum."
"We, thank heavens, have a very, very vibrant (fundraising) association that supports us really well," Pickering said. "This year, we're having to replace all cardiac monitors in the ambulances," at a cost of "well over $100,000."
"I don't think people realize the amount of time and energy it takes to manage a fire department as well as all the resources needed to provide that fire (and rescue and ambulance) protection," Balsamo said.
"The scale of the loss of volunteer firefighters estimated in this report is really disturbing and something that we need to work as a community and a nation to address," the council's chairman, Kevin Quinn, said at the time.
The council's study showed firefighters as a group were aging, with 53% over age 40, compared with 37% in 1987—an indicator of fewer young recruits than in the past.
Brodhead fire recruit Loduha might belong to a small elite group who are inspired by the chance to serve.
"There are some people there who are professionals in other departments as their full-time job, and they volunteer in Brodhead," Loduha said. "It's really awesome to be able to train with and learn from people who do it for a living."
Rural fire chiefs across the state, no doubt, would love to see a lot more recruits with Loduha's attitude walking through their doors.