Spring isn't here quite yet, but a National Weather Service meteorologist says southern Wisconsin can expect a slight bump in temperatures this week after a colder-than-normal first half of February.
"When we start looking a week or two out, it does look like things might be trending a little bit more toward normal," meteorologist Kevin Wagner said. "It will still be a little on the cold side … but things are looking like they should at least creep back up closer to normal by the middle of (this) week with highs in the 20s."
Highs in the 20s are still below average for February, which usually features highs in the 30s, according to Gazette records.
This month, Janesville has recorded several days in the single digits to near zero.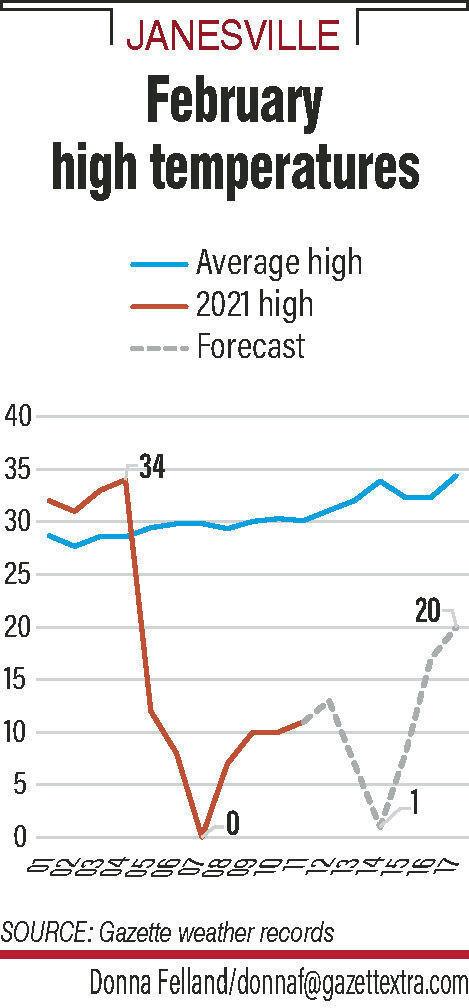 Wagner said one reason for the cold spell is a stalled weather system.
However, that soon will get kicked out by new weather systems, which will bring higher temperatures to the Midwest.
"One of the big things is there really hasn't been too much of a pattern change," Wagner said. "We just kind of had this same pattern just kind of sitting over us. There's an upper-level low kind of sitting over Canada, and then we have high pressure sitting at the surface across pretty much all of the central part of the United States.
"And with those two patterns sitting there, it's just able to bring down that arctic air and just kind of continue. So really, we just needed something to kind of kick that system moving east and to kind of shift us out of that pattern."
Wagner said the cold weather isn't quite in the rear-view mirror though.
"It's going to get pretty chilly again Saturday night through Monday morning with wind chills in the negative 20 to negative 30 range," he said, "so definitely stay warm this weekend."
Janesville Utility Director Dave Botts said the city hasn't had issues keeping its water utility running during the cold snap.
"We've been monitoring the water temperatures in the system, and they are in the 40s. So it's cooler than normal, but it hasn't caused any issues for us," Botts said last week.
"When it gets into any of these cold temperature ranges like this for a period of time, that's when we start watching the water temperatures because it does have an impact on the water tower," he said. "So we want to move the water around more so it doesn't start freezing in there."
He said deep frost has a more negative effect on grounded water pipes than low temperatures.
Botts said people should make sure their water meters are in a safe place in their houses and that their house temperature isn't so cold that their water pipes freeze and burst.
"Typically, there's potential for more water main breaks, which would require us to come out, dig up pavement and repair the water mains, which causes us to have people's water off in the areas where the breaks occur," Botts said. "... Fortunately, we haven't had much going on with this cold streak."
There's a reason for that. About eight years ago, the city increased the number of streets it resurfaced each year. That allowed water utility crews to evaluate water lines and replace those that needed it, Botts said, which improved the water delivery system.
Spring isn't officially due to arrive for at least a month, but Wagner said slightly higher temperatures will be a welcome change.
"It should feel nice compared to everything we've had these last few weeks," he said.