MILTON — When Ashley Miller said her father never did anything little, it seemed like an understatement. Jeff Miller was known for doing things big, and when it came to growing hostas, he was a giant in his field.
When he died in November 2021, he left big shoes to fill. Ashley hopes to begin filling those shoes and honoring his legacy later this month with the first open house of the season at Land of the Giants Hosta Farm.
From hobby to legacy
According to Ashley, Jeff and his wife Penny started planting hostas around their home outside of Milton as a hobby. Their interest grew, and after Jeff took an early retirement from General Motors before the plant closed in 2009, they turned their hobby into a business.
Tucked inside a small rural subdivision at 9106 N. Raven Drive, the business grew until an estimated 450,000 hostas, many of them Jeff's award-winning hybrids, filled more than 3 acres of carefully planned and well-tended gardens.
Losing Jeff last fall was hard enough. But just nine days later, Penny lost her long-fought battle with Huntington's disease. Ashley, her brother Andrew and the rest of the family were devastated.
Now, with the arrival of spring, hostas are popping up once again and the family is ready to move forward. Ashley, together with her life partner Pedro Moscoso, will carry Land of the Giants Hosta Farm into the future.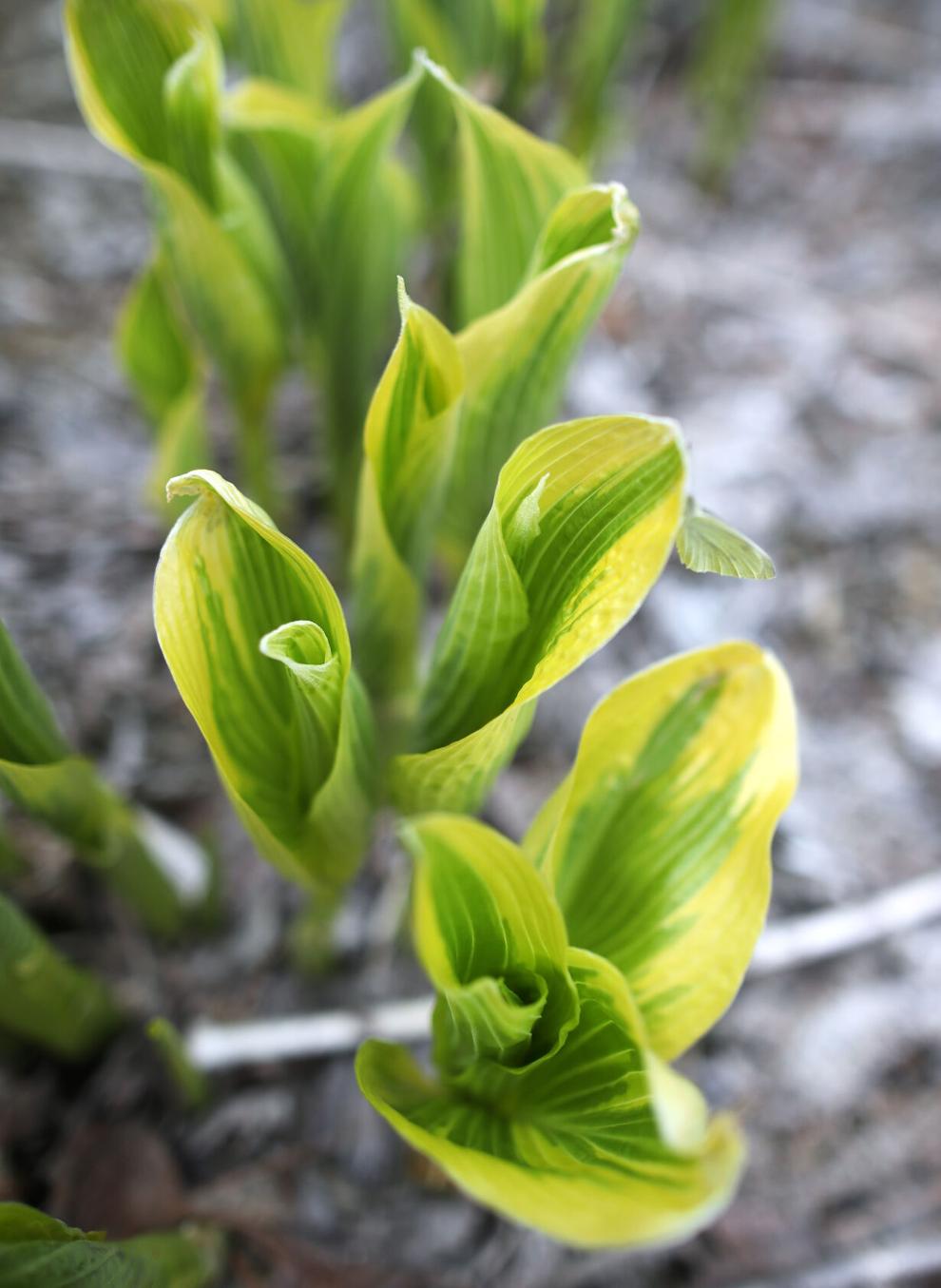 For Ashley, the seeds for this task were planted soon after her father's interest in the leafy perennial developed. In addition to taking orders by mail, Jeff and Penny held a series of open house weekends each year from the end of May through July. Ashley had moved to Baraboo for a few years but would come down to help with the open houses.
Jeff's reputation for hybridizing grew, as did his collection of awards. His gardens became well-known within the hosta community, drawing more people to the open houses. Many were members of the Wisconsin Hosta Society and the American Hosta Society, looking especially for Jeff's hybrid hostas and other rare and collectible plants.
Volunteers from this community offered to help during the busy weekends, even traveling to do so. Eventually, Jeff wanted more separation between work and family.
"He just wanted to keep that family time special and just us," she said. Ashley stepped back from the open houses to keep her visits focused on family.
But in the fall, she would help again with the monumental task of taking thousands of potted hostas off the tables, trimming the plants down and setting them on the ground so they could be covered with a frost blanket. The 400,000 or so hostas in the ground, Ashley said, generally survive well without cover.
"We do have a ton of buckets, but there's no way we can cover all of them," she said.
Ashley's curiosity grew, even when she was no longer helping with the open houses. She would ask Jeff how the weekend had gone and check the Land of the Giants Facebook page for photos. Jeff also sent her pictures of the seedlings and hybridizing plants. Ashley said she always wanted to know what was growing in his basement.
Support and moving forward
Stepping in to continue the business is a huge undertaking. But Ashley said the support from the hosta community has been enormous.
"People from all over the country have been reaching out to me, (people) that have helped in the past, giving us information and tips and just anything we need to know," said Ashley. She added that at least 10 volunteers will be arriving to help with the open houses or in any other way that is needed. They were friends of Jeff's and want to continue helping.
"They believed in my dad," said Ashley, "and now they believe in me."
Of course, help and support has come from closer to home, too. Penny's mother, Bonita Wilson, had helped in the garden for many years, and Ashley is excited and grateful that she will provide guidance and share what she has learned. Nephew Juan Tobias is helping and so is Karen Callahan, who had worked extensively with Jeff. Ashley's brother Andrew has also offered his help.
Ready for a new season
The first open house is coming up and it will be followed by three more in June and July. Ashley said they plan to continue a schedule similar to past years.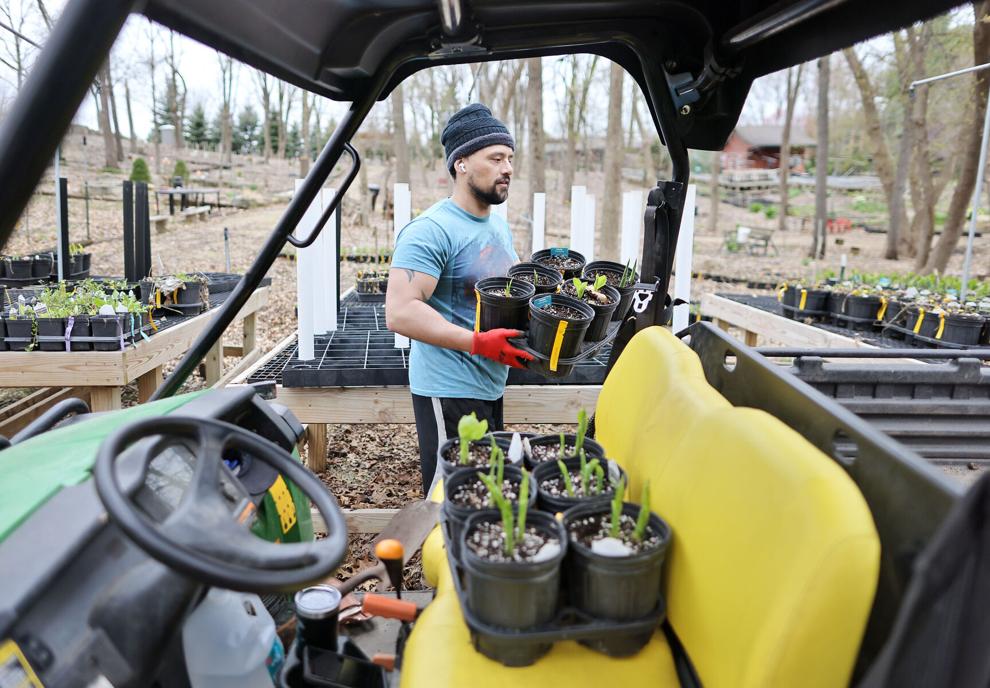 Pedro has been doing much of the outdoor work with the help of staff to get ready for the opening. Ashley is focusing on customer service, which includes managing online orders, printing out labels and related tasks.
One change returning customers will notice is an updated point-of-service system to make checking out more efficient both during the open house weekends and the online order process. It will also help in keeping track of inventory.
"That was one thing about him (Jeff)," said Ashley. "You could show him any hosta and he'd be able to tell you what kind of hosta it was, and he would have it in his brain how much it was."
Ashley said she's not there yet and while their service staff was always knowledgeable, she is eager to have everything in an updated system. She said it has been a lot of work with the sheer volume of hosta varieties, but once it's done, it will be worth it.
Looking to the future
Ashley's goal for the upcoming fall and winter is to start her own seedlings and begin hybridizing. She has been invited to Facebook groups that her dad had been a part of, which has already been helpful. It's a personal and emotional goal for her to create her own hybrids and to continue to introduce Jeff's plants over the next few years.
As she explained, it takes several years to know whether or not a hybrid will be a good plant.
"I'm still in the process of trying to collect all of that data," she said. Some hybrids are ready to introduce this year while others will take more time. "People really loved my dad's plants, and to be able to offer some of them after he's gone is great."
Losing Jeff and Penny was difficult, but Ashley said, "I get extreme joy when I see my dad's plants and Penny's plants in people's gardens around the country and even around the world." People often send pictures after the hostas are planted. Ashley feels that seeing new life in a new season has helped in the healing process. She knows filling her dad's shoes won't be easy. "But," she said, "I think it's doable."