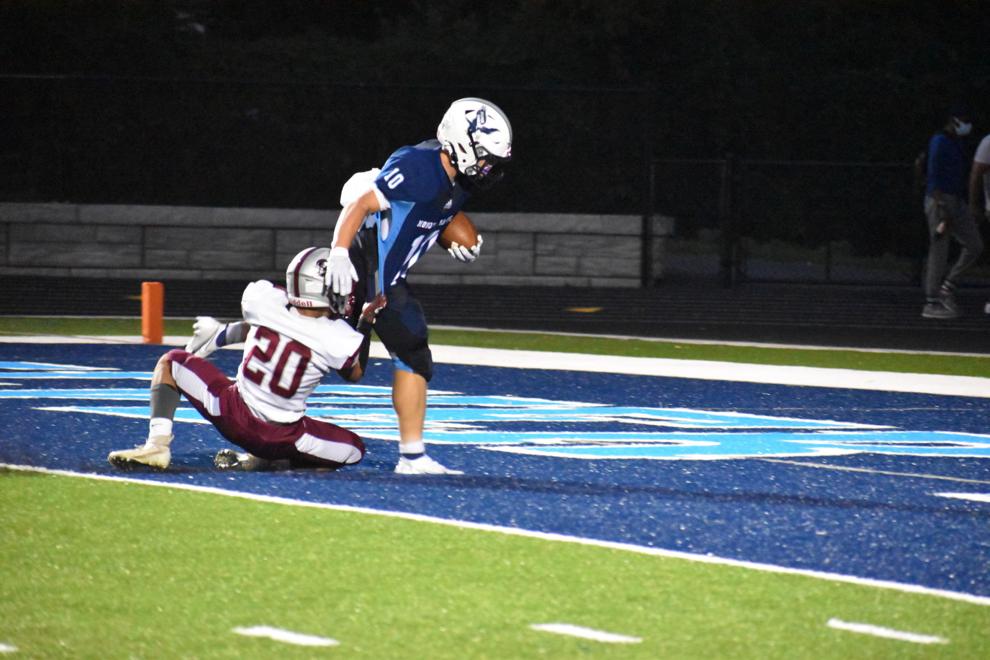 Inching closer to the playoff berth, the Monona Grove Silver Eagles helped their cause with a 35-21 over Sauk Prairie on Friday, Sept. 24.
Junior running back Cooper Marsh broke open the scoring with an eight-yard touchdown run with 6:41 left in the first. Junior kicker Cuinn Larsh added the extra point.
With 10:58 left in the second quarter, senior quarterback Kody Cummings ran in a five-yard touchdown to put the Silver Eagles up 14-0. On the defensive side of the ball, junior defensive back Eddie Rivera picked off a pass and brought it back 48 yards to the house, extending the lead to 21-0 after Larsh added the extra point.
Sauk Prairie put a touchdown on the board with 21 seconds left in the second quarter, with sophomore quarterback Jackson Breunig scoring on a one-yard run.
Monona Grove put the game away in the third quarter after Marsh scored on a 32-yard run and senior wide receiver Ty Hoier found the end zone on a three-yard run. Larsh added both extra points to put the Silver Eagles up 35-7 with 8:14 left in the third quarter.
Sauk Prairie added two more touchdowns with junior running back Nolan Vils scoring on a four-yard touchdown run with 3:54 left in third. Breunig scored another touchdown run with 10:24 left in the fourth quarter.
Cummings was the leading rusher for Monona Grove with 14 carries for 117 yards and a touchdown. Marsh had 15 carries for 75 yards with two touchdowns.
On defense, junior linebacker Tyler Magestro led the team with 13 tackles. Senior defensive lineman Cody Marron recorded 11 tackles and senior defensive back Tyler Dahlhauser had 10 tackles.
Monona Grove (4-1, 3-1 in conference) remains tied for third in the Badger Small Conference standings. The Silver Eagles will face Mount Horeb/Barneveld (5-1) at Monona Grove High School for their homecoming game on Friday, Oct. 1.