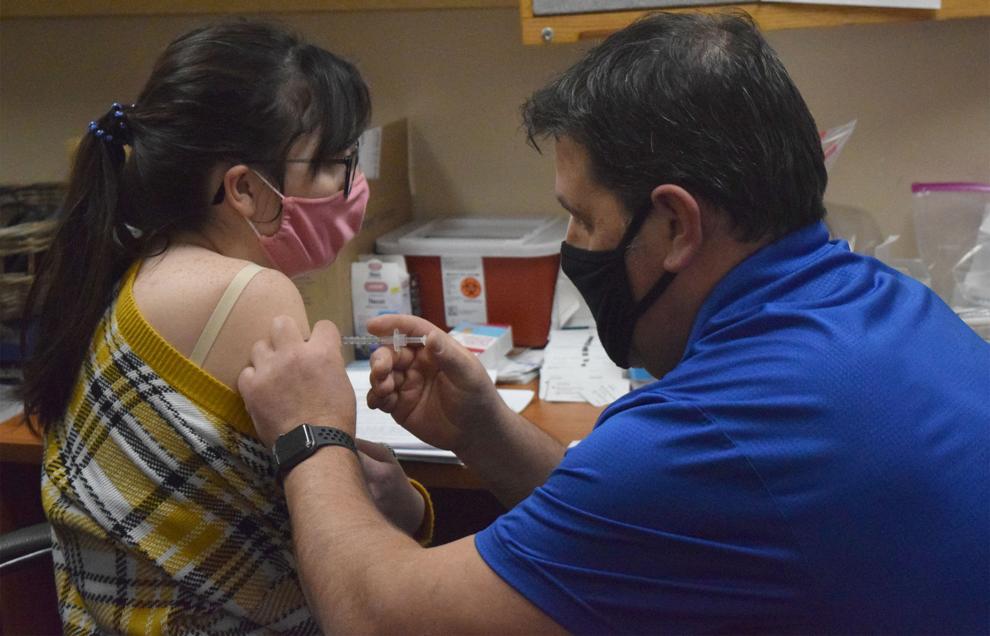 Forward Pharmacy is now administering COVID-19 vaccines to those that qualify.
Forward Pharmacy received its first shipment of COVID-19 vaccines on Monday, Jan. 11, said pharmacy owner Matt Mabie. The pharmacy has locations in Cottage Grove, Cambridge, Deerfield, McFarland and Columbus.
Mabie began setting up appointments and giving vaccines to Forward Pharmacy employees, and other healthcare workers in the area, that same day.
Forward Pharmacy applied to the Wisconsin Department of Health Services to become a certified vaccinator.
"Pharmacies are very well set-up to do this because we do it all the time," with flu shots and shingles vaccines," Mabie said. "This is something that comes very easily."
"The sooner we can get this out to the masses, the sooner we can return to normal and have gatherings again and have high school sports again, return to life as we know it," he continued.
Mabie said he received 50 doses of the Pfizer vaccine on Monday from St. Mary's Hospital in Madison. It's the first shipment of many, Mabie said. Because of overfill in the vials, he likely will be able to give up to 70 full-dose shots of the vaccine. "A hidden bonus," Mabie calls it.
Mabie said he has to distribute all of the doses by Saturday, Jan. 16 because this vaccine only keeps at refrigerator temperatures for five days.
The landscape of who receives vaccines, and who is next, is "changing hourly as we speak," Mabie said.
The Wisconsin Department of Health Services announced on Jan. 11 that police and firefighters across the state will become eligible to receive COVID-19 vaccines beginning Monday, Jan. 18. Until now, vaccines have gone to healthcare workers across the state.
This is the first step of getting vaccines to populations in phase 1B of vaccine distribution, a statement from DHS said Monday. Wisconsin has distributed nearly 152,000 vaccines during the first phase of vaccinations.
And in Dane County, the public health department began distributing vaccines to healthcare workers not affiliated with hospitals, longterm care facilities or healthcare systems within the last two weeks.
COVID-19 tests
In December, Forward Pharmacy began offering free COVID-19 testing at two of its five locations, in Cottage Grove and McFarland.
This week, it added free testing at two more sites, in Deerfield and Columbus.
Mabie said its fifth site, in Cambridge, couldn't be added due to limitations with the pilot community testing program it is part of through the Wisconsin Department of Health Services. Cambridge residents, he said, are encouraged to be tested in nearby Deerfield.
"With COVID further expanding into our communities, we felt it necessary to give local residents a convenient option of getting tested five to six days per week," Mabie said in an email.
The test detects active COVID-19 infection, the pharmacy's website said. Tests are free, and require an appointment in advance, usually during the pharmacy's business hours. Appointments can be made online at forwardpharmacywi.com or by calling the store.
Customers receiving a COVID-19 test should not enter the store. At the Deerfield, Columbus and Cottage Grove locations, they should park in marked spots behind the store and wait in their cars. Tests will be administered through the pharmacy drive-through in McFarland.
Forward Pharmacy has locations at:
429 W. Cottage Grove Road, Cottage Grove; (608) 839-3335
4880 Larson Beach Road, McFarland; (608) 838-7455
109 W. Main Street, Cambridge; (608) 423-3231
100 S. Ludington Street, Columbus; (920) 623-2701
10 Liberty Street, Deerfield; (608) 764-1500