When Monona Police Chief Brian Chaney Austin arrived at the city municipal building for his June 1 swearing in ceremony, the parking lot was nearly empty. The only movement was the rippling of a rainbow Pride flag adorned on a city flagpole.
Chaney Austin, the first Black and openly gay man to sit as police chief in Monona, described it as a tranquil moment of progress.
"I sat in my car taking pictures of the Pride flag as I was preparing to get sworn in as the first openly gay chief, and first Black chief in Monona, and that was one of those quiet celebrations of progress," he said.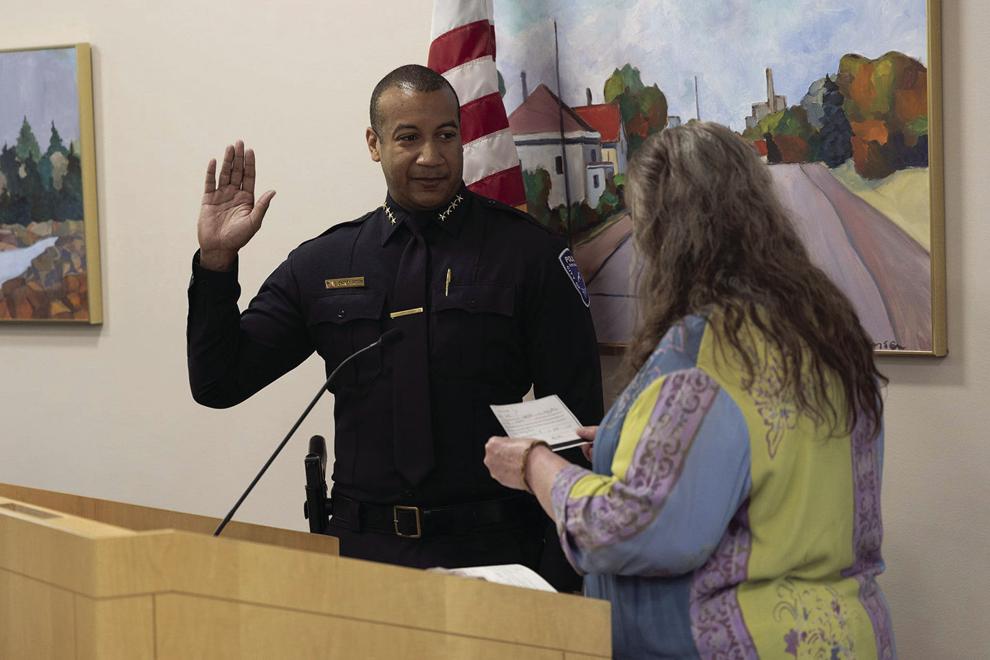 It was no accident that the first day of Pride month was also his first day on the job. Chaney Austin said he chose that day on purpose.
"I chose June 1 because I knew the significance of that day, and I didn't want to necessarily put that at the forefront, but I knew that it meant something to me," he said. "I sometimes celebrate quietly and that's okay, because I don't always need to be the most outspoken person in the room."
The significance of commencing Pride month with Chaney Austin's swearing in ceremony was not lost on Monona City Alder Doug Wood, who described it as a, "very historic day in [Monona's] history."
"I have a gay son, and so to have us hire a gay police chief means... it means a lot to me," Wood said a city council meeting last month.
Chaney Austin said as he sat alone that morning, watching the Pride flag wave in the wind, it reminded him of why he chose Monona in the first place. On top of what he described as a "small town feel in a big urban area," Chaney Austin believes Monona is at the precipice of social change.
"This is a community that is looking to make things right, and it's growing and becoming more compassionate," Chaney Austin said. "It's an awakening to really get to the deep root of these issues."
Issues, Chaney Austin said, he was introduced to at an early age, growing up as a Black man in Chicago.
Raised by a single yet supportive mother in what he described as a "very gay-friendly neighborhood," he said his sexual orientation wasn't his biggest obstacle in childhood.
"Growing up in Chicago as a kid of color, you just grew to accept that you're going to have run-ins with the police, even if you didn't do anything wrong," said Chaney Austin.
He remembers being stopped on several occasions by officers who told him he fit the description of a suspect in the area, one even telling him he "looked suspicious" and "didn't belong."
He described his experiences early on with police as "really negative." That is, until he met a Chicago police officer who turned that negative perspective around.
Chaney Austin recalled how, as a middle school student, he was on a bike ride in his neighborhood when an officer pulled up alongside him. Instinctively, Chaney Austin said he dismounted his bike and stood still with his hands in the air.
"The officer got out of the car, and as a 12 year old kid on an afternoon bike ride, I was fully prepared to be frisked," said Chaney Austin.
It turned out the officer only wanted to stop and say hello, having seen Chaney Austin ride his bike through that neighborhood on multiple occasions. He remembers the officer asking him how he's doing, and telling him he looks like a "good kid."
"As soon as I realized it had nothing to do with criminal activity, but that he just wanted to take the time to get to know me, I walked away from that really short, limited encounter with a lot of repair on the negative outlook I had on police in general," said Chaney Austin. "That encounter inspired me to pursue my career in law enforcement."
Chaney Austin said he hopes to do for other young people what that officer did for him. He related it to the recent wave of nationwide racial justice protests.
"When it comes to basic human rights issues and issues on human dignity and respect, we have an obligation as officers of government to speak up, because silence sends an even louder message," he said. "But just because we're involved in this movement and the focus is on law enforcement, it doesn't mean that society as a whole needs to be against police."
As he transitions into his new role as head of Monona police, Chaney Austin said two of his top priorities will be lifting officer morale and diversifying the force.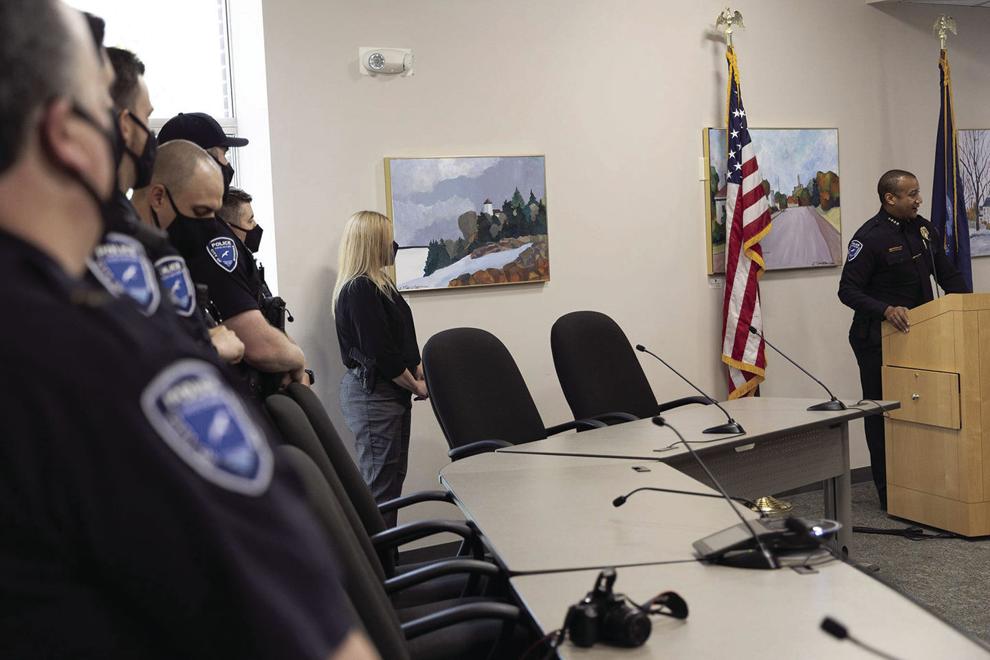 "All of law enforcement right now is struggling with morale issues and recruitment numbers are way down, so that's something that I'm trying to combat," said Chaney Austin.
Monona City Alder Kathy Thomas touched on that as she congratulated Chaney Austin at a city council meeting.
"This is a really challenging time for police departments, and I'm so proud that we have such great leadership [in Monona]... and that we can handle this, because policing is learning, challenging and changing," Thomas said. "I'm grateful as a community that we have such an outstanding department with such outstanding leadership."
Going forward, Chaney Austin said he hopes to create a "kaleidoscope" of diversity within the department and hopefully rework the current narrative on policing.
"We will have more women and more people of color on the Monona police force under my watch," he said. "I want to be able to repeat what that one cop did for me, and change hearts and minds. As cheesy as that sounds, it's true, and I know it's possible, because it happened to me."