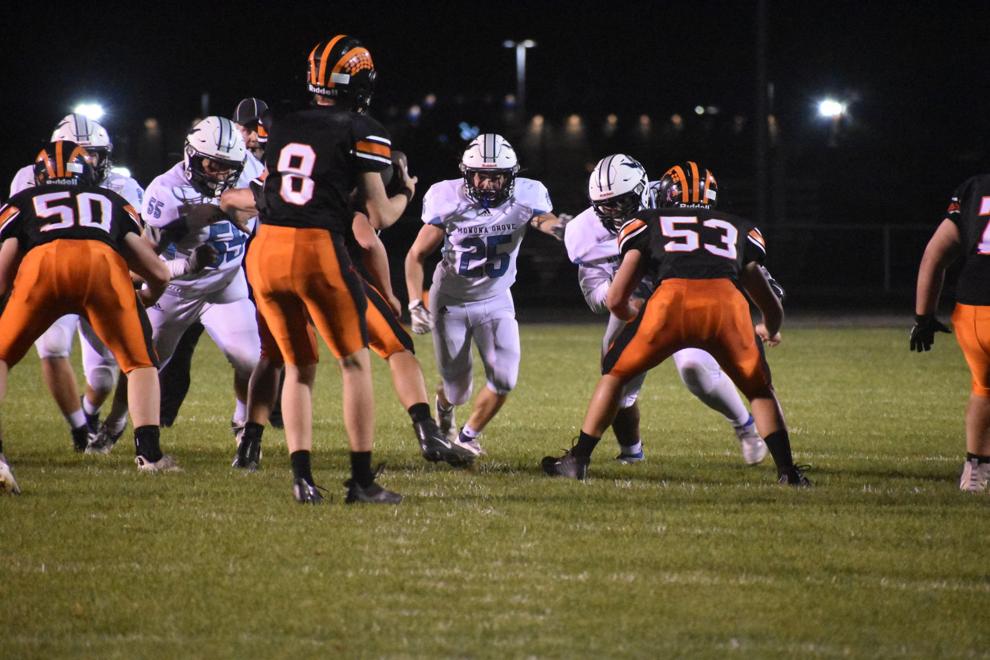 Editor's note: This story has been updated to reflect that the game was played on Friday, Oct. 8. 
With the post-season tournament on the line, Monona Grove clinched a playoff spot with a 20-16 victory against Portage on Friday, Oct. 8.
"To qualify, in that sense, you can take a breath and hopefully our guys will turn the page and be able to breathe, but also understand the importance of now moving on to Fort Atkinson, who is obviously a very good opponent and try and take care of business at home," said Monona Grove head coach Brandon Beckwith.
Starting the third quarterback of the season, junior Brady Voss got the start under center and drove the Silver Eagles down the field on offense. Using his speed on a fourth and 10, Voss ran down the sideline to extend the drive for the Silver Eagles.
"What Brady did really well was his escapability. Extending the play, getting a first down, key first downs and he had a little rust on him, but that was expected," said Beckwith.
Junior quarterback Brady Voss looks to scramble in Monona Grove's 20-16 victory over Portage on Friday, Oct. 8. 
Senior running back Markale Curry scored on a two-yard run with 6:55 left in the first quarter. Junior kicker Cuinn Larsh added the extra point to put the Silver Eagles up 7-0.
After a three-and-out by the Monona Grove defense, Larsh hit a 22-yard field goal to put the Silver Eagles up 10-0 at the end of the first quarter.
The Silver Eagles defense continued to suffocate the Portage offense as senior defensive back Tyler Dahlhauser picked off a pass. Junior running-back Cooper Marsh scored on a three-yard run with 7:18 left in the second quarter as Larsh put the Silver Eagles up 17-0 after the extra point.
"Having two guys who can jump in there" was crucial, Beckwith said. "Fabian is a tough guy to replace… but we just go one game at a time and we see what's next."
Larsh kicked a 24-yard field goal to put MG up 20-0 and on the ensuing defensive possession, senior linebacker Pierce Evans recorded a sack to help the clock run out in the first half.
Junior linebacker Dalton Card pressures the Portage quarterback in Monona Grove's win against Portage.
"First half defensively I thought we had great energy. We were dialed in and there wasn't much space for them to work, and I thought we were really focused," said Beckwith. "As the game goes on, we have to get better at maintaining that focus, and maintaining that technique."
Portage came out of the locker room with some momentum, and running back Ethan Bleich scored on a one-yard run. After a successful two-point conversion, Portage cut the lead to 20-8 with 2:12 left in the third quarter.
After a failed fourth-down push by Monona Grove, Portage had to start inside their five-yard line. Portage's long drive that chewed up a lot of clock and a bad snap on fourth down allowed Monona Grove to get the ball back with under four minutes to go.
Looking to kill time, senior quarterback Kody Cummings completed a pass to junior tight end Isaiah Erb, who brought in the pass with one hand and reached a first down. Taking more time off the clock, the Silver Eagles finally punted with about 30 seconds left in the game.
However, Portage made things interesting as Jaden Kikkert broke some tackles and made some cuts, finding open field to take the punt back for a touchdown. A two-point conversion cut the lead to 20-16 with five seconds left.
Portage attempted an onside kick, initially recovering the ball, but a Portage player touched the ball before it traveled 10 yards, resulting in a penalty and allowing Monona Grove to take possession. A kneel-down gave Monona Grove the 20-16 victory, and a spot in the playoffs.
"This team has been through a lot of adversity. We talk about adversity everyday and to embrace it when it happens, and adversity allows an opportunity to be had," said Beckwith. "Whether we fumble the ball on offense and the defense has to go out and make a stop, they get an opportunity to show they can make a stop."
Voss completed 11 of 19 passes for 93 yards and an interception, while also running the ball seven times for 42 yards. Curry was the team's leading rusher with 15 carries for 68 yards and a touchdown.
The Monona Grove defense celebrates with senior defensive back Tyler Dahlhauser, #21, after he intercepted a pass in Monona Grove's 20-16 vict…
On defense, Dahlhauser was the team's leading tackler with 10 and an interception. Marsh recorded a sack along with senior defensive lineman Cody Marron and Evans recorded two sacks in the win.
Monona Grove (6-2 overall, 4-2 conference) returns home for senior night against Fort Atkinson (6-2 overall, 5-1 conference) at 7 p.m. on Friday, Oct. 15.