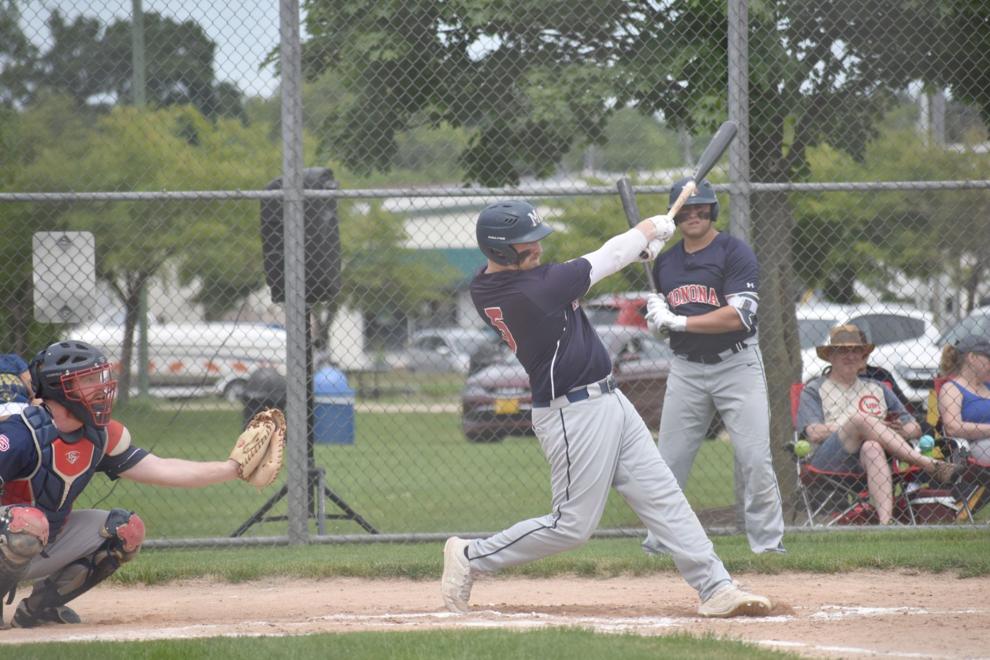 The Monona Braves pulled further ahead in the Eastern Section standings with a 6-3 win over the Sun Prairie Red Birds on Sunday, July 11.
A sacrifice fly put the Red Birds up 1-0 in the top of the second inning, but Monona quickly responded with a six-run bottom of the second.
Casey Seelow reached first base on a one-out walk, and singles by Matt Wiley and Shawn Held loaded the bases for Taylor Carlson. Carlson cleared the bags with a three-run double, giving Monona a 3-1 lead.
"With Carlson and Kian leading off, they're really good friends and they have a good relationship there, so they like to play with the sticks and keep hitting it around the bases," said Monona Braves manager Vince Schmitz.
Schmitz then knocked in Carlson with a double, and Schmitz scored on an RBI double from Kyle McHugh. After a single by Beau Goff, a single by Jordan Carlson drove in a run to push the Monona lead to 6-1 after two.
After a scoreless third inning, Braves pitcher Corey Schmidt almost escaped a fourth-inning jam with runners on first and third, and nobody out. However, a fielding error gave the Red Birds a run and extended the inning. A following double gave Sun Prairie another run, cutting into the 6-3 Monona lead before Schmidt recorded a strikeout to close out the inning.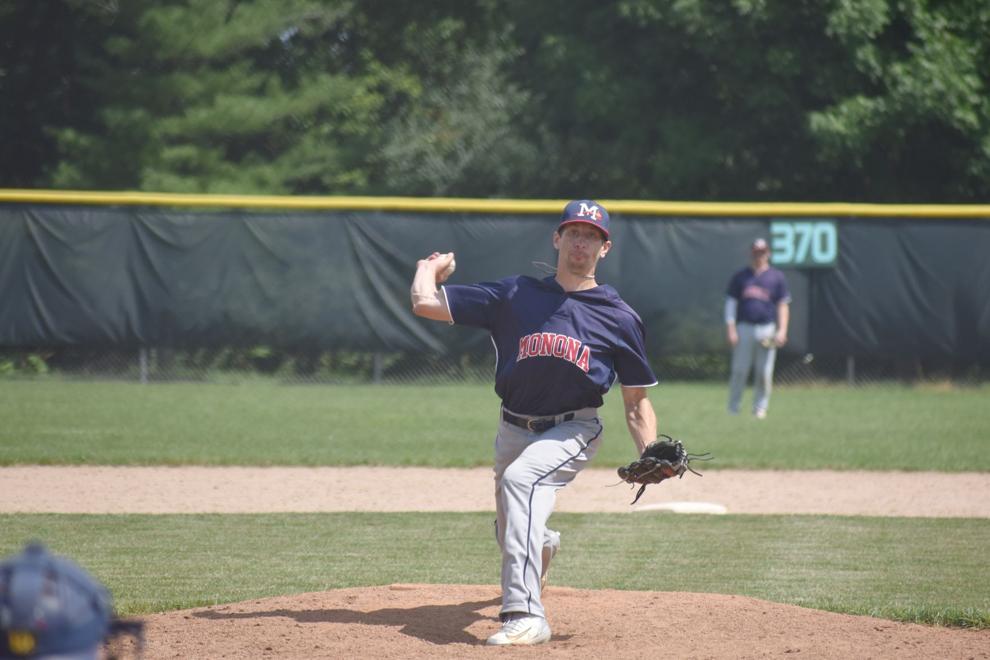 Shawn Held
Shawn Held throws a pitch in the ninth inning in the Monona 6-3 victory over Sun Prairie on Sunday, July 11. Held also recorded a base hit in …
"Going forward, we're going to keep Corey as our starting pitcher, but as he gets older, he can't last all nine innings anymore," said Schmitz. "So we got to have the bullpen ready to go, and keep picking it up behind him."
After the fourth inning, the Monona defense locked down the Sun Prairie offense. Andy Swanson pitched four innings, recording a strikeout and giving up zero runs.
In the bottom of the eighth, the Braves had an opportunity to get some insurance runs. A walk by Carlson and an infield single by Kian O'Brien put runners at first and third with one out. After a strikeout, McHugh loaded the bases with a two-out walk, but another Monona strikeout kept the game close heading into the ninth.
Held took over on the mound to close the game out. A lead-off single put a runner on with nobody out. After recording a flyout, the Braves turned a double play on a popup and then threw the runner out at first, who went too far off the first base bag, giving Monona the 6-3 victory.
"It gives us a little bit of confidence, but ultimately today we only scored runs in really that one inning that was big for us, and we got to ensure that we get a couple of more innings with a couple of more runs on the board," said Schmitz after the win. "Going forward in the playoffs I don't think that's going to do it, but we're going to keep working hard, and show up on Thursday nights to get our at bats and hopefully it translates to Sunday."
The win pushes Monona's record to 7-1 on the season. The Braves sit at the top of the Eastern Section standings, currently two and a half games ahead of Poynette, Montello and Sun Prairie, who sit in a three-way tie for second place.
The top four teams in the Eastern Section standings will qualify for the 2021 Home Talent playoffs.