A three-building, 75-unit housing development proposed at 1208 E. Broadway in Monona saw muddied reactions from the city's plan commission last Monday night.
The $19 million build is envisioned to sit just behind the Shell gas station across the street from Menards, and would consist of one four-story 63-unit apartment complex and two six-unit townhouse buildings.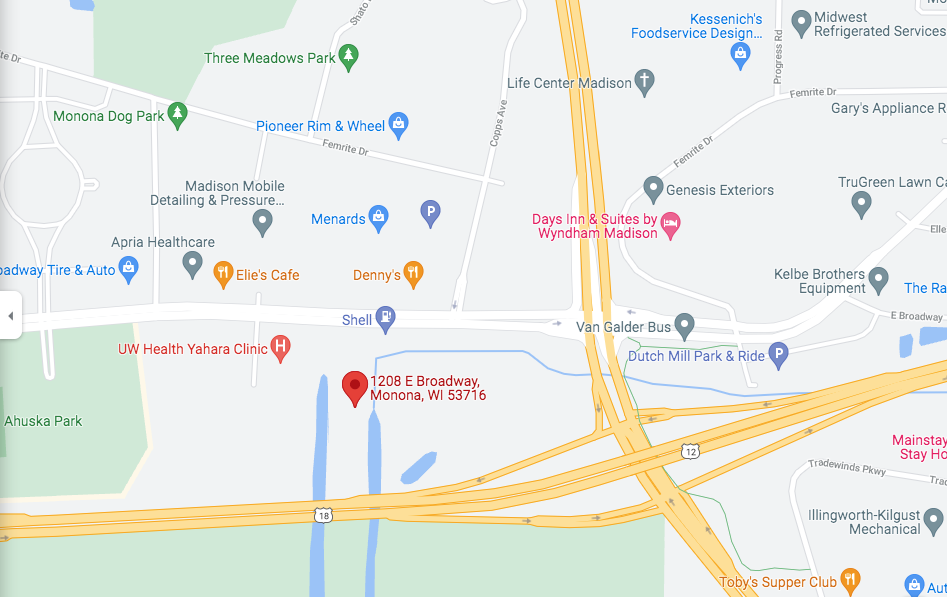 It's a joint proposal from DreamLane Real Estate Group and NorthPointe Development Corporation, with plans for rooftop solar arrays as well as a mixture of market rate and rent-restricted units.
Developers shared the initial vision for the project with the plan commission on Monday, Sept. 13, and will need approval from the Monona plan commission before the project can move forward.
"We wanted to create more of a neighborhood feel, and so to do that we wanted to do different housing types," said Sean O'Brien, a developer at NorthPointe. "[It would] really have a balance of incomes."
The rent-restricted units would be available primarily for households earning 50-60% of the county median income, O'Brien said, with some also available for those earning 30% of the median. According to the most recent U.S. Census Bureau data, from 2019, the median household income in Dane County is nearly $73,900.
To soften the density of the project, parking would be split between 60 underground stalls and 60 surface level stalls, the developers said.
Yet while commissioners seemed keen on the overall mission of the project, some say they're wary of its location.
"We need affordable housing, we need this mixture [but], this is not the location," said Plan Commission Member Brian Holmquist. "This is a location next to two county highways and the beltline and commercial property."
Holmquist said he believes the location would be too isolated from other residential areas, with limited sidewalks connecting it to the rest of the city. He also noted that residents would need to cross Highway 51 to get to the nearest bus stop.
"I struggle with it because I really do like what they're trying to do here, I just wish it connected better with the rest of the city," said Holmquist.
"This is a tough site. There's no neighborhood here… there's so many things we don't have here," Plan Commission Member Chris Homburg said. "I love your energy, I love everything about it, I like your plans but I just think it's a bad place to stick 75 families."
"I can tell you from my profession and 15 years in multifamily housing, I do think this is a good location," O'Brien said. "You're within walking distance of probably over 1,000 jobs that are in that area."
Homburg said living within walking distance of local jobs does not necessarily make the project "a conducive place to live," though Plan Commission Member and City Alder Kristie Goforth said she thinks Monona businesses may feel otherwise.
"I know Meriter, I know UW health, WPS, Pick n' Save (Metro Market), Menards, they would all appreciate having more people living right at their doorstep that could be employed there, especially when they're all seeing staffing shortages," said Goforth.
The city alder described the development as a potential catalyst for a corridor that "desperately" needs expansion.
Plan Commission Member Coreen Fallat agreed but said she, too, has location concerns.
"The proposal is really exciting and interesting and as Kristie said, it could be a catalyst for the area, but at the same time, there's a lot of what ifs," Fallat said. "It's a tricky situation right now because it doesn't have a neighborhood, it doesn't really have the connectivity, but that doesn't mean it couldn't in the future."
In similar sentiment, Plan Commission Member Susan Fox said the commission's reaction to the proposal might be "too hard-nosed" and the project "could work," but she worries it's not the best locale for families.
"I think about families and people wanting to be able to access our libraries and pool and all of that kind of thing. When they're way out like that, they just don't have a connection to the real residential part of Monona," she said.
Commission members also discussed whether more affordable housing is a current need for the city. Homburg said he believes the city isn't lacking in viable housing options.
"I don't think that Monona is deficient or behind in providing new rental units," said Homburg. "And we have quite a history of a lot of older, quite honestly very affordable, rental units."
Goforth described the city as being in "an affordable housing crisis."
"Although we have put up hundreds of units, they've all been market rate," Goforth said. "I do know we have some affordable apartments here, but there is a wait list for all of them… [and] they're older and outdated and it's not high-quality living."
In response to the plan commission's comments, O'Brien said the developers aren't discouraged.
"It's obviously mixed feedback a little bit, which is to be expected," he said. "We'll keep working on our plan and then I think we'll bring back something more formal for [the plan commission] to review."
He said the developers would need commission approval by December to stay on track with their targeted completion date of October 2023.