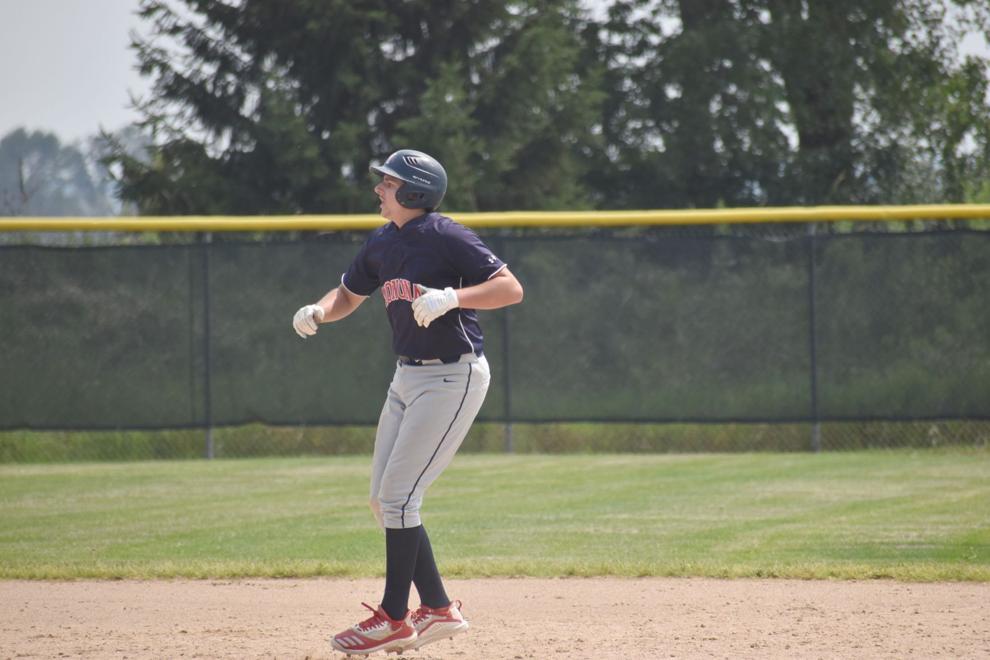 Kaden Alexander
Kaden Alexander rounds first base after recording a single in the Braves 9-3 loss to Poynette on Saturday, July 17.
The Monona Braves let an early lead slip away in a 9-3 loss against Poynette on Saturday, July 17.
"It was a tough game," said Casey Seelow, who filled in for Vince Schmitz as manager for Monona. "We just walked way too many guys, and you can't put up three runs and expect to win a game."
Monona got off to an early lead after Jordan Carlson drove home Kian O'Brien with a single in the bottom of the first inning. The Braves had an opportunity to put more runs on the board after Beau Goff hit a single and Seelow was hit by a pitch, loading the bases with two outs. However, Poynette escaped the inning with a popout, limiting the scoring to just one run.
In the bottom of the third, Carlson hit another single and moved to second base on a wild pitch. A sacrifice fly by Goff brought Carlson to third, where he scored and gave the Braves a 2-0 lead.
The Braves added to their lead in the fourth with another run. A two-out double by Shawn Held helped put a runner in scoring position for Carlson, who drove him home with a single to go up 3-0.
Monona held Poynette in check for most of the game, thanks to a strong pitching performance from Corey Schmidt. The right-hander pitched five scoreless innings and struck out four in a no-decision.
Schmidt ended his day by escaping a fifth-inning jam after falling behind three balls and no strikes in the count with runners on third and first with two out. However, Schmidt fought back and forced a popout to end the threat with no runs scored.
Andy Swanson came on to pitch for Monona in the sixth, giving up a run after a bases-loaded walk. Swanson escaped the inning after inducing a double play to keep the Monona lead at 3-1.
Monona ran into more trouble in the eighth after a Poynette batter reached first on a hit-by-pitch and took second on a wild pitch. An RBI single drove in the runner, cutting the lead to 3-2. A Poynette double tied the game at 3-3.
Held took over for Swanson in relief and struggled with command. After two walks loaded the bases, Held found a rhythm on the mound, and recorded back-to-back strikeouts to avoid giving up more runs.
In the top of the eighth, Held found himself in another bases-loaded situation with one out. However, Held escaped with a strikeout and a flyout, giving up no runs to keep the game tied.
"We just got back to our roots for an inning or two there, and we were just playing ball again," said Seelow.
Monona could not escape the ninth without giving Poynette the lead. With two outs and a runner on second, Poynette rallied for a six-run inning, taking a 9-3 lead.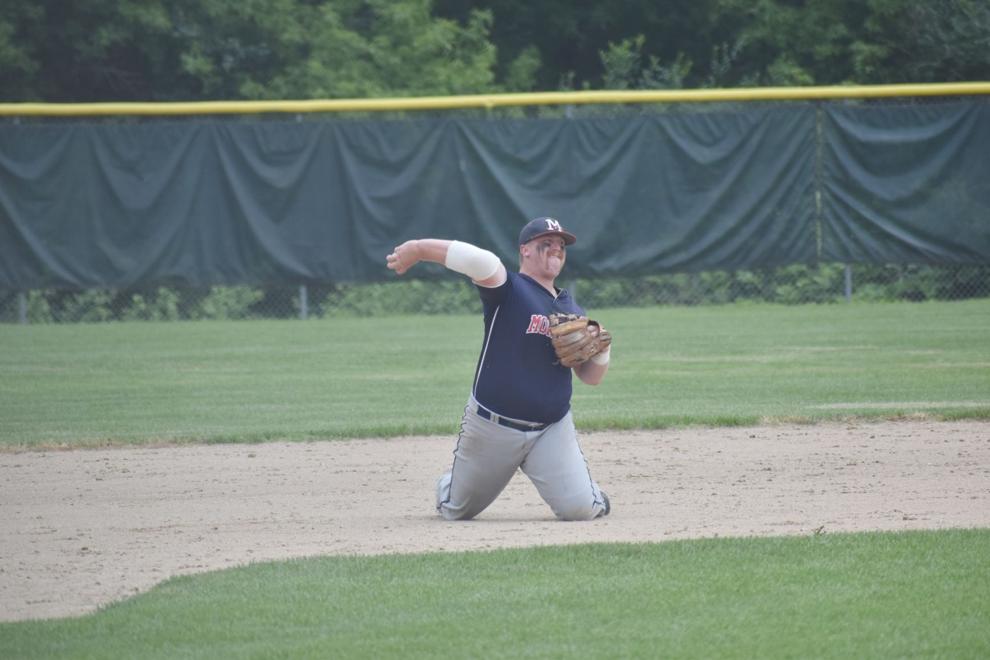 Jordan Carlson
Jordan Carlson attempts to throw a runner out after making a diving stop at third base. Carlson went three for four with two RBIs and a run sc…
A hit-by-pitch and a walk loaded the bases where another hit-by-pitch gave Poynette a 4-3 lead. Another walk drove in another run, making the score 5-3.
Goff relieved Held on the mound, giving up a bases-clearing double which expanded the Poynette lead to 9-3. A groundout got Monona out of the inning, but the damage had been done.
"Walks killed us today and we were a little low on energy, and that affected everything," said Seelow.
In the bottom of the ninth, Jonathan Switalla hitting a single and O'Brien reaching on an error with two outs gave Monona a chance for a rally. However, a groundout dashed any hopes and gave Poynette the 9-3 victory.
Despite the loss, Monona remains in first place in the Eastern Section standings, up one and half games over the Sun Prairie Red Birds and Montello Granite Jaxx. The Braves get this week off, but still control its own destiny for the top spot. A win against Sun Prairie on Aug. 1, or a loss by Montello to either Columbus or Rio would clinch the one-seed for Monona heading into the playoffs.
The Braves hold a 7-2 record on the year. Jordan Carlson went three for four with two RBIs and a run scored. Kaden Alexander and Dan Stefansky each recorded a hit in the loss.