A troop of local girl scouts is trying to teach the Cottage Grove and Monona communities that their words matter.
Troop 1048 members Akina Souphakdy, Breanna Eeg, Julia Robbins, Lucy Stodola and Miriam Israel recently earned the Silver Award, the highest Girl Scout award achievable for middle schoolers, for spearheading an anti-racism initiative across Cottage Grove and Monona.
In order to earn a Silver Award, a girl scout must identify a need or problem in their community and take action to make a difference.
While the girls' top-notch accolade came in 2021, their quest to combat racial injustice began nearly three years ago, when troop members sat down to plan, research and implement their project.
The troop eventually brainstormed a shared goal: educate the local community on racial injustice while highlighting the damage caused by microaggressions.
For the purposes of the project, the scouts define a microaggression as "a subtle, hurtful, discriminatory comment toward a marginalized group, such as a racial or ethnic minority, usually based on a stereotype."
Turning tides in school curriculumWorking with English teachers at Glacial Drumlin Middle School (GDS) in Cottage Grove around discussions of race in literature was the girls' first point of action.
Books currently taught in GDS's curriculum around race include "All American Boys" by Brendan Kiely and Jason Reynolds, "The Hate U Give" by Angie Thomas and "Dear Martin'' by Nic Stone.
"We determined that we could use these books to dig deeper into the topic of racial injustice," said Robbins. "Each member of our troop developed discussion questions to challenge students and provoke more in-depth thinking."
The teachers will reuse the troop's discussion questions in class for years to come, which Stodola said will continue to impact not only Glacial Drumlin students, but the greater community.
"Our project benefited the seventh graders, as well as being relayed to parents and other members of the Cottage Grove and Monona communities," Stodola said.
Summer display at Monona Public Library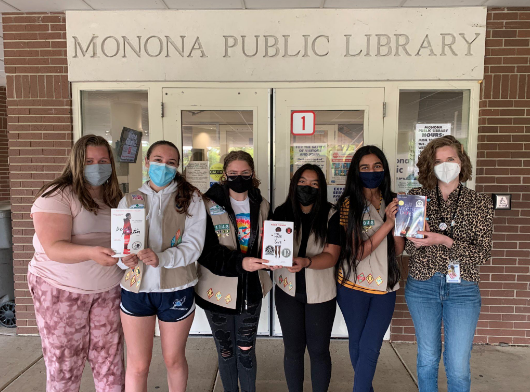 Still focused on literature, the girl scouts then reached out to Tiffany Helgerson, youth services librarian at Monona Public Library.
Helgerson aided the troop in creating a library display about their project, as well as spreading social media posts about racial injustice.
Monona Public Library also provided library-goers with the girls' discussion questions from phase one of the project, as well as bookmarks detailing the detriments of microaggressions.
Eeg said the girls honed in on microaggressions as a focus of their project after speaking with representatives from Monona Grove's Black Student Union and Parent Equity Council.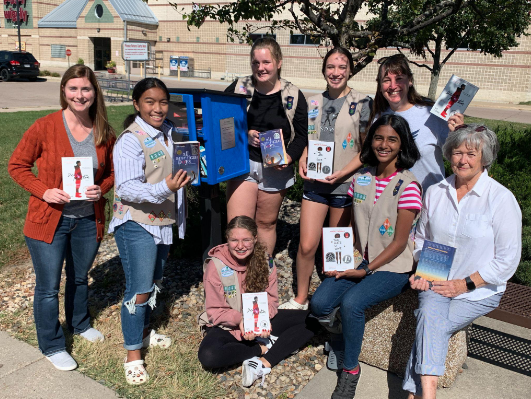 Eradicating the use of microaggressions in the local community also inspired the final phase of troop 1048's silver project, as they sponsored a Free Little Library nestled between Piggly Wiggly and Bank of Sun Prairie in Cottage Grove.
The miniature library includes copies of all three books featured in the girls' project, as well as a plaque to discourage microaggressions.
"Words Matter," the plaque reads in part. "Help everyone feel welcome here. End Microaggressions in Cottage Grove."
Troop members also included copies of their discussion questions inside the little library.
"Our partnership with the Friends of the Cottage Grove Library allowed us to extend our project beyond Glacial Drumlin middle schoolers and into the broader community," said Israel. "We consider our donation of books and discussion questions for the community to be the very final step in our hard-earned Silver Award."
Upon completion of their project, troop members expressed special thanks to seventh grade English teachers Mrs. Melissa (Moe) Freesman, Ms. Elizabeth (Liz) Purdy; Monona Grove High School counselor and Black Student Union advisor Mr. Scott Groff; Black Student Union member Kamryn Johnson; Parent Equity Council President Justin Neal and member Caroline Israel; Girl Scouts of Wisconsin Badgerland Council's Strategic Manager Eliza Zimmerman, Friends of the Cottage Grove Library Anne Schoenemann; Sean Brusegar of the Village of Cottage Grove; supporters who purchased Girl Scout cookies; and Troop 1048 leaders Keri Robbins, Pat Howell, and Ken Eeg.