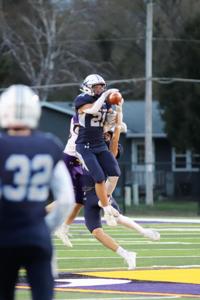 Tyler Dahlhauser interception
Tyler Dahlhauser goes up for an interception against DeForest. Dahlhauser recorded an interception and a forced fumble in Monona Grove's 28-13 loss.
Monona Grove cornerback Tyler Dahlhauser was named a part of the 2021 Associated Press Spring Season All-State football team.
"I was very excited to learn that I was named first team all state," said Dahlhauser, who led the Monona Grove defense with 44 solo tackles.
In the alternate fall season that ran from March to May 2021, Dahlhauser also led the defense with two forced fumbles. In six games, Dahlhauser recorded four sacks, six tackles for loss and an interception.
"You know exactly what you are going to get with Tyler. He works really hard, he's a guy that we almost have to hold back to get him some time off," said Monona Grove football coach Brandon Beckwith.
Dahlhauser, a junior this year, helped lead the Silver Eagles to a 2-4 record with the defense allowing 24.5 points per game this season.
"His next step moving forward now is to really take some leadership roles with his teammates," said Beckwith. "Making sure this offseason in the weight room that he's holding everyone else accountable that he holds himself, and making sure that he brings everybody up around him better."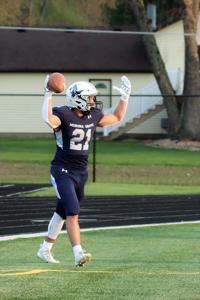 Tyler Dahlhauser
Tyler Dahlhauser was named to the 2021 AP Spring Season All-State football team.
On the offensive side of the ball, Dahlhauser played wide receiver for the Silver Eagles, catching 18 passes for 376 yards and six touchdowns.
"My favorite moment of last year was our last game at Mount Horeb," said Dahlhauser. "Everyone was having a great time just playing football with our brothers."
In a 39-8 victory over Mount Horeb/Barneveld, Dahlhauser caught a 47-yard and a 20-yard touchdown pass in the first quarter. On defense, Dahlhauser recorded seven total tackles in the win.
As a sophomore in 2019, Dahlhauser was second on the defense with 61 total tackles and forced fumble. Dahlhauser was named as a first team all-conference cornerback along with his twin brother Grant, who was named as an honorable mention cornerback.