Editor's note: This story has been updated to include comments from Plan Commissioner Patrick DePula.
Developers are making progress in Monona on plans for a $19 million affordable housing complex suggested for construction at 1208 E. Broadway, after returning to the city's plan commission Oct. 11 for the second time in four weeks.
The plan includes a four-story 63-unit apartment complex and two six-unit townhouse buildings.
Representatives from NorthPointe Development and DreamLane Real Estate first brought the proposal to the city's plan commission on Sept. 13, but the plans were met with mixed reactions.
On Sept. 23, Dane County awarded the project $1.2 million from its affordable housing development fund. On Oct. 11, developers returned to Monona's plan commission with updates to the proposal.
"We really appreciated the discussion last time. We heard a lot of comments from the commission," said Sean O'Brien, a developer at NorthPointe. "We've taken all those comments to heart and really tried to incorporate that into the plan."
Changes to the plan include moving storm water basins closer to the lot line, incorporating a walking path and adding a bigger playground area.
Though, the biggest initial concern from plan commission members was the development's location, with some commissioners saying it would be too disconnected from the rest of the city.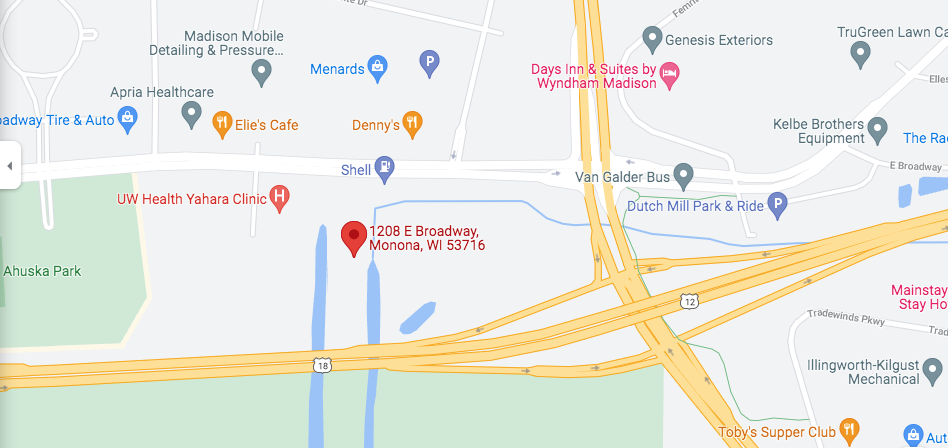 Set between the beltline, Highway 51, and the Shell gas station on E. Broadway, developers argued Oct. 11 that the proposed location is within a 14-minute walk of any city amenities residents may need.
Developers also argued that Monona is not in a place to turn away affordable housing.
"For Monona's zip code, MG&E is showing a less than 5% [housing] vacancy," O'Brien said. "In the primary market area, which is where we'd expect to draw our tenants from for this project, there is a 3% vacancy in affordable housing developments."
Plan Commission Member Patrick DePula also provided commentary, citing that he's experienced living in a neighborhood with affordable housing on Madison's south side.
He pointed out that of the 500 to 600 apartment units created in Monona over the last decade, none were classified as affordable housing.
"It would probably be the first time in 10 years that Monona has done something with affordable housing," DePula said on the new proposal. "We talk a lot about diversity and inclusivity and all of these things, and here is an opportunity to perhaps do something about it in a physical way."
DePula said he has "no doubt that the property would fill."
Yet, Plan Commission Member Brian Holmquist said the developers' proposed rent prices might not be considered affordable.
Income restricted rates would range anywhere from $498 per month at the low end, and $1,185 at the high end. Market rate rent would be $1,150 at the lowest, and $1,750 at the highest.
"This is not affordable housing," Holmquist said. "If you look at these rents… there are two professional college graduate[s]... that still would struggle paying some of these rents."
Other lingering concerns among commission members include zoning issues. Plan Commission Member Rob Stein argued that, based on the city's comprehensive plan from 2016, the 1208 E. Broadway lot is planned as commercial, not residential.
Plan Commission Member Chris Homburg agreed.
"This is a… strong commercial area. It's not the area as a planner you would ever put this in," Homburg said. "I think it's the wrong place for residential in our city and I think it is an isolated area."
Though, Plan Commission Member Susan Fox expressed a different perspective.
"Times have changed since the comprehensive plan was created," she said. "I think we have an obligation as part of the greater Madison Dane County community to provide more affordable housing."
"Who are we to say whether this is a place someone would choose to live or not," Fox commented, adding that she's "ready to support" the development.
Despite Homburg's reservations on the project's locale, he said he "will work as hard as I can to make this the best project we can" if the rest of the plan commission were to fall in line with Fox.
Commission Chair Nancy Moore added that the development could be the catalyst that the corridor needs.
"I do think that it will spur other development along this stretch, a stretch that admittedly needs more development," she said.
Looking ahead, O'Brien said developers hope to gain final approvals in the coming months and break ground in 2022.
"In April… we would come back for final approvals and hopefully start construction in October of next year," he said.