Students in the Monona Grove School District may see a change in the way they commute to school after the district updated its bus transportation and walk zones for the 2021-22 school year.
Prompted by the construction of the brand-new Granite Ridge School in Cottage Grove, district officials contracted with Traffic Analysis & Design, Inc. (TADI) to analyze and revise bus and walk zones for students in grades 4k through eighth grade.
"With the opening of Granite Ridge School, we needed to establish a walk zone and a transportation zone for the new school," said the district's Business Services Director Jerrud Rossing. "In addition to that…Taylor Prairie is having great configuration changes and so is Cottage Grove School."
Under Wisconsin law, students who live within a two-mile radius of their school building are not automatically eligible to ride the school bus.
However, if a district can prove the existence of any "unusually hazardous conditions" in a location less than two miles from school, children living in those areas may be granted bus eligibility.
"The state law says that the district has to transport students that live two miles or farther away from school," said Rossing. "However, if a school board or school district feels that they would like to transport students below that two miles and qualify for state aid, they have to have an Unusually Hazardous Transportation plan."
TADI Director of Traffic Engineering Safety Services John Campbell said the traffic company looked at the surrounding areas of the Winnequah, Taylor Prairie, Cottage Grove and Glacial Drumlin schools to identify any potential hazards.
The walk zone at Winnequah School will be extended next school year, meaning fewer children will be automatically eligible to ride the bus, the Monona Grove School Board approved on June 30.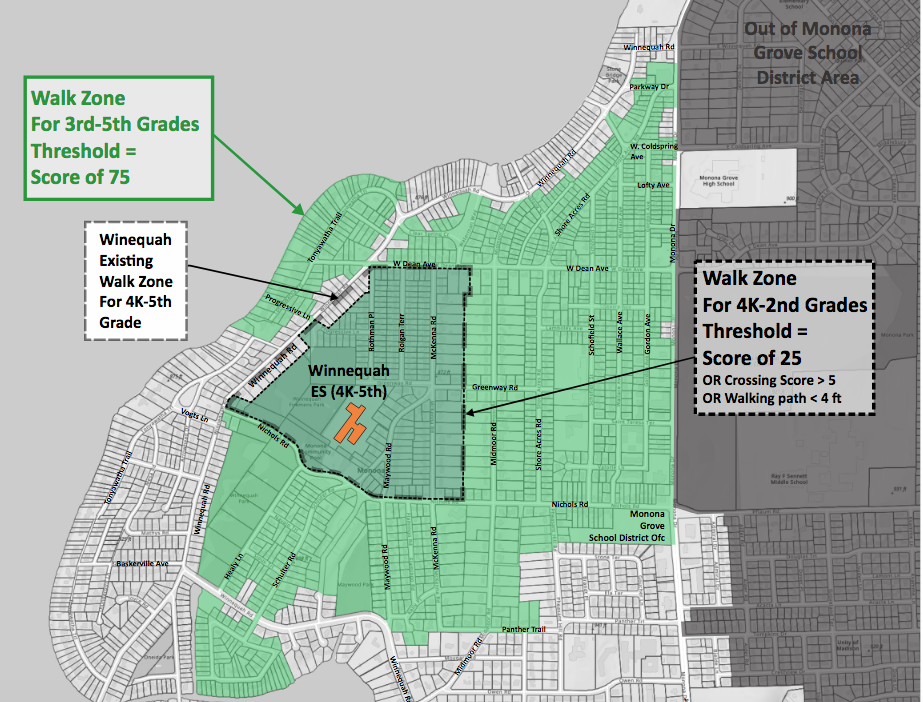 Students living in certain areas west of the school district office on Monona Drive to Tonyawatha Trail, with the exception of Winnequah Road, will no longer be automatically eligible for the bus.

The opposite is true for Taylor Prairie, which will have a significantly smaller walk zone and allow for more bus eligibility. Students living outside the intersections of School Road, Sunset Drive, W. Clover Lane and Starlight Lane will now be eligible for bus transportation.
Cottage Grove School's walk zone has grown to include sections of Crawford Drive, Main Street and Willow Run Street, but will no longer include W. Ridge Road.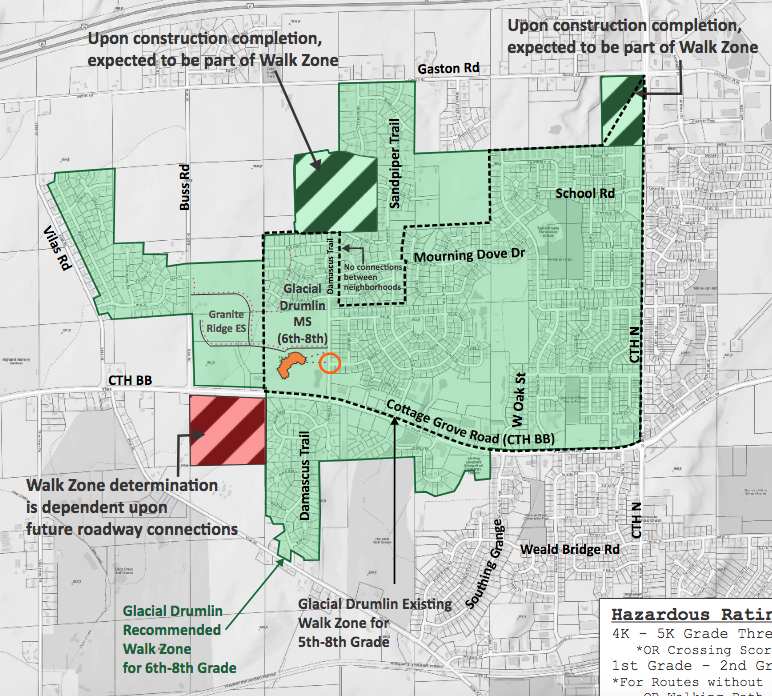 Glacial Drumlin's walk zone has been extended to include areas surrounding Sandpiper Trail, Vilas Road and Damascus Trail.
For those who live inside the walk zone but still wish to ride the bus, Rossing said families can participate in a program the district calls 'Buy a Bus Seat.'
"We do offer the opportunity for families who live in the walk zone to purchase a bus seat," Rossing said. "As with all of our fees, if there is a financial hardship, we do waive those to ensure that families that... want to put their children on the bus [can do so]."
The Department of Public Instruction says an unusual hazard is "an existing transportation condition that constitutes more than an ordinary hazard and seriously jeopardizes the safety of pupils traveling to and from school."
To determine an usually hazardous area, analysts look at things like speed limits, crosswalks, sidewalks, typical amounts of car traffic, stop signs and parking, Campbell said.